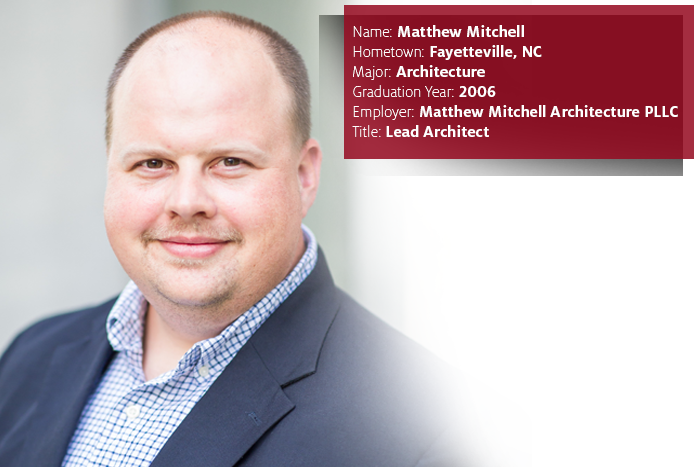 Why did you choose the Gerald D. Hines College of Architecture and Design and what drew you to the field?
I started out my collegiate path in civil engineering and learned quickly that my true interest was designing projects. I had family living in Houston and the architecture program at UH stood out to me as the best option for my long term goals.
Was there a particular professor that impacted your education?

All the professors had a positive impact on my education, but Kevin Story helped to steer me in the direction of specific internships that really started my career. Some of my favorite memories were the late nights during first year summer studio with Cord Bowen, and participating in AIAS throughout my years at UH.
What jobs have you previously held that led you to opening your own firm?

After graduation, I worked at several boutique firms doing high-end residential design including Jay Baker Architects, Curtis Windham Architects and Robert Griffin Architects. After years of practice, I made the decision to open my own practice. I found that I really thrive in an environment doing everything from design to project management.
What is a piece of advice you would give to current Architecture and Design students?

The time you spend away from campus is just as valuable as the time you spend in studio. Internships are crucial to success. Break up all of your hard work with extended travels. Go see the real world and then go see the rest of the world. Do not be afraid to reach out to your favorite architecture firms across the world and establish a relationship with them. None of your peers are doing this and you would be surprised how much feedback you might get. Be persistent.
Can you tell us how Hurricane Harvey affected your business?

My wife grew up on the West Side where there were a lot of damaged homes. We ended up knowing close to 30 families that were effected by the flood. I decided to send them a letter that offered my network of reputable contractors and engineers if they were looking for someone to evaluate their homes or if they had any questions about working with someone in these trades. Some of our friends, unbeknownst to me, circulated the letter via social media. I ended up providing my architecture services to people who thought this would be a good time to make some modifications to their homes. We are grateful for any business that comes our way, but wish for better circumstances. I have been inspired and encouraged by the strength of how these families have dealt with adversity.