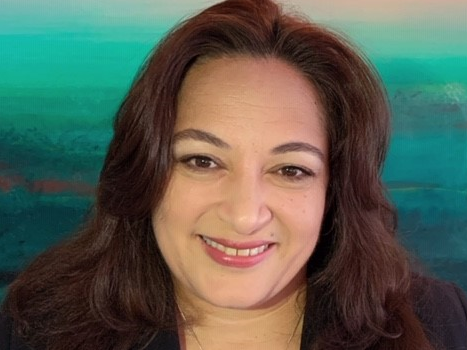 Name: Alexandria Moore Garcia       
Hometown: Corpus Christi, Texas
Major: Bachelor of Arts, Interior Design
Graduation Year: 1993
Employer: Sysco Corporation
Title: Manager, Interior Design & Space Planning (Industrial and Corporate Interiors)
Why did you choose the University of Houston, and what drew you to design?
When I was in school, the Interiors Department was right next door to the College of Architecture in the School of Fine Arts. I was always interested in design throughout my life. When I was a teenager, my family hired an Interior Designer to design several rooms for our new home. I was fascinated with the level of work and details that went into the design, and that eventually drew me to Interiors. 
What was one of your favorite memories from your time on campus?
I enjoyed studio life and the collaboration we established among students. Collaboration was not even in our vocabulary in 1993. Still, I feel the College and our professors helped us foster the open collaboration that we all experienced during our time at UH.
What has been your career path since graduation? Where are you currently working and in what capacity?
After graduation, I worked for a small commercial interiors firm where I focused on commercial and medical projects. After that, I moved to another firm and concentrated on high-end residential design. For the last 15 years, I have been with Sysco Corporation, where I currently oversee strategic planning, interior design, interior finish specifications, project management, space planning, and workplace standards for over 265 locations worldwide.
What does a typical day look like in your job?  Do you have a design or business philosophy?
A typical day for me includes engaging with projects in all phases of design, as well as projects involving workplace strategic planning. Construction/project management meetings are part of my daily routine.
I believe having a creative, organized, and thoughtful design solution helps to maintain the organization's vision, goals, and ever-changing needs. An open line of communication is key to completing successful projects. 
What is one accomplishment of your career of which you are particularly proud?
I am proud of the centralized "Interior Guidelines" that we have established for our projects at Sysco Corporation. These guidelines help us to plan and design our projects while also saving the company money. 
What is a valuable lesson you learned during your time at the University of Houston?  
I am proud of learning the value of teamwork. Even though our projects were not always team-oriented, we still had a sense of teamwork and collaboration. The experience gave me the ability to work with a variety of different personalities, similar to the corporate world.
What is a piece of advice you would give to current Architecture and Design students?
Be flexible and open in your job search because design jobs can take you anywhere. Do not assume you have to work at an Interior Architecture firm to utilize your talent and degree. I never thought I would be working for a food company like Sysco, but my job allows me to work on a variety of projects, large and small, big-budget and low-budget.