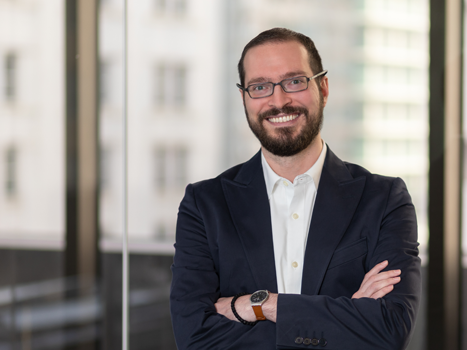 Name: Johnny Kousparis
Hometown: Katy, Texas
Major: Architecture
Graduation Year: 2005
Employer: Gensler
Title: Principal
Why did you choose the Gerald D. Hines College of Architecture and Design, and what drew you to design?
I chose the Gerald D. Hines College of Architecture because I wanted to stay local for college and had an interest in architecture and design. At the time, I was not completely sure architecture was the career path I wanted to take, but I figured college was the time to explore my interests and take a risk. I fell in love with architecture and design during my first year at UH and never looked back. I knew I had made the right decision.
What was one of your favorite memories from your time on campus? Was there a particular professor that influenced your education?
My favorite memories at UH revolve around the time spent in the studio. It was a completely different experience for me, which formed lifelong friendships with the people in my first-year studio. I had first-rate professors the entire time I was at the Hines College. Some of the most influential professors include Lannis Kirkland, Art Chavez, Tom Diehl, Barry Moore, and Rives Taylor.
Lannis Kirkland was my professor in our first-year studio. He taught me all the fundamentals of architecture, planning, and teamwork that I still use today.
Art Chavez taught our third-year studio with two of his colleagues from Page. That experience taught me to find my voice in design and how to back up my designs with a solid idea or story.
Tom Diehl taught me the vital connection between design and structure and how to think practically about design. In addition to being a great professor, Barry Moore was the person who introduced me to Gensler and suggested that I interview for a position there during my senior year. 
What has been your career path since graduation? Where are you currently working and in what capacity?
I have worked at Gensler since graduation in 2005. I began my career as a junior designer working on branch banks and commercial office buildings. Over time my project roles and types evolved, eventually leading me to serve as Project Architect / Project Manager on the ExxonMobil Houston Campus, which was the largest corporate campus to date in the United States. That project set me up to be a leader in our firm for both project management and large projects. Currently, as a Principal at Gensler, I am working on Walmart's new, 350-acre campus in Bentonville, Arkansas. I also lead a studio within our Houston office, focusing on corporate campuses, office buildings, critical facilities, energy and sciences, and technology.

In July of 2020, I was also named Regional Design Synergy Leader for our firm's South Central Region. In this new role, I will be working closely with our internal network of leaders focused on the five pillars of design - experience, realization, management, purpose and resilience - to elevate our creativity and innovation in design and delivery.
What does a typical day look like in your job?  Do you have a particular design or business philosophy?
Each day is so different. However, my days typically involve client meetings, overseeing multiple teams on large projects and large accounts, interfacing with our design and technical teams, running a studio, and working on contracts.
My philosophy is to do your best work and help people follow their passions so they can be successful. If people are happy and fulfilled, they are doing their best work.   
What is one accomplishment of your career of which you are particularly proud? How do you feel the college prepared you for this?
I am still very proud of the successful completion of the ExxonMobil Houston Campus in 2015. That project brought out the best in our entire team and was a game-changer for our office. It set me on a path of managing large, complex projects and taught me how to be a true leader. I also made some of my most meaningful personal and professional friendships on that project. The Hines College prepared me for this success by teaching me the skills to work in a team and become a leader.
What is a valuable lesson that you learned during your time at the Hines College of Architecture and Design?  
Understanding how to work in a team was probably the most valuable lesson I ever learned at the Hines College of Architecture and Design. So much of what we do every day in professional practice involves working with our internal teammates, clients, and consultants. Being able to work with different personalities and collectively drive towards a common solution is incredibly important. 
What is a piece of advice you would give to current Architecture and Design students?
Enjoy your time at UH and make as many connections as you can. You will run into your current classmates and professors in the professional world, so it is always important to be your best and leave a positive impression.