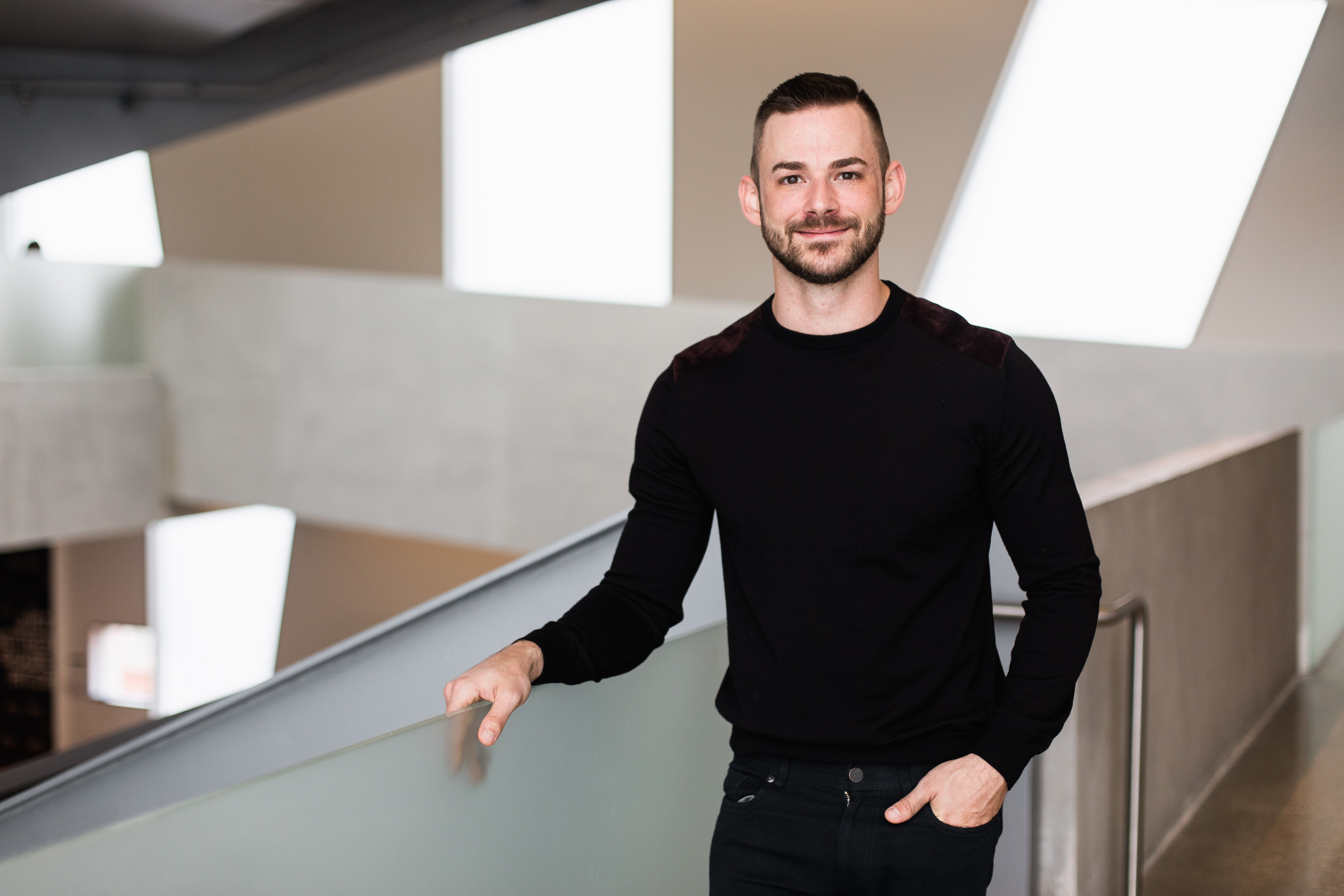 Name: Adam Cook
Hometown: Houston, Texas
Major: Bachelor of Architecture
Graduation year: 2011
Employer: Shop (shopcalledshop.com)
Title: Owner
Why did you choose the Gerald D. Hines College of Architecture and Design, and what drew you to design?
I have always been good at sketching and art, so I knew I wanted to work in a creative field. I envisioned the role of an architect as the perfect intersection between art and the professional world. It was a serious and respectable job where I could still draw!
What was one of your favorite memories from your time on campus? 
I am immensely proud of the work I did with Student Council. We started "Grazie Giving" to drive food donations during the holidays, and it brought an incredible sense of camaraderie and family to the College. It is heartwarming to see this tradition still thriving! As students, we would get so caught up in our deadlines, stress, and various self-interests, but for that meal, everyone was united and equal. There was always a special sense of community, bringing everyone together in the Atrium.
In Student Council, we also revived the Collective Works publication (which had only existed as a single book in previous years) with a second edition, CW2. My major contribution was spearheading a fundraiser and raffle to raise the necessary funds. Randy Hayden assembled the layouts for the book's pages on InDesign. We borrowed an office in the corner of the College, and I remember working late nights with Randy, determined to finish the book and leave something important behind. We grew to be very close friends who could talk about anything, from relationships to what the 'real world' would be like after graduation. Randy passed away a few years ago, and those nights, which felt so laborious at the time, now seem much more precious.
Was there a particular professor that influenced your education?
Like most relationships, everyone leaves an impression and helps mold you as a designer. Cord Bowen helped shaped my sense of graphics, presentation, and color. He had a way of igniting and exciting people, which I hope to emulate for others. Robert Griffin was invaluable in teaching Modernist composition and spatial experience – he was a kind, strong, and gentle man. Celeste Williams helped me discover a passion for objects with her "History of Design" class. At the helm of the Student Council, Trang Phan was always a maternal and encouraging voice of reason. Often we forget details or exactly what someone said, but we will always remember how they made us feel.
What has been your career path since graduation? Where are you currently working and in what capacity?
While finishing college, I worked part-time at a furniture showroom, Sunset Settings. I fell in love with design objects and their narratives and personalities. Instead of applying to architecture firms, I continued working at the furniture store, knowing I found my passion. At the time, I was drawn to the midcentury classics and wanted desperately to work for Knoll, so I took the only position available there, which was part-time. Knoll exposed me to the world of contract interiors and selling. After Knoll, I was a salesperson for five years at a multi-line showroom called Internum, dealing mostly with high-end European contemporary furniture. While at Internum, I started visiting European factories for training and observing production processes. I also began attending the annual Salone del Mobile tradeshow in Milan, which were very formative and valuable years.
For two years, I was Director of Sales and Marketing for Roche Bobois, covering six stores in the Pacific Northwest, Texas, and Atlanta. 
In 2018, my previous employer, Internum, suddenly closed. It created a void in the Houston market, and I knew I had to jump on the opportunity. I quit my job and opened up Shop (literally, a shop called Shop) for myself.
Shop opened its physical doors in 2019. We represent roughly a dozen high-end, high-design brands of furniture, lighting, and accessories - many of which had not been in Houston previously. We are trade-preferred, so most of our business is conducted through and geared towards architects and interior designers. We greatly value our industry partnerships.
What does a typical day look like in your job?  Do you have a particular design or business philosophy?
No two days are ever the same – which I like! My typical day could be presenting a product line to an architecture/design firm, sending quotes, attending a trade fair, or sitting in front of my laptop for hours drawing for a client. There is usually some manual labor peppered in, either shuffling chairs around the showroom or taking the trash out to the dumpster - which certainly keeps me grounded! It is important to laugh at yourself.
You catch more flies with honey than with vinegar. I have noticed that any time I worry about sales and money, cash seems to freeze up. When I focus on what I am passionate about – the work and design – somehow the numbers usually follow. Always keep your focus on the passion and never make money a primary objective.
What is one accomplishment that you are most proud of in your career? How do you feel that the College prepared you for this?
Recently, I had to pinch myself at just how far I have come. In the span of a week or so I was offered an opportunity to present a keynote CEU, which was on the life of Eileen Gray (a topic that has fascinated me since college), I received an order from Gensler (the largest architecture firm in the world) for the reception desk of their new Houston office, and I was showcased with a full-page profile in a local magazine. What could possibly top this? It was such a proud moment of my life. I had built up my showroom and was being taken seriously by respected peers. I was living my dream.
I found my confidence at UH as the architecture senator for the Student Government Association and also steering "Town Hall" meetings in an auditorium full of students, which would have terrified me before college.
Almost daily, I draw on my technical and software skills developed during my time at the College. I sometimes take those skills for granted, dealing with floor plans, architectural drawings, and graphics. They come into play so often!
What is a piece of advice you would give to current Architecture and Design students?
There have been moments after graduation where I have felt insecure about my profession. I worked hard to earn an accredited degree, and now I sell chairs and sofas. What must my old classmates working at prestigious firms think of me?  It is perfectly acceptable to take a different path rather than the traditional architect route. There are so many facets to this industry, so follow what excites you.
Do not take criticism too harshly or personally. There are a lot of egos in our field. Rise above them as best as you can.
Architecture is a rigorous program, but do not forget to have fun! I was overcommitted as a student, and regret not allowing myself to have more of the "college experience." Go to the football games. Get involved. Be a college student.