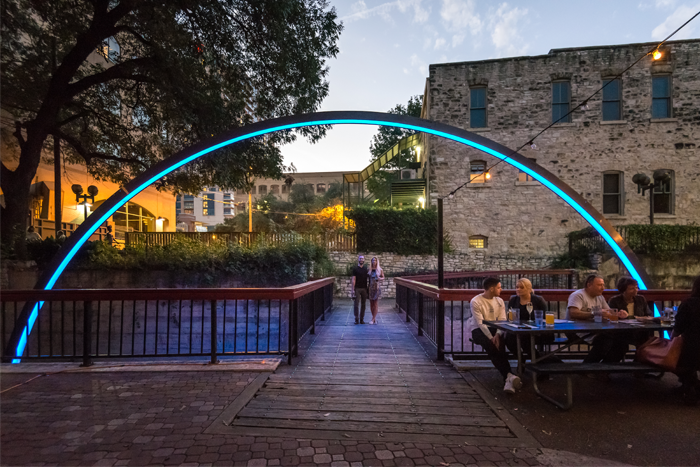 Two Austin alums are lighting up urban parks with a colorful installation at Waller Creek. 
July 15, 2018 - Tim Derrington('04) and Blair McKay ('05) are two UH alumni working with Derrington Builders Studio based in Austin, TX. AIA Austin recently recognized Tim and Blair with the Award of Merit for Deep Curiosity for their light installation done in conjunction with the Waller Creek Conservancy.
Waller Creek Conservancy is a non-profit whose mission is to create and maintain a chain of extraordinary urban parks around a restored Waller Creek, which extends from the east side of Austin to Towne Lake. Each year the Conservancy works with the City of Austin to produce a light art procession called the "Creek Show."
Event organizers recruited Derrington Builders Studio to submit a proposal for a temporary installation that proved to be a bold task involving over 2000 lbs. of aluminum to create a 50ft arch with LED lighting that is capable of changing colors and patterns. With a $15,000 stipend, Tim and Blair created a spectacular installation that delighted the over 10,000 visitors. After the event, the installation was so popular that the city allowed it to remain on the property for an extended stay and eventually made an appearance at Burning Man in the Black Rock Desert north of Reno, Nevada.
Congratulations to Tim and Blair for their design award. For more information on their firm checkout: www.derrington.co