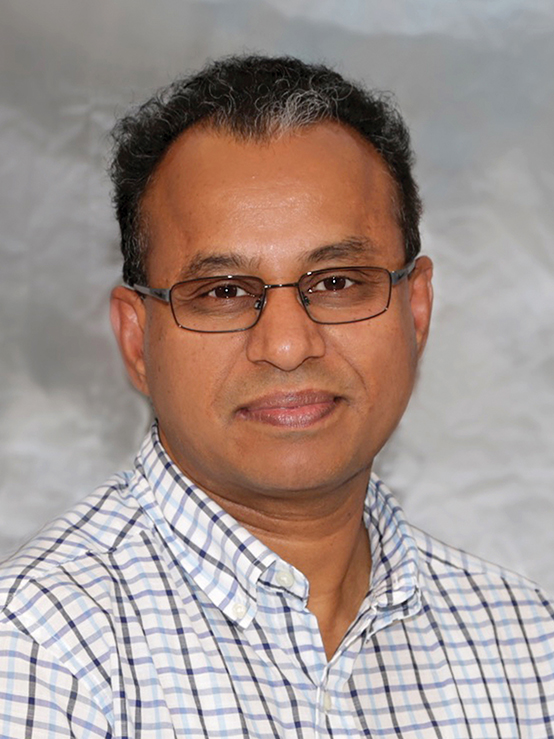 M. Jahangir Alam, Ph.D.
Research Assistant Professor
Health 2
University of Houston College of Pharmacy
4849 Calhoun, Room 4046
Houston, TX 77204-5039
832-842-8319
mjalam@central.uh.edu
Ph.D. in Biopharmaceutical Sciences/Microbiology, Okayama University, Okayama, Japan (2002)
M.Sc. in Microbiology, University of Dhaka, Dhaka-1000, Bangladesh (1989)
B.Sc. Hons. in Biology/Biochemistry, University of Dhaka, Bangladesh (1987)
Clinical Microbiology, Applied and environmental microbiology, Diagnostic medicine and pathobiology, Microbial source tracking, Pathogenic microbiology/virology, Vector microbe interaction, Food and water quality/safety microbiology, Drug resistance, Biofilm, Health and hygiene, Disease prevention and control, Pathogen survival and transmission, Microbial ecology, Zoonosis, Nosocomial infections, Method development, etc.
Clinical Researcher, University of Houston College of Pharmacy, Texas Medical Center, Houston, TX (10/2011-4/14)
Senior Laboratory Investigator, Texas A&M Health Science Center (4/2011-9/2011)
Microbiologist/Technical Director of Microbiology and Advisor, Texas Commission on Environmental Quality (TCEQ), TX (2009-2011)
Post-doctoral Researcher, Texas A&M University, USA (2008-2009)
Post-doctoral Researcher, Kansas State University, USA (2003-2008)
Guest Researcher, Okayama University, Okayama, Japan (2002-2003).
Ph.D. Student/Monbusho Scholar, Okayama University, Japan (1999-2002)
Monbusho Scholar, Biopharmaceutical Sciences. Okayama University Graduate School of Natural Science and Technology, Okayama, Japan (1997-1999)
Senior Research Officer (Research Microbiologist), International Centre for Diarrheal Disease Research, Bangladesh (ICDDR) (1996-1997)
Research Officer (Research Microbiologist), ICDDR (1991-1995)
Research fellow (Public Health Microbiology), ICDDR (1988-1991)
Evaluation of a shoe sole UVC device to reduce pathogen colonization on floors, surfaces, and patients. Rashid T, Poblete K, Amadio J, Hasan I, Begum K, Alam MJ, Garey KW. J Hosp Infect. 2017 Oct 21. pii: S0195-6701(17)30577-7. doi: 10.1016/j.jhin.2017.10.011. [Epub ahead of print] PMID:29066141
Acquisition of Clostridium difficile Colonization and Infection After Transfer From a Veterans Affairs Hospital to an Affiliated Long-Term Care Facility. Ponnada S, Guerrero DM, Jury LA, Nerandzic MM, Cadnum JL, Alam MJ, Donskey CJ. Infect Control Hosp Epidemiol. 2017 Sep;38(9):1070-1076. doi: 10.1017/ice.2017.140. Epub 2017 Jul 11. PMID:28693636
A Protocol to Characterize the Morphological Changes of Clostridium difficile in Response to Antibiotic Treatment. Endres B, Bassères E, Rashid T, Chang L, Alam MJ, Garey KW. J Vis Exp. 2017 May 25;(123). doi: 10.3791/55383. PMID:28570548
Published >50 research articles in various scientific journals; for complete listing, visit http://publicationslist.org/alammj
Bassères E, Endres BT, Dotson KM, Alam MJ, Garey KW. Novel antibiotics in development to treat Clostridium difficile infection.  Curr Opin Gastroenterol. 2017 Jan;33(1):1-7. doi: 10.1097/MOG.0000000000000332. PMID: 28134686
Endres BT, Bassères E, Memariani A, Chang L, Alam MJ, Vickers RJ, Kakadiaris IA, Garey KW. A novel method for imaging the pharmacological effects of antibiotic treatment on Clostridium difficile. Anaerobe. 2016 Aug;40:10-4. doi: 10.1016/j.anaerobe.2016.04.013. Epub 2016 Apr 21. PMID: 27108094
Thabit AK, Alam MJ, Khaleduzzaman M, Garey KW, Nicolau DP. A pilot study to assess bacterial and toxin reduction in patients with Clostridium difficile infection given fidaxomicin or vancomycin. Ann Clin Microbiol Antimicrob. 2016 Apr 12;15:22. doi: 10.1186/s12941-016-0140-6. PMID: 27071986
Endres BT, Bassères E, Khaleduzzaman M, Alam MJ, Chesnel L, Garey KW. Evaluating the Effects of Surotomycin Treatment on Clostridium difficile Toxin A and B Production, Immune Response, and Morphological Changes. Antimicrob Agents Chemother. 2016 May 23;60(6):3519-23. doi: 10.1128/AAC.00211-16. Print 2016 Jun. PMID: 27021314
Bassères E, Endres BT, Khaleduzzaman M, Miraftabi F, Alam MJ, Vickers RJ, Garey KW. Impact on toxin production and cell morphology in Clostridium difficile by ridinilazole (SMT19969), a novel treatment for C. difficile infection. J Antimicrob Chemother. 2016 May;71(5):1245-51. doi: 10.1093/jac/dkv498. Epub 2016 Feb 18. PMID: 26895772
Aitken SL, Alam MJ, Khaleduzzaman M, Walk ST, Musick WL, Pham VP, Christensen JL, Atmar RL, Xie Y, Garey KW. In the Endemic Setting, Clostridium difficile Ribotype 027 Is Virulent But Not Hypervirulent. Infect Control Hosp Epidemiol. 2015 Nov;36(11):1318-23. doi: 10.1017/ice.2015.187. Epub 2015 Aug 20. Erratum in: Infect Control Hosp Epidemiol. 2016 Jan;37(1):124. PMID: 26288985
Martinson JN, Broadaway S, Lohman E, Johnson C, Alam MJ, Khaleduzzaman M, Garey KW, Schlackman J, Young VB, Santhosh K, Rao K, Lyons RH Jr, Walk ST. Evaluation of portability and cost of a fluorescent PCR ribotyping protocol for Clostridium difficile epidemiology. J Clin Microbiol. 2015 Apr;53(4):1192-7. doi: 10.1128/JCM.03591-14. Epub 2015 Jan 28. PMID: 25631804
A Kilic, MJ Alam, NL Tisdel, DN Shah, M Yapar, TM Lasco, KW Garey (2015). Multiplex Real-Time PCR Method for Simultaneous Identification and Toxigenic Type Characterization of Clostridium difficile from Stool Samples. Annals of Laboratory Medicine. 35:3. 306-313.
DM Jacobs, ND Beyda, O Asuphon, MJ Alam, KW Garey (2015). Host Factors and Clinical Outcomes of Candida Colonization in Critically Ill Patients. Mycopathologia. 179:87-93.
H Di, L Shi, H Shen, H Yan, H Meng, L Li, MJ Alam, S Yamasaki, L Ye (2014). Rapid Detection of Genetically Modified Ingredients in Soybean Products by Real-Time Loop-Mediated Isothermal Amplification. Journal of Food and Nutrition Research 2:7. 363-368.
ND Beyda, J John, A Kilic, MJ Alam, TM Lasco, KW Garey (2014). FKS mutant Candida glabrata; risk factors and outcomes in patients with candidemia. Clinical Infectious Diseases. 59:6.819-825.
MJ Alam, A Anu, ST Walk, KW Garey (2014). Investigation of potentially pathogenic Clostridium difficile contamination in household environs. Anaerobe 27:31-33. 2013
ND Beyda*, MJ Alam*, KW Garey (2013). Comparison of the T2Dx instrument with T2Candida assay and automated blood culture in the detection of Candida species using simulated blood cultures. Diagnostic Microbiology and Infectious Disease (*Co-first authors). 77:4.324-6 December.
KL Perez, MJ Alam, A Castillo, TM Taylor (2013). Antibiotic resistance and growth of the emergent pathogen Escherichia albertii on raw ground beef stored under refrigeration, abuse, and physiological temperature. Journal of Food Protection. 76:1.124-128.
N Beyda, SH Chuang, MJ Alam, TM Ng, L McCaskey, D Shah, KW Garey (2013) Treatment of Candida famata bloodstream infections: case series and review of the literature. Journal of Antimicrobial Chemotherapy 68:2.438-443.
W Wang, B Li, J Liu, L Shi, MJ Alam, S Su, J Wu, L Wang, A Wang (2012). The respiratory burst activity and expression of catalase in white shrimp, Litopenaeus vannamei, during long-term exposure to pH stress. Ecotoxicology (London, UK). 21:6.1609-1616.
V Singh, V Arora, MJ Alam, KW Garey (2012). Inhibition of biofilm formation by esomeprazole in Pseudomonas aeruginosa and Staphylococcus aureus. Antimicrobial Agents and Chemotherapy. 56:8.4360-4364.
X Shan, Y Zhang, Z Zhang, M Chen, Y Su, Y Yuan, MJ Alam, H Yan, L Shi (2012). Rapid detection of food-borne Listeria monocytogenes by real-time quantitative loop-mediated isothermal amplification. Food Science and Biotechnology 21: 101-106.
Y Zhang, X Shan, L Shi, X Lu, S Tang, Y Wang, Y Li, MJ Alam, H Yan (2012). Development of a fimY-based loop-mediated isothermal amplification assay for detection of Salmonella in food. Food Research International. 45: 1011-1015.
CC Dodd, DG Renter, X Shi, TG Nagaraja, MJ Alam, MW Sanderson (2011). Prevalence and persistence of Salmonella in cohorts of feedlot cattle. Foodborne Pathogens and Disease. 8:781-789.
Z Xu, L Li, ME Shirtliff, BM Peters, B Li, Y Peng, MJ Alam, S Yamasaki, L Shi (2011). Resistance Class 1 Integron in clinical Methicillin-Resistant Staphylococcus aureus Strains in Southern China, 2001-2006. Clinical Microbiology and Infection. 17:712-724.
Y Ye, B Wang, F Huang, Y Song, H Yan, MJ Alam, S Yamasaki, L Shi (2011). Application of in situ loop-mediated isothermal amplification method for detection of Salmonella in foods. Food Control. 22:438-444.
EV Taylor, X Shi, MJ Alam, G Peterson, SK Narayanan, DG Renter, TG Nagaraja (2011). Genetic Variations in Shiga Toxin-Producing Abilities of Bovine and Human Escherichia coli O157:H7 Zoonoses and Public Health 58:3.185-191.
Community household environmental studies on potentially pathogenic Clostridium difficile
PI: KW Garey and MJ Alam
Funding agency: Texas Department of State Health Service (2014-15)
Grant amount (total costs): $298,938
Memberships
American Society for Microbiology (ASM)
Editorial Appointments
Review Editor, Frontiers in Environmental Health