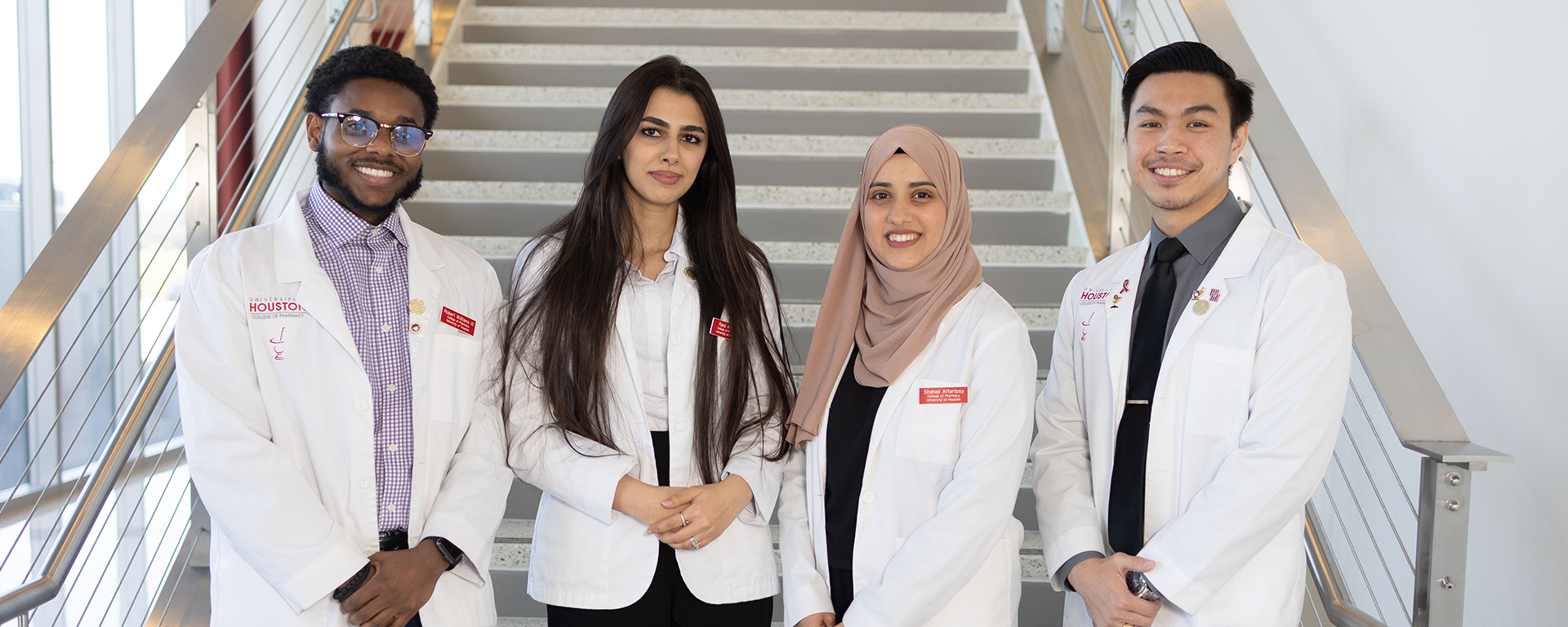 About the Program
You may think you know what pharmacists do and where to find them. But today's pharmacists aren't just behind the counter. And if you want to excel in your pharmacy career, you need a program that will prepare you for the challenges of today–and the health care industry's future.
At UH College of Pharmacy, we have more than 75 years of experience in creating an educational environment that is collaborative, diverse, equitable and student-focused. As a member of our scientific circle, you'll be actively involved in both the campus and patient communities — sharing your voice, voting on policies, and finding leadership opportunities in our award-winning student organizations. You'll train with expert faculty in our world-class laboratory facilities, and enjoy all the opportunities and resources offered by the University of Houston and the Texas Medical Center.
With our range of clinical research opportunities and advanced pharmacy practice experiences (APPEs) in oncology, infectious disease, pediatrics, women's health, critical care, neurology, compounding and veterinary pharmacy, your student journey will fit your needs and your goals in a program that has four consecutive years of the highest NAPLEX first-time pass rate in Texas.
At a Glance
#1

Texas First-time Pass Rate 2017, 2018, 2019 and 2020 NAPLEX Exam (NABP)

#19

College Ranking 2020 (Explor Res Clin Soc Pharm, 2022)

81%/77%

UHCOP vs. U.S. Match Rate (ASHP Resident Matching Program, 2022)

550+

Experiential Preceptors

#31

Top Colleges of Pharmacy for 2021 (US News & World Report)

25

Registered Student Organizations
Pharm.D. Curriculum
The Pharm.D. curriculum is designed to prepare students to be practice ready upon arrival at their experiential sites, and ultimately undergo more robust clinical and professional growth during their patient care encounters and research activities. The curriculum integrates core knowledge areas – such as the effects of drugs in the body and how to select a particular drug among a range of options – into courses based on organ systems and disease states.
UH Pharm.D. students can pursue a variety of unique in-state and out-of-state experiential opportunities, including the Food and Drug Administration, the Centers for Disease Control and Prevention, and the Indian Health Service in Alaska and New Mexico.
Pharm.D. Curriculum
Experiential Programs
Rio Grande Valley Pharm.D. Satellite Program
Hispanic Healthcare Certificate
Dual & Consecutive Degree Programs
Discover Houston
The fourth largest city in the U.S., Houston is home to abundant opportunities for adventure, enrichment and socializing outside of the classroom. From world-class museums, performing arts/concert venues and major league sports to a dizzying array of international cuisine, community cultural events and lush parks, there's something for everyone in Houston. This vibrant scene is reflected on the UH campus with such amenities as a student recreation center complete with rock climbing wall, a university center with games room and bowling alley, dining options ranging from casual restaurants to dining halls and food trucks and, of course, men's and women's Big 12 team sports.