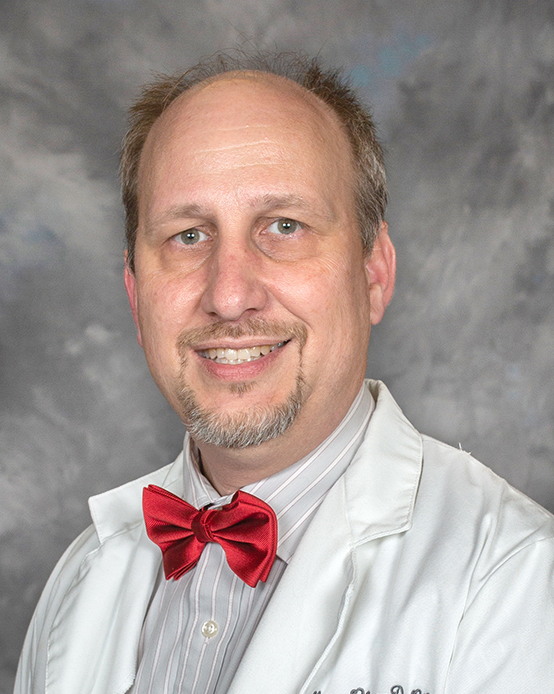 David Wallace, Pharm.D.
Clinical Associate Professor
Health 2
University of Houston College of Pharmacy
4849 Calhoun, Room 4017
Houston, TX 77204-5039
832-842-8304
DWallace@uh.edu
Pharm.D., University of Houston, Houston

Specialty Residency in Community Pharmacy Practice, University of Missouri – Kansas City School of Pharmacy
Community Pharmaceutical Care
Ambulatory Care
Educational Technology
Underserved Populations
American Association of Colleges of Pharmacy Student Community Engagement Award (Faculty Advisor), 2013
University of Houston Phi Lambda Sigma Faculty Award, 2006
Texas Pharmacy Association 40 Pharmacists Under 40, 2005
University of Houston College of Pharmacy Volunteer of the Year, 2004
Harris County Pharmacy Association's Young Pharmacist of the Year, 2001
Phi Lambda Sigma inductee, 1995
PHAR 5480 Physical Assessment / Anatomy
PHAR 5373 Pharmacy Practice IV
PHAR 5213 Pharmacy Based Immunization Delivery Elective
PHAR 5274 Pharmacy Practice V
PHAR 5275 Pharmacy Practice VI
PHAR 5581 Advanced Therapeutics I
PHAR 5582 Advanced Therapeutics II
PHAR 2200 Introduction to Pharmacy
PHAR 5298 Pediatric Therapeutics Elective
PHAR 4250 Pharmacy Skills Program I
PHAR 4251 Pharmacy Skills Program II
PHAR 5155 Pharmacy Skills Program IV
PHAR 5256 Pharmacy Skills Program V
Cox SR, Liebl MG, McComb MN, Chau JQ, Wilson AA, Achi M, Garey KW, Wallace D. Association between health literacy and 30-day healthcare use after hospital discharge in the heart failure population. Res Social Adm Pharm. 2017 Jul - Aug;13(4):754-758. doi: 10.1016/j.sapharm.2016.09.003. Epub 2016 Oct 14. PMID: 28277275
Philip A, Green M, Hoffman T, Gautreaux S, Wallace D, Roux R, Garey KW. Expansion of clinical pharmacy through increased use of outpatient pharmacists for anticoagulation services. Am J Health Syst Pharm. 2015 Apr 1;72(7):568-72. doi: 10.2146/ajhp140404. PMID: 25788511
Dasgupta A, Sansgiry SS, Sherer JT, Wallace D, Sikri S. Pharmacists' utilization and interest in usage of personal digital assistants in their professional responsibilities. Health Info Libr J. 2010 Mar;27(1):37-45. doi: 10.1111/j.1471-1842.2009.00856.x. PMID: 20402803
Dasgupta A, Sansgiry SS, Sherer JT, Wallace D, Sikri S. Application of the Extended Technology Acceptance Model in predicting pharmacists' intention to use personal digital assistants. J Am Pharm Assoc (2003). 2009 Nov-Dec;49(6):792-6. doi: 10.1331/JAPhA.2009.08136. PMID: 19926561
Clark DL, Melillo A, Wallace D, Pierrel S, Buck DS. "A Multidisciplinary, Learner-centered, Student-run Clinic for the Homeless." Fam Med 2003;35(6):394-7.
Buck DS, Wallace DA. Drug sampling: perpetuating an unjust health care system? J Am Board Fam Pract. 2002 Sep-Oct;15(5):426-7. PMID: 12350067
David Wallace, "The Pharmacist and the Louse," Texas Pharmacy Summer 2002.
"Students Work Weekends to Help Homeless, Texas Medical Center News. Vol. 23, No. 9, May 15, 2001
"Evaluating Physical Assessment Skills on a Tight Budget," Roundtable, 2017 AACP Annual Meeting, Anaheim, CA, July 2016.
Okonkwo O, Hatfield C, Wallace D. Pharmacy Students Role in Performing Physical Assessments during Advanced Pharmacy Practice Experientials. 2012 Texas Society of Health-System Pharmacy Annual Seminar – Dallas, TX
Wallace D. The H.O.M.E.S. Clinic Experience: Caring For and Learning From the Underserved. 2008 Annual Meeting of the American Association of Colleges of Pharmacy – Chicago, IL.
Jackson N, Castillo D, Salinas C, Hayes J, Wallace D, Byrd R, Martinez D, Rice G. Asthma Initiative: An Evaluation of Pediatric Asthma Patient and Caregier Education in an Ambulatory Setting by a Pharmacist. 2008 Annual Meeting of the Academy of Managed Care Pharmacy - San Francisco CA
"Evaluating Student Pharmacists Physical Assessment Skills: Using a Comprehensive, Integrative, Practical Exam," Roundtable, 2007 APhA Self-Care Institute, Philadelphia, PA June 2007.
Bragg H and Wallace D. Improving the Quality of Healthcare Screening Education. 2006 Annual Meeting of American Association of Colleges of Pharmacy – San Diego, CA
Simpson L, Wallace D, Lake S, Driever C, Konzem S. A Novel Skills Development Program for Entry Level Pharm.D. Students. 1998 American Association of Colleges of Pharmacy Annual Meeting – Snowmass, CO
Healthcare for the Homeless – Houston, 1999-present
American Association of Colleges of Pharmacy, 2003-present
American Pharmacists Association, 1994-present
Texas Pharmacy Association, 1994-present
Texas Society of Health-System Pharmacists, 2004-present
Houston Area Pharmacy Association, 1999-present
Gulf Coast Society of Health-System Pharmacists, 2004-present