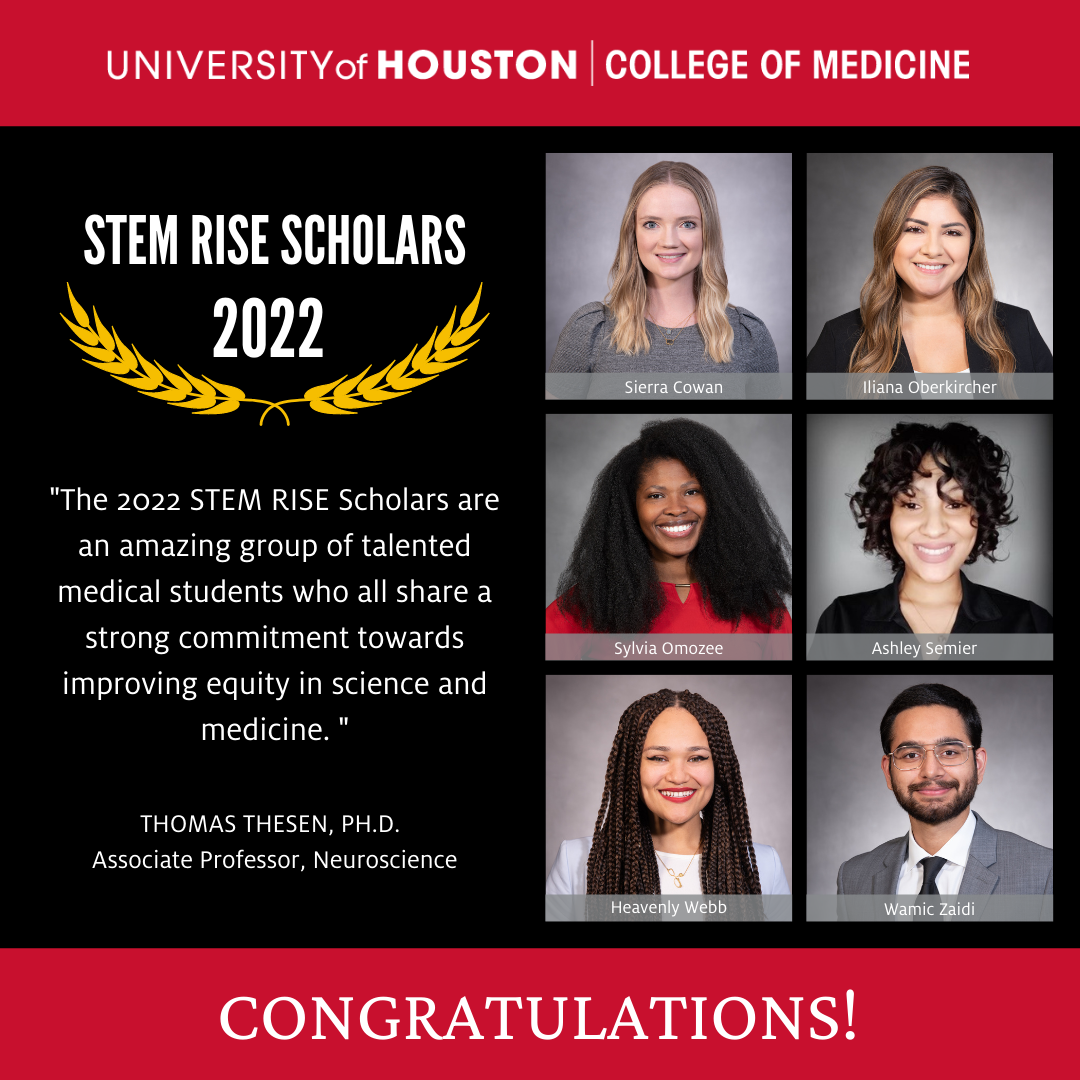 The STEM Research Inquiry Summer Experience (RISE) program, in its second year, selected six University of Houston College of Medicine students as their 2022 STEM RISE Scholars.
These students were selected based on their prior experience with and commitment to teaching and mentoring of students from groups that are underrepresented in medicine and their commitment towards racial equity in STEM and medical education.
The 2022 scholars selected from the College of Medicine's Class of 2025 are: Sierra Cowan, Iliana Oberkircher, Sylvia Omozee, Ashley Semier, Heavenly Webb, and Wamic Zaidi.
"The 2022 STEM RISE Scholars are an amazing group of talented medical students who all share a strong commitment towards improving equity in science and medicine," said Thomas Thesen, director of the STEM RISE research experience and associate professor of neuroscience at the College of Medicine.
Each medical student will receive a stipend of $3,500 and will mentor students from the Jack Yates High School in Third Ward this summer as part of their Scholarly Project in Year 1 of medical school. The Jack Yates students will work with the medical students and undergraduate STEM majors on research projects housed in different UH science labs on campus.
"As part of the STEM RISE program, scholars receive training in culturally responsive pedagogy and act as near-peer mentors for students from Jack Yates Highschool in the historic Third Ward community," Thesen added. "Creating safe and supportive learning experiences for the next generation of scientists and doctors is crucial for ensuring diversity in science and medicine."
The STEM RISE program started last year and, after a small and successful pilot study, is now funded by the National Science Foundation. It is a collaborative effort involving Mariam Manuel and Jacqueline Ekeoba from the teachHouston program and the UH College of Natural Sciences and Mathematics, in addition to the College of Medicine and Jack Yates.
For more information, visit uh.edu/nsm/th/stem-rise.
Related Story: STEM RISE: New Partnership Provides Research Opportunities to Third Ward Students - University of Houston (uh.edu)