Mission Statement
The mission of the Office of Medical Education is to provide guidance and support for the medical education program through the design, delivery, and assessment of innovative curricula, educational technology, and experiential learning.
CURRICULUM DEVELOPMENT AND SUPPORT
The Office of Medical Education provides support for faculty, students and overall curricular support for the University of Houston College of Medicine. We support curricular design, instructional strategies, accreditation and overall quality improvement. Key services include faculty development, course design and support, instructional strategies, and program evaluation.
The frontline curriculum support team is composed of program coordinators who interface UHCOM's learning management system eMedley and manage course scheduling for their respective faculty members. Please feel free to contact us to inquire about how we can customize a support plan for you and your instructional team.
Curriculum
UH College of Medicine's unique and innovative curriculum will prepare students to practice high-quality, high-value patient-centered medicine in a rapidly changing and complex health system. We place a major emphasis on primary care in underserved populations, social determinants of health, community and population health, and behavioral health to improve health care disparities in urban and rural areas.
Throughout the four-year curriculum, students will be immersed in a highly integrated approach to the teaching of biomedical, clinical, behavioral and social, health system and population health sciences, complemented with robust experiential learning.
FREQUENTLY ASKED CURRICULAR QUESTIONS
All preclerkship courses are graded as pass/ fail. Students must pass the comprehensive final summative exam in a course to achieve a passing score. Clerkships will be graded as pass/ fail/ honors.
Curriculum Resources
Software Applications
UH College of Medicine students will use the following software applications to enhance and aid their education.
---
FREQUENTLY ASKED QUESTIONS FOR EDUCATION TECHNOLOGY AND APPLICATIONS
General Education Technology Questions
In some cases, there may be tasks that can be completed using iPads and similar devices, you will NOT be able to complete exams with an Android tablet, Chromebook, notebook or iPad.
It is recommended that students use Google Chrome for tasks in the eMedley learning-management system. Other browsers may be appropriate for tasks outside of that system.
Education technology support is available during the university's business hours of 8:00 a.m. – 5:00 p.m.
eMedley FAQs
Yes. eMedley is available from any location. It does not require VPN or campus access. It is recommended that students use Google Chrome for tasks in the eMedley learning-management system.
In some cases, there may be tasks that can be completed using iPads and similar devices, you will NOT be able to complete exams with an Android tablet, Chromebook, notebook or iPad.
After signing into eMedley, click the icon with three yellow blocks on the left menu and select educate. The educate module is the learning-management system within eMedley.
If a course is missing from your view, please contact the Director of Education Technology, Devin Dabney, at 713-743-1858 or djdabney@central.uh.edu.
There is no mobile app available for the UH College of Medicine at this time.
Lecturio FAQs
Lecturio is an application that helps students learn, retain, apply and study medicine, from anywhere, with video lectures, by award-winning professors, integrated in a powerful question bank.
Users can log into Lecturio with their @central.uh.edu address (faculty) or their @uh.edu address (students). Please keep in mind that login credentials for this site are independent of UH logins and passwords, so you'll need to keep up with the password that you create for this site.
Yes. Custom mobile apps have been created for the UH College of Medicine and they can be found in the Apple App store or the Google Play store.
TurningPoint FAQs
Microsoft Teams FAQs
University faculty, staff and students can use Microsoft Teams.
Any actively enrolled student or currently employed staff or faculty member can create their own Teams. To get started:
Download Teams for your desktop, iOS or Android, or just use Teams on the web.
Sign in with your CougarNet ID and password (make sure to append @cougarnet.uh.edu after your username).
Educational Technology Support
Education Technology Team
Devin J. Dabney
Director - Education Technology
Office: Health 2, 9010-G
713-743-1858
djdabney@central.uh.edu
Mahua Ghosh
Instructional Designer - II
mghosh3@uh.edu
Support Hours
Education Technology Support
8 a.m. – 5 p.m., Monday - Friday
Contact Form
Complete the Education Technology support form
Center for Clinical Arts, Skills, and Experiential Learning (CCASEL)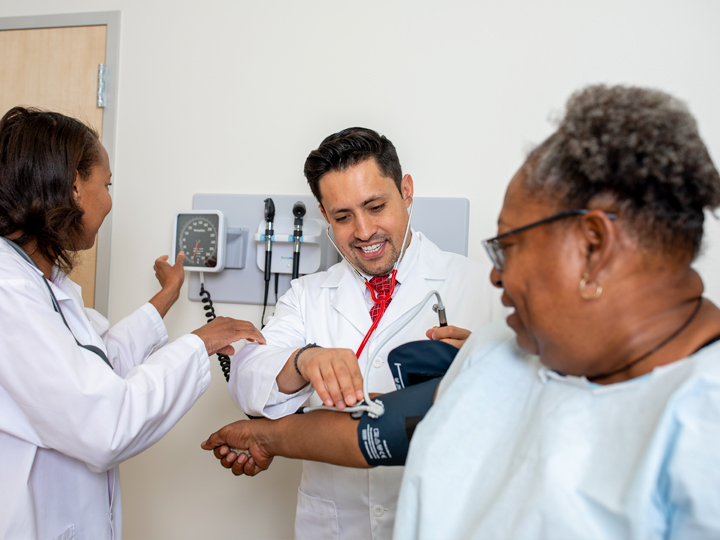 The Center for Clinical Arts, Skills, and Experiential Learning (CCASEL) (pronounced castle) serves as the hub for simulation activities of all modalities, clinical skills training and other experiential learning initiatives in the College of Medicine. It is also the home for the College's Standardized Patient and Physical Examination Teaching Associate Programs, which allow trained community members to be part of the educational team by providing instruction and feedback to students about their communication, interpersonal and physical examination skills. The Center is overseen by Andrew Roblyer, CHSE, director of Clinical Simulation, and supported by an advisory board made up of representatives from all five health colleges at the University of Houston.
As part of its mission, CCASEL is available to be booked by external entities for simulation and training activities and may be able to provide event development support at an additional cost, depending on the needs.
For more information or to inquire about hosting a simulation activity, please email us at ccasel@central.uh.edu. Current medical students may also contact us to request access to the lab space for self-directed learning, practice and review at no charge.
Andrew Roblyer, CHSE
Director of Clinical Simulation
Kathleen Gullion, M.F.A.
Standardized Patient Program Manager
Curriculum Support Team
Brian Dzwonek, Ed.D.

Richard O'Neal, M.S.

Taha Gilani, M.H.A./MBA

Lupita Curiel

Marie Chacon

Raina Haruna

Aaron Lara

Jonaya Ellis

Raychell Watson
STUDENT RESOURCES
The UH College of Medicine Student Resources page provides the latest announcements and information on academic support, learning communities, the student handbook and other useful resources to help you on your journey.
TEACHING RESOURCES
The Office of Medical Education has developed an online resource for medical educators called the UH COM Medical Education Training Center. The material on this site covers a wide range of instructional methods and practical training for eMedley, the learning management system used by UHCOM. As new modules are created, they will be published to this site making it a great resource as you develop and implement your courses.