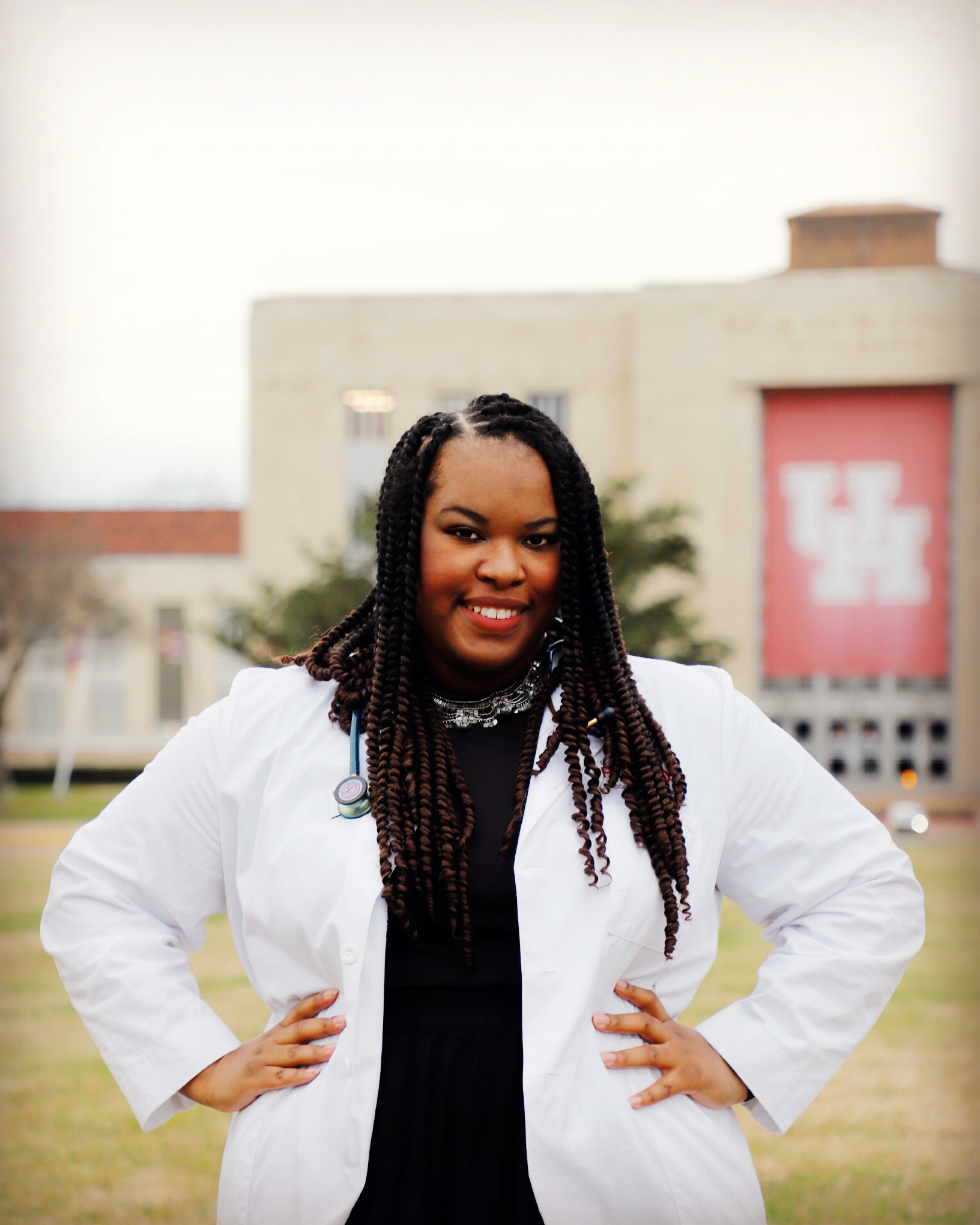 Being a pioneer is bit of a tradition for Houstonian Breanna Chachere. In 2020, Chachere was picked as a member of the inaugural class for the new University of Houston College of Medicine.  Now the second-year medical student is one of 20 student scholars chosen from around the nation for the inaugural cohort of the Alliance for Inclusion in Medicine (AIM) Scholarship Program.
The AIM program is a new $450,000 scholarship and mentorship National Medical Fellowships (NMF) initiative supported by Johnson & Johnson, the health care-based company that makes everything from bandages and sutures to cancer therapies and COVID-19 vaccines. As part of the 2021-2022 cohort, Chachere received a $15,000 scholarship for participating in the two-year service-learning program. She will also attend a series of didactic training sessions – covering topics like drug development and safety to clinical trial protocols and real-world evidence – and will work with a J&J physician mentor.
"I am grateful to be chosen for this program because it gives me access to resources that will increase my skills to leverage technology, medical devices and innovative strategies to champion health equity and support my community," Chachere said. "The Johnson & Johnson faculty and mentors, and my cohort are all doing amazing things across the country at their respective institutions and in their communities, so I am also excited to grow my professional network, and learn from and join forces with a community of physicians who have a shared commitment to improve health outcomes."
Chachere is passionate about addressing perinatal health inequities among communities of color, increasing health care access, and championing community advocacy.
"Witnessing many people in my community and family receive inadequate care and experience disproportionately poor health outcomes like diabetes, heart disease, and hypertension has motivated me to pursue medicine," she said. "I believe physicians have a unique opportunity to advocate for patients in research, policy and community health, and to use their influence in patient relationships to address the social and medical determinants of health that create and perpetuate health inequities."
AIM is designed to expose high performing medical students underrepresented in medicine to analytical skill sets and to various functions within the pharmaceutical, medical devices and health care industries. The goal of the program is to prepare them to become future clinicians and research leaders with a commitment to address the structural and systemic factors which cause the health disparities that disproportionately affect communities of color.
"Through the program, we aim to empower the next generation of BIPOC medical doctors and researchers. Johnson & Johnson believes in investing not only financially but also providing hands-on support including mentorship and a network for career guidance," said Dr. Joanne Waldstreicher, chief medical officer at Johnson & Johnson and the initiative's executive sponsor, in a release on the company website.
To learn more about the 2021-2022 AIM scholars, please visit:
https://www.jnj.com/our-company/empowering-the-next-generation-of-doctors-to-support-health-equity