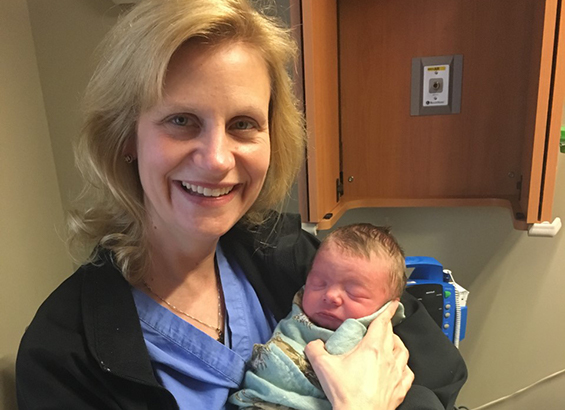 With Mother's Day right around the corner, many of us are focused on celebrating the amazing women in our lives. There are also many who are forced to revisit the loss that comes from having lost a loved one. This is a good reminder to prioritize maternal health.
Earlier this year, Texas Gov. Greg Abbott proclaimed January 23,2021 as Maternal Health Awareness Day, highlighting the importance of taking care of our mothers.
The statistics are daunting. Almost 400 Texas mothers lost their lives during and after pregnancy between 2012 and 2015 according to the Texas Maternal Mortality and Morbidity Review Committee's findings.
Additionally, federal data shows women in the U.S. are more likely to die from childbirth or pregnancy-related causes than those in other developed countries. Black and Native American women are two to three times more likely to die from pregnancy-related complication than white women. Nearly 80 percent of these deaths were potentially preventable, according to a report from the U.S. Department of Health and Human Services.
The quest for the formal recognition originated as a tribute to Tara Hansen, a 29-year-old woman who died six days after the healthy delivery of her first child. Dr. Eugene Toy, another obstetrician and gynecologist specialist in Houston and chairman of the American College of Obstetricians and Gynecologists Texas district, championed the cause and brought together 17 organizations to support the effort.
We spoke with Dr. Pilkinton to explore issues and developments related to maternal health in Texas. The interview has been edited and condensed for clarity.
Q: Why is this issue important to you?
KP: One preventable maternal death is one too many. Each death is a real mom who is no longer here. A single maternal death impacts that woman's family, friends, and her own children more than any of us dare to imagine. With every maternal death, nurses, social workers, obstetrics and gynecology physicians, anesthesiologists, midwives, the unit clerk at the hospital, the office manager in the clinic, the hospital administration and ultimately the community where she lived are all affected by this loss. 
Obstetrics can be one of the happiest careers you could ever imagine, but when something tragic occurs it is the worst. A maternal death affects so many. 
Q: What factors contribute to maternal mortality?
KP: The number one risk of maternal mortality is cardiovascular related disease.  There are many others, such as hemorrhage (excessive blood loss), infection, hypertension, drug overdose, and even suicide and homicide (often related to intimate partner violence). These are just some of the issues related to maternal mortality, and many can be inter-related as well.
There is definitely evidence of racial disparities, for instance, black women are 3-4 times as likely to die during and after childbirth in our country and in Texas compared to white women even with similar educational backgrounds. 
We know that an increase in obesity, hypertension, and diabetes contributes to risk associated with pregnancy and childbirth. Additionally, we are realizing even more how important the time period after delivery is in the care of women and their families. 
Q: You have been working in the medical field specializing in OB/GYN issues and reproductive sciences for 20 years, what are some of the key developments in this field?
KP: I have definitely seen advancement in more minimally invasive surgical procedures to care for women as well as improvement in the medical management of many health conditions affecting women.  We are realizing more and more how important pregnancy related issues and that they can be key to potential health issues that can arise later in a woman's life. Of course, in recent years the headlines have shown that there is still much work to do to decrease maternal mortality and morbidity.  
Q: What surprises you about maternal morbidity?
KP: It is shocking to me that in the United States we still have so many mothers dying or getting so sick.  When I am involved in the care or supporting one of my colleagues through one of these outcomes it is personal, but then to know that it is happening as often as it is, dumbfounds me. 
Knowing the amazing physicians, midwives, nurses, and teams with whom I have had the pleasure to work over the years, I know that we give our all to the care of women and their families which makes these numbers that much more sobering.
Also, to know that ethnic and racial disparities contribute to the maternal death rate is frustrating.  I know that so many give it their best to take care of women, no matter from where they come, what they do, the color of their skin, their socioeconomic status, or otherwise, but to know that the disparities truly exist is disappointing.
Q: How can women be more in control of their pregnancies and how can they advocate for better medical care before, during and after birth? 
KP: Women need to find clinics that are supportive, and women need to ask questions and work with their health care team to help them.  Care should be through a shared decision-making process.  I am a strong advocate for educating patients regarding their health and recommended health care.
Social workers, nurses, lactation counselors, midwives, physicians, and other members of the health care team can help women to be empowered and advocate for the care and well-being of women and their growing families. Women need to be heard. Communication is the key to any great relationship. 
Q: What are we doing at the University of Houston College of Medicine to help reduce maternal mortality?
KP: Part of the reason I decided to join the University of Houston was the emphasis the College of Medicine places not only on individual patient care but also on population health.  There is so much that goes into the care of patients beyond what we as physicians can do in a short office visit.  We know that we do better for patients when we work as a team, including engaging with communities. 
Our curriculum at the College of Medicine emphasizes social determinants of health from the beginning of medical school.  This will help these future physicians from day one in their careers in medicine and health care.  I was fortunate to be able to be an instructor in a recent Clinical Focus Session course during our inaugural medical school's first semester.  For one full week the students learned even more about health disparities and so much that feeds into that.  My small group focused specifically on the health disparities of maternal and infant mortality.
Given our diverse medical school student body, our curriculum, and our engaged, motivated faculty – we are hopeful that the University of Houston can be a part of the solution to further improve maternal health care and address the disparities that are part of the issue.
Q: How does this proclamation help?
KP: Having Texas recognize every mother by creating and proclaiming this Texas Maternal Health Awareness Day is an important step of making sure that mothers are not forgotten and that those who have passed before are contributing to our ability to make positive changes.
I am grateful that our state and our governor were willing to place an emphasis on maternal health with this special day and am truly hopeful that we will continue to make efforts to improve the care of mothers and their families in Houston, our state of Texas, and beyond.  Mothers deserve this, and those that take care of mothers deserve this as well.  
To view the proclamation, click here.
Maternal Health Resources
Texas efforts to make pregnancy and postpartum care safer:
Texas Collaborative for Healthy Mothers and Babies
Texas Maternal Mortality and Morbidity Review Committee
A federal effort:
The Centers for Disease Control and Prevention's Hear Her Campaign