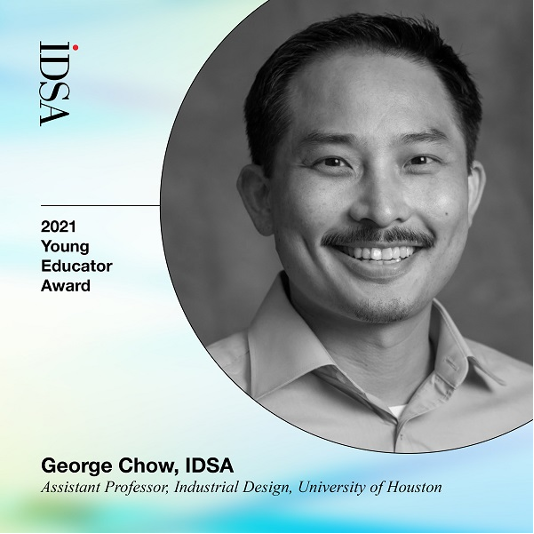 The Industrial Design Society of America (IDSA) recently awarded Gerald D. Hines College of Architecture and Design assistant professor of industrial design George Chow with the 2021 IDSA Young Educator Award.
Established in 2008, the annual national award acknowledges junior faculty, non-tenured, or tenure-track IDSA member educators who have significantly impacted industrial design education within the early years of their academic careers.
Since Chow joined the University of Houston faculty in 2016, he has taught many courses and studios of all levels, including a course on designing for a sustainable future and a graduate master thesis course, among others. His primary focus areas are sustainability and social impact design while creating a meaningful and impactful educational experience for his students.
"Receiving this award has been a dream come true for me as I have dreamt of winning this award since I started teaching at UH. I am truly honored and humbled to have received it," said Chow. "I am very thankful for all of my students – past, present, and future – for allowing me the honor and opportunity to invest in their lives."
Chow serves as the IDSA Southern District Chapter Representative. His primary responsibility is serving as a liaison, resource, and bridge between city chapters in the Southern District – Atlanta, Austin, Charlotte, Dallas-Fort Worth, and Miami. For the first time in its history, IDSA officially launched a Houston chapter on October 7th with hopes of expanding the design community in Houston, especially between industrial design professionals and UH industrial design students.
"IDSA is the primary professional organization in our field," shared Chow. "It has provided a community for designers to encourage and support one another and celebrate the achievements of its members. Without IDSA, we wouldn't have a network of people brought together by a common love of design. We wouldn't have the conferences, deep dives, selection and chapter events, education symposiums, resources, and a collective platform to advocate for positive design change. I am incredibly thankful for the design family."
Learn more about the 2021 IDSA fellows and award winners here.