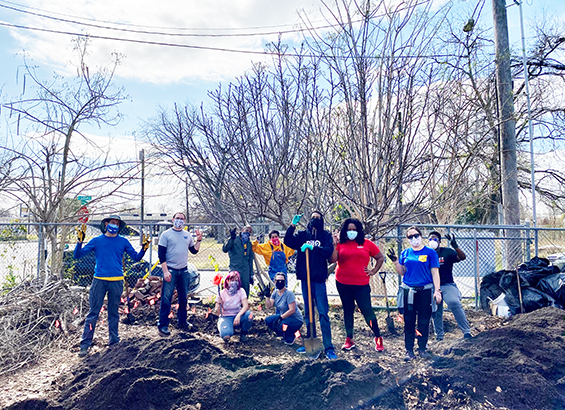 Students and faculty from the University of Houston College of Medicine celebrated Martin Luther King Jr. Day 2021 by volunteering in Beauty's Garden, a community garden in the historic neighborhood of Independence Heights in northwest Houston, minutes from downtown.
The group tackled a variety of tasks – building raised beds, removing two pomegranate trees and laying the foundation for a brick walkway.
"We haven't been able to get outside much because of COVID-19 and the weather so it was really great to be outside, soaking up some sun, feeling the earth beneath our fingers and supporting a local community through our volunteer work," said Breanna Chachere, a student leader from the Class of 2024 who volunteered with her partner Marcus.
"Beauty's Garden has rich history and will continue to be a pillar in the community for a long time to come so it was amazing to work with and learn from the garden leaders," she added.
One of the tasks Breanna and Marcus worked on included readying a brick pathway for visitors to the garden. The bricks being used in the garden were donated by the Heights Chamber of Commerce and are from original roads in the Heights community. Independent Heights was established about 1905 and incorporated in 1915, becoming the first African American municipality in Texas.
"To be able to witness history meet the present, and to literally and figuratively connect the community to the future, was touching," Breanna said. "As physicians-in-training and as Houston residents, it's so important that we amplify community-led efforts, and do so through the lens of humility and perspective."
The garden has roots deep in history and community. Yvette Leno, the garden director, was raised on the property by her grandparents. After a fire destroyed her family home, Leno wanted to create a meaningful legacy to her family homestead and give back to the community. As she researched her community, she found that Independence Heights was one of 40 food deserts across Houston. And the neighborhood had some of the highest instances of chronic diseases like diabetes, high blood pressure, and heart disease across the Greater Houston Heights area. This led to the birth of the community garden, named after Leno's grandmother, Beauty.
"The need was clear and the purpose fuels all that Beauty's Garden does," Leno shared with the UH College of Medicine volunteers.
The garden's mission is to erase food inequities and create a culture of health and well-being. Programs include garden and nutrition education classes, including chef-driven healthy cooking classes. The garden also supports Primrose Casa Bella Senior Apartments and Independent Heights Senior Apartments with fresh garden foods. Additionally, they offer garden products at the Acres Homes Farmers Market, located in another food desert community, on third Saturdays.
According to Breanna, working in Beauty's Garden was a perfect way to celebrate Martin Luther King Jr. Day.
"The legacy of Dr. MLK Jr's Day of service serves to remind us all that our collective service can inspire personal, cultural and social transformation, and improve health and well-being," she said. "It was an honor to participate and contribute to that mission."