I was born and raised in Saudi Arabia, a country with very limited choices for someone like me, where a bird cannot fly in any direction it chooses. That is because I hold the citizenship of my father which is the Yemeni. Graduated from a public high school, like the majority of people. Along with thousands of students, I had the opportunity to apply for the first class of Software Engineering bachelor's degree at King Saud University, one of the best universities in Saudi Arabia, and only 60 of us got accepted. However, I was not able to finish the degree because my family and I decided to move to the United States and start a new life. February 2, 2017 was the day I landed in the state of Texas and marked the beginning of my journey. I came with passion and excitement knowing that I am in the country of dreams and possibilities.
The Challenges
My first language is Arabic. English was not a language I spoke during the first 3 months of being in the US. I could not attend ESL classes because I missed the registration deadline and was concerned that learning English would take me a long time and delay my graduation date.
During the Fall of 2017, I decided to learn English on my own before the Spring semester. I achieved this goal by note-taking while watching Netflix, attending free online classes, and communicating with people who speak English. The online speaking classes were pretty helpful. My family didn't want me to work as they wanted to support me financially. However, I insisted on working a part-time job as a barista in Dunkin Donuts to enhance my communication and speaking skills. I am a coffee lover, so working as a barista was on my bucket list since I was young. This was my very first job in the US and was absolutely the most beneficial. My 8 month experience as a barista helped me grow my knowledge in the English language and made my communication skills way stronger. It also allowed me to make new friends in the process. Once enrolled in a community college, I got a new position as an Administrative Specialist in the same college.
Getting Involved at UH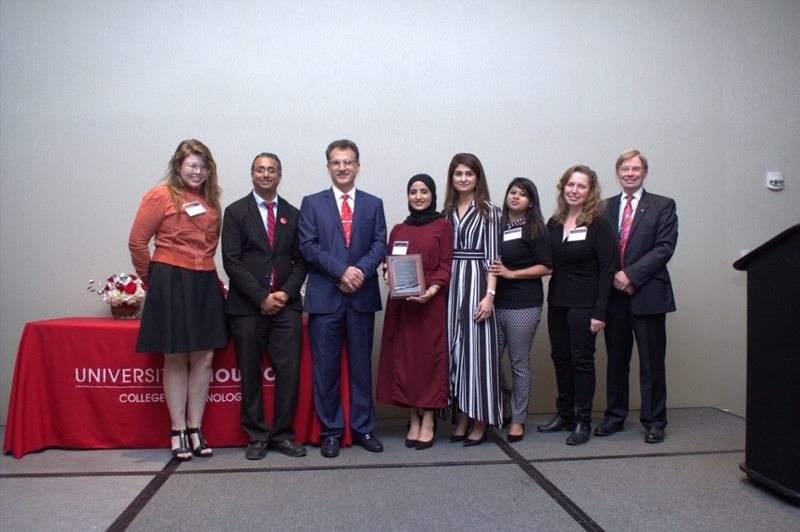 I spent a year in a community college and graduated with an Associate of Art degree and a 4.0/4.0 GPA. During the Fall of 2018 I transferred to the University of Houston to study Computer Science. During that period, I became the Founding President of Women in Cyber Security Organization and held the role for the whole academic year. I also decided to take a part-time role as a Coding Coach at Code Ninjas. I worked there for a year and two months for two reasons: the job was related to my field of studies, and it allowed me to refresh my memory on what I had learned in my former Software Engineering college program. In addition to these two roles, I was a mentor of Ignite Leadership Program and won the Best Mentorship Flame Award.
I started looking for internship opportunities for summer 2019. I did this by building my personal brand through blogging (itsra1.com), rebuilding my resume, practicing interviews, and looking up opportunities. University Career Services along with Google helped me prepare for internship hunting!
My First Career Fair
My first career fair was the UH Computer Science Career Fair in Fall of 2018. Before then, I had no idea what a career fair was. When I heard about the event, I researched to have better insight on what would be going on.
Here are the ways I prepared for my first career fair:
Walked in for a resume critique appointment at the University Career Services to rebuild my resume. (View my resume)
Printed out the career workbook provided by UH University Career Services and practiced interview tips and tricks (View workbook and more resources)
I didn't have a professional outfit. I went to the Career Services to rent an suit, but I did not find one that fit me well. I took this as an opportunity to go shopping, one of my favorite things to do!
Ordered a leather portfolio from Amazon to hold my resumes on the day of the career fair. It is always better to organize all your resume and documents in a portfolio.
The day before the career fair, I looked at the attending companies list and marked the ones I wanted to speak with.
Researched all the companies and learned about their job openings. I also learned about what they do and their mission statements just in case I get asked questions like "Why us?"
Practiced and wrote down my "elevator speech" for reference. It is a clear and brief message about me which is typically 30 seconds (the time it takes people to ride from the top to the bottom of a building in an elevator). More information about the elevator speech is included in the career workbook mentioned above.
Lastly, I used the printers in MD Anderson Library and printed at least 20 copies of my resume.
The Day of the Computer Science Career Fair
I was excited, so much so that I arrived at the location 30 minutes early. I checked in and dropped off my backpack in the bags room they prepared for us. (UCS career fairs normally don't provide a bags room, so you'd need to carry your stuff with you.) The people who checked me in handed me a flyer that listed all the companies attending and their table locations, I reviewed the document as I was waiting for the doors to open. Throughout the time I was practicing my elevator speech and a friend came up to me and said, "Don't memorize it, be natural!" I liked his advice. It made me less nervous.
The doors opened. Over 40 companies were present at the career fair. It looked amazing but overwhelming. I went to the companies I wasn't interested in first to break the ice and practice meeting with employers. I didn't do very well with the first two recruiters; the conversations were short, and I didn't ask them questions. After I picked up the vibe of the first couple short interviews, I did so much better with the other company recruiters I met. I wrote down their information on a piece of paper to connect with them and follow up after the event.
I want to share some of the things I talked about with the recruiters:
Shook their hands, made direct eye contact and asked about their day
Briefed them about myself, my current classification and major, extracurricular involvement in school and outside of school (clubs and organizations), and recent work experience.
Asked them questions I had prepared when I did my research
Asked about their personal experience and what their role was at their company
Asked about what they like and don't like about working in their company
Asked about the internship program and areas of growth they offer
Asked about their environment and culture
Lastly, I asked for their email and if I needed to apply online for the job position
I spent about three hours at the event. My overall experience was very satisfying. Most of the recruiters told me they would follow up with me if I was selected for the interview phase. Was I selected? Did I get an internship offer from the career fair? Read the next blog post to know what happened next.