Testing Epilepsy Treatments in Lab
Testing a Heart Medication for Use in Dravet Syndrome Patients
"Understanding epilepsy can help us understand how our brain functions, which is a subject we know very little about," said Laura Montier, a Ph.D. student in the Department of Biology and Biochemistry at the University of Houston.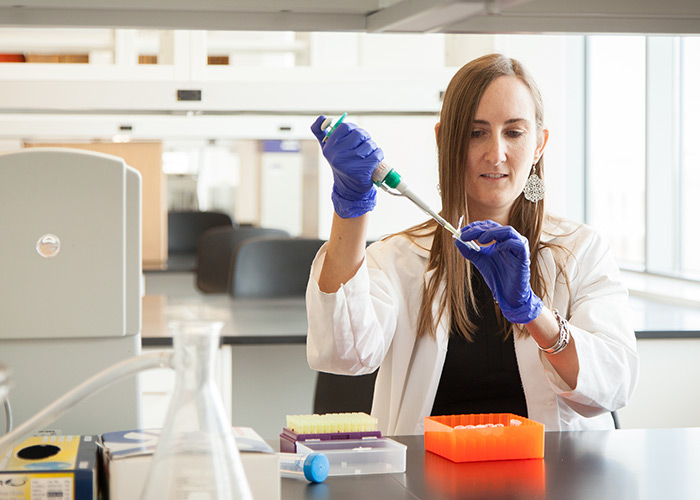 Laura Montier, a Ph.D. student in biology, studies treatments for the epilepsy disorder Dravet Syndrome.Montier, whose name rhymes with 'frontier,' conducts her research in the lab of Jokūbas Žiburkus, associate professor of biology and biochemistry in the College of Natural Sciences and Mathematics. Her research focuses on a particular epilepsy disorder known as Dravet Syndrome.
"Infants with Dravet Syndrome get their first seizures when they are six-months-to-a-year old. These seizures, which continue to increase in frequency and severity, are accompanied by delayed developmental milestones and autistic symptoms," Montier said. "Families with children suffering from Dravet Syndrome are on a very difficult path, as only 20-30 percent of patients survive until age 20."
Montier's research is looking at adapting a drug for use in patients with Dravet Syndrome. This drug, which mimics a molecule in our brain called adenosine, has already been FDA-approved for use as a heart medication in adults. Adenosine is a molecule that inhibits the activity of excitatory neurons, acting to regulate the sleep cycle and induce sleep.
"When you drink coffee, you are blocking adenosine receptors in the brain," Montier said.
In patients with Dravet Syndrome, their inhibitory neurons don't work properly, creating an imbalance between inhibitory and excitatory neurons. This creates a network of hyperactive neurons, as the inhibitory neurons can't temper the activity of the excitatory neurons.
"We are repurposing this drug as a treatment for epilepsy," Montier said. "This is a novel use of a drug that has already been approved for use in adults but hasn't been tested in infants and children."
Montier's research is testing different treatment regimens of this drug. She is using a mouse model with the same mutation that causes Dravet Syndrome in humans. Mice with this mutation exhibit similar symptoms to humans, including early-onset seizures, delayed development, and cognitive and social abnormalities.
This means Montier can safely test the most effective dose levels and timing of treatment.
"Even if a drug has been FDA-approved for treatment in adults, we still have to be very, very careful," Montier noted. "Infants and children are still developing, with their brains undergoing changes in plasticity."
Based on the strength of her research, Montier received a Young Investigator Award from the American Epilepsy Society, which supported her attendance at their annual meeting. Of that year's award recipients, she was the only Ph.D. candidate. She has also received scholarships from the Houston Livestock Show and Rodeo, as well as a UH Biology of Behavior Institute Graduate Student Fellowship.
After graduation, Montier hopes to continue working in epilepsy research.
"Epilepsy research interests me because it addresses the basic biological question of how our brain works, while also helping find treatments for disease," Montier said.
- Rachel Fairbank, College of Natural Sciences and Mathematics
February 1, 2017