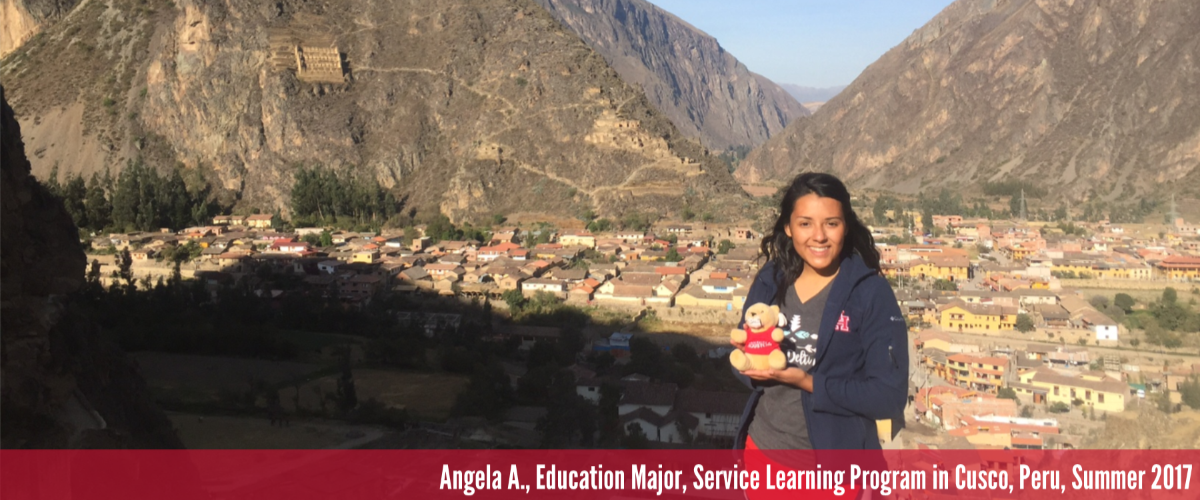 Resources and Information for Parents
Being the parent of a student going abroad can be stressful, but it doesn't have to be. Learning Abroad has compiled information to provide parents a better understanding of the student experience abroad. Still have questions after reviewing this information? Please contact us and we would be happy to further assist you.
Health, Safety, and Emergencies
Your student's safety is paramount in any learning abroad program. Please visit our Health and Safety page for Learning Abroad's emergency protocol document and other health and crisis information. 
Smart Traveler Enrollment Program
Learning Abroad encourages all U.S. Citizens and permanent residents to enroll in the Department of State's Smart Traveler Enrollment Program (STEP). The Department of State will notify a registered student of occurrences in their host country and what to do in the event of an emergency. Students can also add a parent email address to their registration so you can be updated with concerns abroad that may be relevant to your student.
On-Site Support
All programs have 24/7 on-site support for all participants:
Affiliated Program Providers have at least one staff member at each program site who is on call and available in the event of an emergency at any time of day or night. Students will receive the contact information for this staff member at their on-site orientation.
Faculty-Led Programs are conducted by individual UH faculty members. The faculty member serves as the 24/7 emergency contact abroad.
Reciprocal Exchange programs have emergency phone numbers within their International Students Office, campus police, and/or campus security

.
In addition, partner institutions and program providers often have offices that are located on or near campus that are available for non-emergency assistance during normal business hours. The contact information will vary by city and institution or provider, but will be shared with students during their on-site orientations. 
UH Support
There are several UH resources available to students even if they are on the other side of the world:
Learning Abroad is available by email or phone during regular business hours (Monday - Friday, 8am - 5pm).
University of Houston Police Department is available 24/7 on their emergency line: 001-713-743-3333.
University of Houston Counseling and Psychological Services has a self-help resources page on their website. 
Finances
There are many scholarships available to assist students so they can afford learning abroad programs. Students who receive federal and state financial aid can typically use those funds toward their programs. Some exclusions apply.
Program costs will vary by location, host institution or provider, length of program, and many other variables. For this reason, we are unable to provide a cost estimate until a student has decided on a specific program. We encourage students to find programs that are within their budget as location and length of programs greatly impact the price of programs.
Academic Credit
There are a few different ways students could receive academic credit for their programs abroad:
Some programs are not for credit, and thus no credit will be awarded. If a student is unsure, they should ask their faculty member, program provider, or their advisor.
If a faculty-led program does offer credit, the student will be enrolled in a regular UH course and will be billed UH tuition and fees for the appropriate number of credit hours.
Course Equivalency Forms are necessary for all other credit earned abroad. Exchange students will pay regular UH tuition for the number of credits taken while abroad. Students on affiliated or non-affiliated programs must receive a transcript from an accredited institution in order to have those grades posted to their myUH account, but do not pay UH tuition. Courses taken abroad for credit apply to a student's UH GPA.
Housing and Food
Housing options vary by program, and are often (but not always) included in the program fees. Some of the common options include:
Residence Hall: Students live on or near their host university in a traditional residence hall setting. 
Homestay: This is often the recommended setting for students in language immersion programs. Students live with a local family or a host mother. The homestay families are vetted locally by the program provider or host institution.
Off-Campus Apartment: Many students enjoy the independence of an off-campus apartment. Sometimes the apartment is part of a student-oriented complex, while others are part of a complex open to the general public. Students are not placed in apartments with members of the general public, only with other students.
Hostel or Hotel: These options are often available to students who are participating in multi-city programs or programs lasting two weeks or less.
Food options also vary by program. Some options are built into the program fees while others are billed separately. Programs may offer one or more of the following: 
No food or food service included. All meals paid by student.
On-campus meal plan included. Extra meals or meals off-campus paid by student.
Anywhere from 0-21 weekly meals provided by host family or available at an extra cost. 
Please note that, just like in the U.S., not all universities abroad offer student accommodations or meals directly on campus. 
Flights and Travel
Most programs do not include the cost of flights in their program fees.
Is your student a nervous flyer or a first-time flyer, or is this their first time traveling outside of the U.S.? Group Flight options may exist for certain faculty-led or affiliated programs. Please have your student check with their faculty leader or with their program provider to see if group flights are an option.
Homesickness
If your student is homesick, there are several things to consider: 
Recommend that the student stay integrated in their program. Attend excursions, interact with fellow students, and get out into the community. Keeping busy with things on-site will help alleviate homesickness.
Encourage your student to share with other students or leaders on the program. Sharing how he or she is feeling may help alleviate some of the homesickness.
Encourage your student not to spend too much time on social media or other media connecting them to home. Students who do not fully engage in the program abroad often struggle the most with homesickness.
Talk to your student yourself when they need you (or when you need them), but also encourage them to enjoy their time abroad and connect with the others who are there with them. Keep in mind that constant communication with family back home will prevent the student from fully engaging in their experience abroad.  
Communication with Your Student
There are several ways to communicate internationally that are free or low-cost.
Smartphone apps such as Skype, What's App, WeChat, Apple's iMessage or FaceTime, and Facebook Messenger are all free depending on how they are being used. In most cases it will cost money to make calls directly to a phone number, but users can typically make video or audio calls to another user of the same application over wi-fi for free. Please note that availability of services may differ by country; users in some countries do not have access to Facebook or Google-based services.
International phone plans exist, however they can be expensive. This is especially true if the student uses a significant amount of cellular data or frequently sends text messages. Check with your phone provider to see what international plans exist and if they are financially feasible.
Many students on longer programs purchase prepaid phones for all their in-country communication. Rates and availability of services will vary by country and even by city. Please note that some affiliated program providers provide prepaid phones with a small starting balance.
Reintegration/Reverse Culture Shock
Students may return home with varying levels of reverse culture shock, based on their integration to a new culture and way of life while abroad. Students often have had life-changing experiences and may have a period of adjustment to life at home. Be patient with your student and ask questions about their experience abroad.
Encourage your student to be proactive with their feelings: They can blog or vlog, join new clubs on campus, continue language studies on- or off-campus, and stay connected with their new friends. Learning Abroad staff members are always happy to meet with students to hear about their time abroad and encourage returnees to consider becoming involved in Global Guides, our student ambassador program. Students can help encourage their peers to go abroad by talking about their own experiences while abroad.