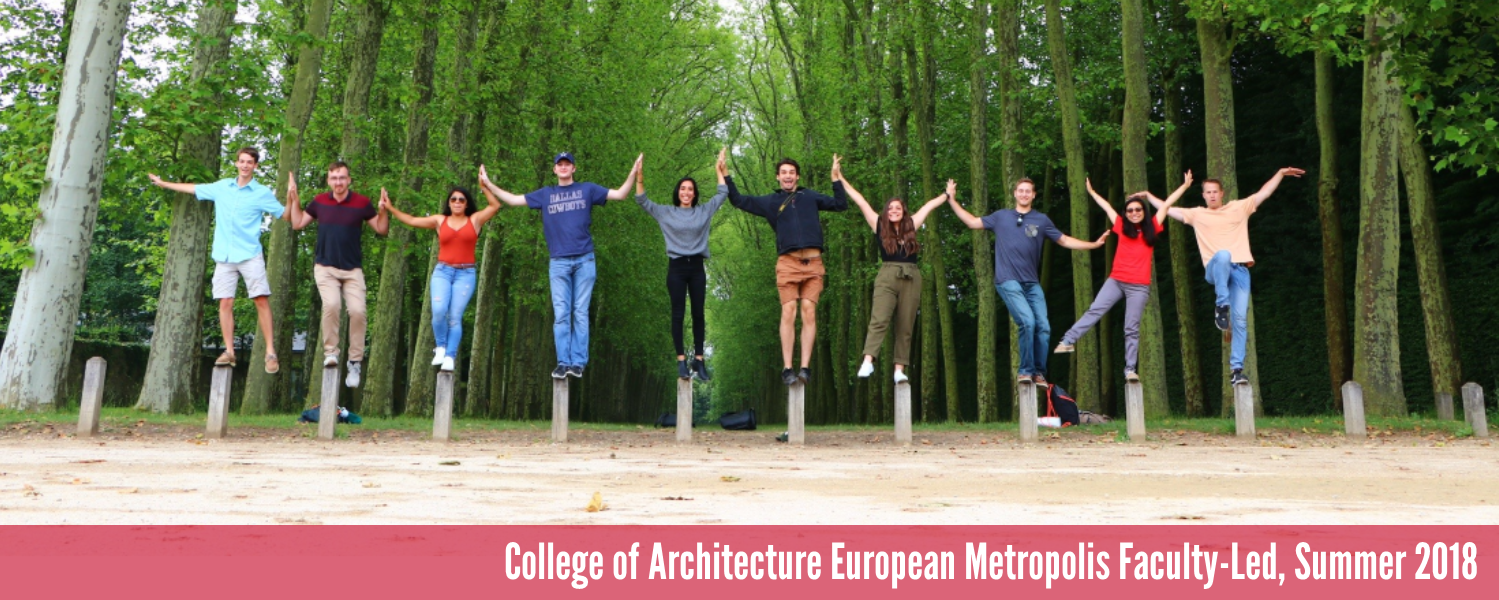 Faculty-Led Programs are learning abroad programs led by a University of Houston faculty member. These programs are developed at the college or departmental level and have a direct correlation to students' majors, minors, or specific areas of interest or study. Learning Abroad encourages Faculty-Led Programs as the first option to students.

To apply for a Faculty-Led Program, please contact the faculty leader for that particular program. Students must be accepted by the faculty leader before applying with Learning Abroad on ViaTRM and completing required paperwork. Visit the Forms Tab of the Student Resources page for a list of required documents.
UH Faculty-Led Programs
Additions to this list are made as programs are approved.
Faculty leaders must submit program proposals to Learning Abroad.

| Program | Faculty | Country | College | Course(s) | Term |
| --- | --- | --- | --- | --- | --- |
| Retailing and Human Resources Abroad | Dr. Olivia Johnson | Paris, France & Milan, Italy | TECH | HDCS 4396, HRD 6358, GRET 6398 | Spring 2023 |
| Singapore: Leading Innovation in Asia | Dr. Nikhil Celly and Dr. Daniel Currie | Singapore | BAUER | MANA 7353 or MANA 7397 | Spring Break 2023 |
| NAE Grand Challenges: Global STEM Exchange | Dr. Jerrod Henderson | Colombia | ENGR | CHEE 4198 | May 2023 |
| Berlin Learning Abroad | Dr. Steve Werner and Dr. Je'Anna Abbott | Germany | BAUER | MANA 7346 and MANA 7343 | May 2023 |
| Connecting Coastal Resilience: From the Greater Houston Area to The Netherlands* | Dr. Dan Burleson and Prof. Alex Landon | The Netherlands | ENGR | ENGI 4198 | May 2023 |
| Global Health: Dominican Republic | Dr. Solari Williams | Dominican Republic | EDUC | HLT 4397 | May 2023 |
| Croatia Learning Abroad | Dr. Marina Sebastijanovic and Dr. Barbara Carlin | Croatia | BAUER | MANA 4397 | May 2023 |
| Spanish Art and Culture | Dr. Maria Solino | Spain | CLASS | HISP 2373 | May 2023 |
| ComD Coogs in Belize | Dr. Michelle Ivey and Dr. Byron Ross | Belize | CLASS | NCR | May 2023 |
| Health and Human Rights: Service Learning in Jordan* | Dr. Keri Myrick | Jordan | Honors | HON 3306H | Summer 2023 |
| Cadiz, Spain as a Classroom* | Dr. Julio Otero | Spain | CLASS | SPAN 2307, 2308, 2311, 3301, 3302, 3308 | Summer 2023 |
| French Angers Program* | Dr. Claudine Giacchetti | France | CLASS | FREN 2311, 2312, 3313, 3316 | Summer 2023 |
| Selected Topics: Economic Impact of the Arts | Dr. Fleurette Fernando and Dr. Marci Dallas | Scotland | COTA | ARLD 6395 | Summer 2023 |
| GalapaGO! Research Based Learning Abroad | Dr. Marc Hanke | Ecuador | Honors and NSM | BIOL 4302 | Summer 2023 |
| Spanish for the Global Professions in Oaxaca | Dr. Maria Laura Zubiate | Mexico  | CLASS | SPAN 3339 | Summer 2023 |
| Chinese Summer Study Abroad* | Dr. Wen | Taiwan | CLASS | CHNS 2311, 2312, 3301, 3302, 4301, 4302, 3350, 3352 | Summer 2023 |
| Tradition and Culture Infused Experience Design | Dr. Feng | Ireland | ARCH | INDS 3500/4500, INDS 4360, INDS 3397 | Summer 2023 |
| Japanese Architecture: The Art of Construction | Dr. Diehl | Japan | ARCH | ARCH 5500, ARCH 7600 | Summer 2023 |
| Light and Lightness: Architecture in France | Dr. Wienert | France | ARCH | ARCH 5500/7600; ARCH 3343/6343; ARCH 4327/6397 | Summer 2023 |
| International Business Residency | Dr. Miljanic | Brazil | BAUER | GENB 7397 | Summer 2023 |
*open to all majors