Faculty directory »
Hugh Roy and Lillie Cranz Cullen Distinguished Professor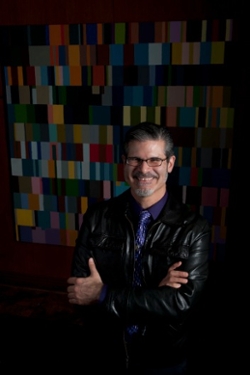 Phone: (713)

 
743 5847
Email:

 
rjtejada@uh.edu
Education
Selected Publications
Classes Taught
Affiliations and Links
Social Media
CV
Roberto Tejada is the author of poetry collections that include Why the Assembly Disbanded (Fordham, 2022), Full Foreground (Arizona, 2012), Exposition Park (Wesleyan, 2010), and Mirrors for Gold (Krupskaya, 2006). His book Still Nowhere in an Empty Vastness (2019) is a Latinx poetics attuned to colonial settlements and cultural counter-conquest; intersections of history and metaphor in art and writing of the Americas.
A translator, editor, essayist, art historian, and cultural critic Tejada's writing addresses the political imagination and impurity of time in shared image environments; configurations of art, life, and language inclined to the future. His multifaceted creative practice and critical inquiry have been recognized with numerous fellowships and grants including awards from the National Endowment for the Arts, the Fulbright Foundation, Creative Capital Warhol Foundation, Fundação Armando Alvares Penteado (São Paulo, Brazil), as well as The Sterling and Francine Clark Art Institute and the Oakley Center for the Humanities and Social Sciences, Williams College.   
Tejada lived in Mexico City (1987-1997) where he worked as an editor of Vuelta magazine, the cultural monthly published by the late Nobel laureate Octavio Paz, and as executive editor of Artes de México, a quarterly detailing pre-conquest to contemporary Mexican art. He founded the multi-lingual literary journal Mandorla: New Writing from the Americas. Co-edited with Kristin Dykstra and Gabriel Bernal Granados, the publication featured innovative writing in its original language—English or Spanish—and high-quality translations of existing material, together with visual art and other forms of critical inquiry. All sixteen issues of the journal, together with a compilation of photographs, letters, and other related materials, are available in digital form at Northwestern University's Open Door Archive.   

[https://opendoor.northwestern.edu/archive/items/browse?collection=16] 

He has taught at the National Autonomous University of Mexico (UNAM), Dartmouth College, University of California San Diego, University of Texas Austin, SMU Meadows School of the Arts, Naropa University's Summer Writing Program, and the Milton Avery Graduate School of the Arts at Bard College. Committed to poetics and open sites of cultural inquiry—regional, transnational, and diasporic—Tejada's research and creative interests involve the language arts and image worlds of Latin America, especially Mexico, Brazil, the U.S.-Mexico Borderlands, and other sites of U.S. Latinx cultural production. 

Education
Ph.D., University at Buffalo, State University of New York
B.A., New York University
Selected Publications
Books: Poetry 
Why the Assembly Disbanded (Fordham, 2022) 
Todo en el ahora, selected poems edited and translated into Spanish by Gabriel Bernal Granados, with Alfonso D'Aquino and Omar Pérez (Libros Magenta, 2015) 
Full Foreground (Arizona, 2012) 
Exposition Park (Wesleyan, 2010) 
Mirrors for Gold (Krupskaya, 2006)  
Amulet Anatomy (Phylum, 2001) 
Gift & Verdict (Leroy Books, 1999) 
Books: Art History and Poetics 
Still Nowhere in an Empty Vastness (Noemi, 2019) 
National Camera: Photography and Mexico's Image Environment (Minnesota, 2009) 
A Ver: Celia Alvarez Muñoz (Minnesota, 2009) 
Co-Edited Volume: Art and Media History 
Modern Art in Africa, Asia and Latin America: An Introduction to Global Modernisms, Elaine O'Brien, editor; Everlyn Nicodemus, Melissa Chiu, Benjamin Genocchio, Mary K. Coffey, Roberto Tejada, co-editors (Wiley-Blackwell, 2012) 
Books: Exhibition Catalogs 
Luis Gispert: Loud Iimage (University Press of New England, 2004) 
Mexico / New York, Photographs by Alvarez Bravo, Cartier-Bresson, and Walker Evans (D.A.P., 2003) 
Manuel Alvarez Bravo: In Focus (The J. Paul Getty Museum, 2001)  
Images of the Spirit: Photographs by Graciela Iturbide (Aperture, 1996) 
Literary Editorship 
En algún otro lado: México en la poesía de lengua inglesa [anthology] (Editorial Vuelta, 1992) 
Mandorla: New Writing of the Americas [journal], Vol. 1-6, 1991-1998; Vol. 7-16, co-edited with Kristin Dykstra, and Gabriel Bernal Granados, 2007-2013) 
Classes Taught 
Undergraduate:  
Creation and Performance of Literature 
Poetic Forms 
Graduate: 
Poetry Workshop: The Anthropological Imagination 
Poetry Workshop: Poetics of Microscopy 
Advanced Projects in Translation  
Writers on Literature: Black Arts Poetry  
Affiliations and Links 
Association of Latin American Art (ALAA) 
College Art Association (CAA) 
College Book Art Association (CBAA) 
Hirsch Library Committee, Museum of Fine Arts Houston  
Latin American Studies Association (LASA) 
Nameless Sound   [https://www.namelesssound.org/] 
Poetry Foundation [https://www.poetryfoundation.org/poets/roberto-tejada] 
United States Latinx Art Forum (USLAF) 
Social Media
Twitter: @fullforeground 
Instagram: @rbttjd