Nearly 150 UH Faculty Members Recognized at 50-in-5 Celebration Event
The University of Houston hosted its second 50-in-5 celebration event at the Wortham House on February 7, honoring faculty members with major grant award and patent achievements. Thirty-seven honorees were from the College of Natural Sciences & Mathematics.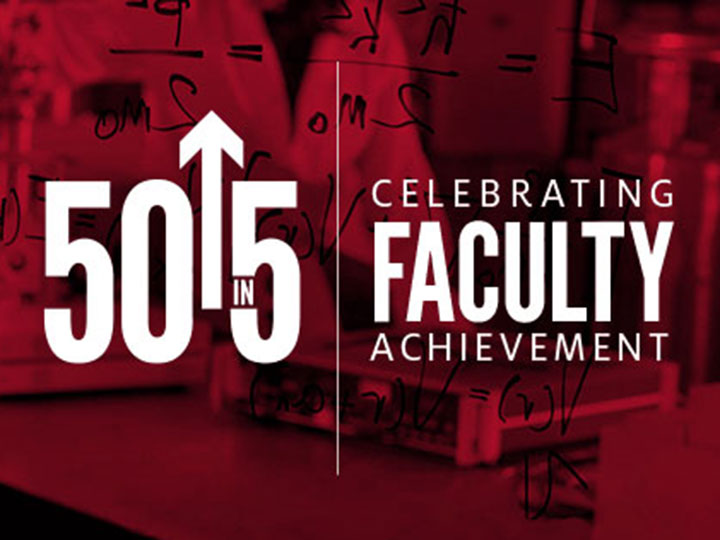 President Renu Khator, Provost Paula Myrick Short and Vice President for Research Amr Elnashai recognized 148 faculty who received a major grant award or patent in Year 2 and Year 3 of UH's 50-in-5 Program.
The program was launched in 2018 to increase research and scholarly activity by 50% over the course of five years, aligning UH with other top research universities in the Association of American Universities and supporting the University's rise to become a Top 50 public university.
"You are the engine that drives the University," said Elnashai to the event's honorees, noting many major accomplishments over the last decade, including a nearly 100% increase in research expenditures and a 255% increase in proposal funds requested, putting UH at the nearly $1 billion mark. "We are doing very well, but the best is yet to come."
Major Grant Awards: 22 NSM Faculty Honored
For Years 2 and 3 of the 50-in-5 program, 22 NSM principal investigators and co-investigators received a grant award of $1 million plus. Out of the faculty honored, Andrew Renshaw was part of two major award efforts.
Rene Bellwied, Physics
Daniel Cherdack, Physics
Mini Das, Physics
Loi Do, Chemistry
Paige Evans, teachHOUSTON (Mathematics)
Erin Kelleher, Biology & Biochemistry
Lisa Koerner, Physics
Frank McKeon, Biology & Biochemistry
Lawrence Pinsky, Physics
Andrew Renshaw, Physics
Rob Stewart, Earth & Atmospheric Sciences
Donna Stokes, Physics/Dean's Office
Jaspal Subhlok, Computer Science
Anthony Timmins, Physics
Judy Wu, Chemistry
Wa Xian, Biology & Biochemistry
Melissa Zastrow, Chemistry
Bradley Carrow, Chemistry
Stuart Dryer, Biology & Biochemistry
James Flynn, Earth & Atmospheric Sciences
Ioannis Pavlidis, Computer Science
Weiyi Peng, Biology & Biochemistry (CNRCS)
Patent Honorees: 15 NSM Faculty Honored
Fifteen NSM faculty were honored for U.S. patents issued during fiscal years 2020 and 2021. Of the NSM faculty honored in this category, Zhifeng Ren received two patents for technologies invented.
Wei-Kan Chu, Physics (TcSUH)
Seamus Curran, Physics
Shiv Halasyamani, Chemistry
Pei-Herng Hor, Physics
Alex Ignatiev, Physics
Allan Jacobson, Chemistry (TcSUH)
Ognjen Miljanic, Chemistry
Raja Muthupillai, Physics
Zhifeng Ren, Physics (TcSUH)
Thamar Solorio, Computer Science
Oomman Varghese, Physics
Yuhong Wang, Biology & Biochemistry
Shoujun Xu, Chemistry
Jakoah Brgoch, Chemistry (TcSUH)
Zhifeng Ren, Physics (TcSUH)
"Excellence has no finish line," said Provost Short. "Your work demonstrates that you continue to reach higher and higher in your scholarly pursuits and in doing so, raise the reputation of the University of Houston. I want to extend a heartfelt thank you for the amazing work that you do."
Faculty members celebrated for major grant awards and patents are listed on UH's 50-in-5 website. The site also recognizes faculty who were celebrated for high-impact publications, national recognition and single-author books in November.
- Lindsay Lewis, UH Division of Research