The academic year 2016–2017 marked the College of Natural Sciences and Mathematics' 40th Anniversary. Prior to 1976, NSM was part of the College of Arts and Sciences.
---
NSM 40th Anniversary Gala – April 8, 2017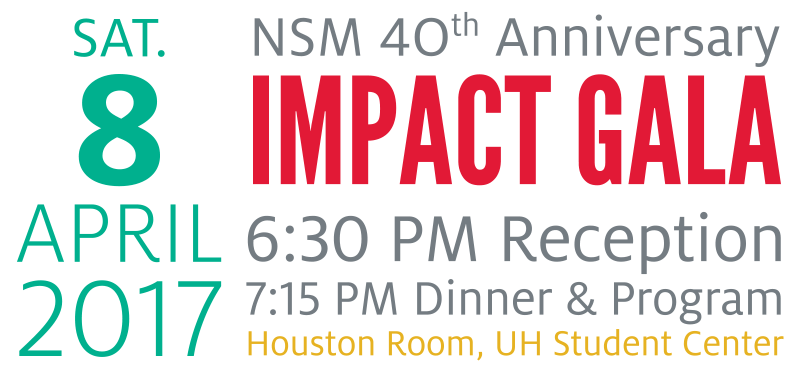 Honoring
Dr. Carolyn Farb, NSM Legacy Award Recipient
and
NSM Distinguished Alumni Award Recipients
Honorary Chairs
May P. Chu, Ph.D., & Paul C. W. Chu, Ph.D.
Master of Ceremonies
Dominique Sachse, Anchor, KPRC-TV, Channel 2
The Celebration
To celebrate the 40th anniversary, NSM held a gala honoring 12 distinguished alumni who have excelled in their fields and brought great accolades to the College. The Legacy Award was also presented to Dr. Carolyn Farb.
The Cause – NSM Student Learning Commons
NSM currently has the fourth largest enrollment at UH, yet we do not have a central hub where our students can study, collaborate on projects or attend seminars and tutorials. Dean Dan E. Wells is committed to providing our students with a place to call home.
Funds raised during the 40th Anniversary Gala will be used to partially fund the construction and furnishing of this unique space for our students.