requirements
Only first-year students are able to live in Cougar Village l. Cougar Village I also houses freshmen Honors students and the following Living Learning Communities: Impact, Hotel and Restaurant Management, and Natural Sciences.
For specific questions about housing availability or for questions about how to sign up to live on campus, please contact the Housing front desk at 713-743-6000 or email housing@uh.edu
Meet Our Staff
Adrian Sias

Spencer Vincent

Gio Howard

Kandace Kendall

Melody Li, Ph.D.
Floorplan
Room Dimensions
Window Sizes (inside measurement of frame) - 41 ½" Wide - 31" Tall
Window frame itself is about 2 1/4 " wide all the way around
All the rooms in Cougar Village I are fully furnished with:
Beds are Twin Extra-Long
Three Drawer Chest, 30"W x 24"D x 30"H
Desk, 42"W x 24"D x 30"H
Standard Desk Chair
Appliances Included -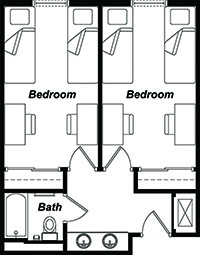 AMENITIES, FEATURES & VIRTUAL TOUR
24-hour desk operation and security
Free laundry facilities
Computer Lab
Two kitchens on every floor, complete with community refrigerator, oven, stove, and microwave.
2 large study lounges per floor complete with dry erase boards and a community tv.
Two large social lounges per floor
Adjacent to the Moody Towers Dining Commons (dining hall)
Cougar Xpress market (convenience store)
Wired/Wireless Internet
Movable furniture in the rooms
Mini Fridge in the rooms
Fitness room
Bike Racks
ADDRESS AND MAIL INFORMATION
All your mail and packages are sent directly to your residence hall. For more information about parcel delivery visit the Parcel Delivery FAQ.
RESIDENT'S FULL NAME 
CV1, MAILBOX # [  ]
4385 COUGAR VILLAGE DRIVE
HOUSTON, TX 77204-7002