Information About Joining the Team, UH, and the City of Houston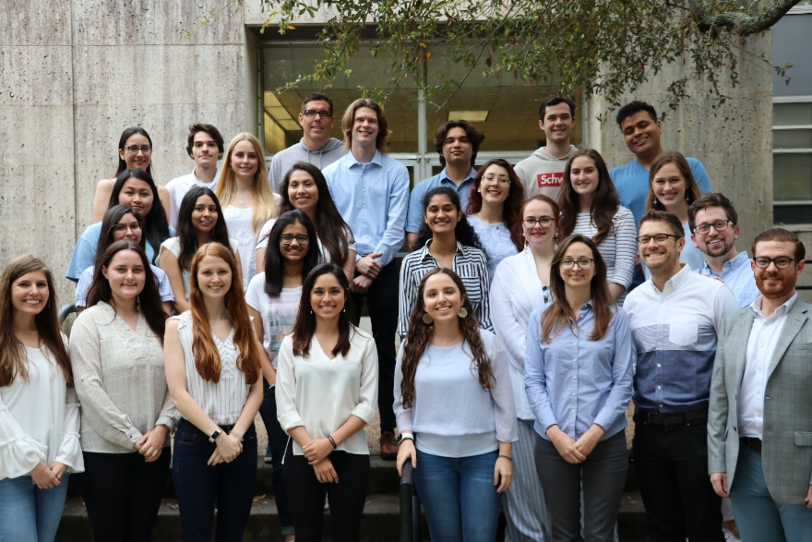 Undergraduate students
Undergraduate students join the RESTORE Laboratory through volunteer or course credit activities, which may include Honors theses. Students work on ongoing studies (see current projects) and as part of a team involving other RESTORE Laboratory members. Many students use this experience to learn more about behavioral science, develop scientific and clinical skills, and ascertain whether a career in psychology or allied disciplines is right for them. Examples of undergraduate student activities include: answering phone calls, meeting with participants, recruiting and scheduling participants, attending regular laboratory meetings, engaging in reading/writing projects, attending and/or presenting at professional conferences, conducting literature searches, assisting with study preparation, and entering or coding data. Additionally, under the supervision of a graduate student and Dr. Zvolensky, students develop a curriculum vitae and personal statement for graduate or professional school. Students also have authored or co-authored scholarly articles in peer-reviewed journals or book chapters. Many of the students in the RESTORE Laboratory have gone on to graduate (e.g., social work, counseling psychology, clinical psychology, industrial/organizational psychology) or professional school (e.g., law school, medicine). We require students to spend at least 10 hours per week in the laboratory and commit their time for at least 1 full year. The most successful students have typically been involved in the lab for 2 years or more. If you are interested in working in the laboratory, please contact Andre Bizier, Laboratory Coordinator (abizier@central.uh.edu).
Graduate students/postdoctoral fellows
Graduate students join the RESTORE Laboratory through the APA-approved doctoral clinical psychology training program at UH. Postdoctoral fellows join the team by contacting Dr. Zvolensky directly (mjzvolen@central.uh.edu) and usually work on a grant-funded study. Both graduate students and postdoctoral fellows can pursue a range of topics dealing with anxiety/stress, addictive behaviors, and health conditions and actively engage in scholarly activities (e.g., publishing work, presenting work at international/national/local venues, and obtaining grant funding). In pursuit of this work, they may be engaged in laboratory, community, clinical trial, and cross-national research activities. Many students pursue one or more areas of research emphasis and experience. All of the graduate students that have completed doctoral-level study in the RESTORE Laboratory have gone on to academic careers in universities, medical centers, or related teaching hospitals and regularly engage in evidence-based scholarly dissemination activities (e.g., publications, trainings).
Visiting scholars
The RESTORE Laboratory has enjoyed and benefited from visiting scholars that stay and work with the team for 3 months to 1 year. Past scholars have come from Mexico, the Middle East, and Australia. The collaborations that occur often continue beyond the visiting time period. If you are interested in being a visiting scholar, please contact Dr. Zvolensky directly (mjzvolen@central.uh.edu).
About UH and Houston, Texas
The University of Houston (UH) is a Carnegie Foundation designated Tier One Public Doctoral/Research University. The university is set in the Greater Houston metropolitan area that is populated by over 6 million people, making it the fourth most populous city in the nation and the largest in Texas and the southern United States. In 2011, UH was designated as a Hispanic-Serving Institution (HSI) by the United States Department of Education Office of Postsecondary Education. Notably, UH is one of only three Tier One public research universities in the nation with the HSI designation and the only such institution in Texas. The UH is positioned approximately five miles from the Texas Medical Center. The City of Houston is widely noted for its ethnic diversity and strong international community, arts/music, museums, local festivals, shopping, sports, and world-class culinary offerings. Over the past 10 years, Houston has frequently been rated among the top cities to live in the United States due to its high quality of life, combining a dynamic metropolitan atmosphere and healthy, growing economy with easy and quick access to a variety of natural resources (e.g., Brazos Bend Park, the Gulf of Mexico). To learn more about the City of Houston and community events, please visit: http://www.visithoustontexas.com/ or http://discoverygreen.com/