Robert C. Palmer
Cullen Professor Emeritus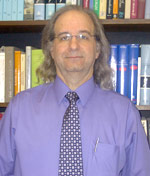 Dr. Palmer is a scholar of legal history. He specializes in American and English legal history. Palmer received his Ph.D. from the University of Iowa. Professor Palmer has served on the Transfer Issues Committee, Texas Higher Education Coordinating Board and Graduate Studies Council. He has also served on the Board of Directors for the American Society for Legal History. Professor Palmer currently holds a dual appointment as the Cullen Professor of History and Law, teaching also in the law school. He has served on numerous dissertation and thesis committees.
Teaching
Dr. Palmer teaches courses including American Legal History, Readings in American Legal History, Research in American Legal History, English Legal History, Early European Historiography and Constitutional history of Late Medieval England and France.
Research Interests
Dr. Palmer is the author of five books and nineteen scholarly articles. He is currently doing research on the analysis of the different legal regimes in England from 1150 to 1610.  He is the administrator and developer of the AALT (the Anglo-American Legal Tradition website) and the WAALT (the wiki for the AALT), sites that provide research resources for historians of England between the years 1200 and 1800.
Selected Publications
Selling the Church: The English Parish in Law, Commerce, and Religion, 1350-1550, University of North Carolina Press (American Society for Legal History Series, 2002).
English Law in the Age of the Black Death, 1348-1381: A Transformation of Governance and Law, University of North Carolina Press (American Society for Legal history Series, 1993).
Liberty and Community: Constitution and Rights in the Early American Republic, co-authored with William Nelson, with an introduction by Frederick Schauer. Institute of Bill of Rights Law monograph Series (1987 and the New York University School of Law Linden Studies in Legal History (1987).
The Whilton Dispute, 1264-1380: A Social-Legal Study of Dispute Settlement in Medieval England (Princeton University Press, 1984).
The County Courts of Medieval England, 1150-1350 (Princeton University Press, 1982).