HHP Research Symposium 2022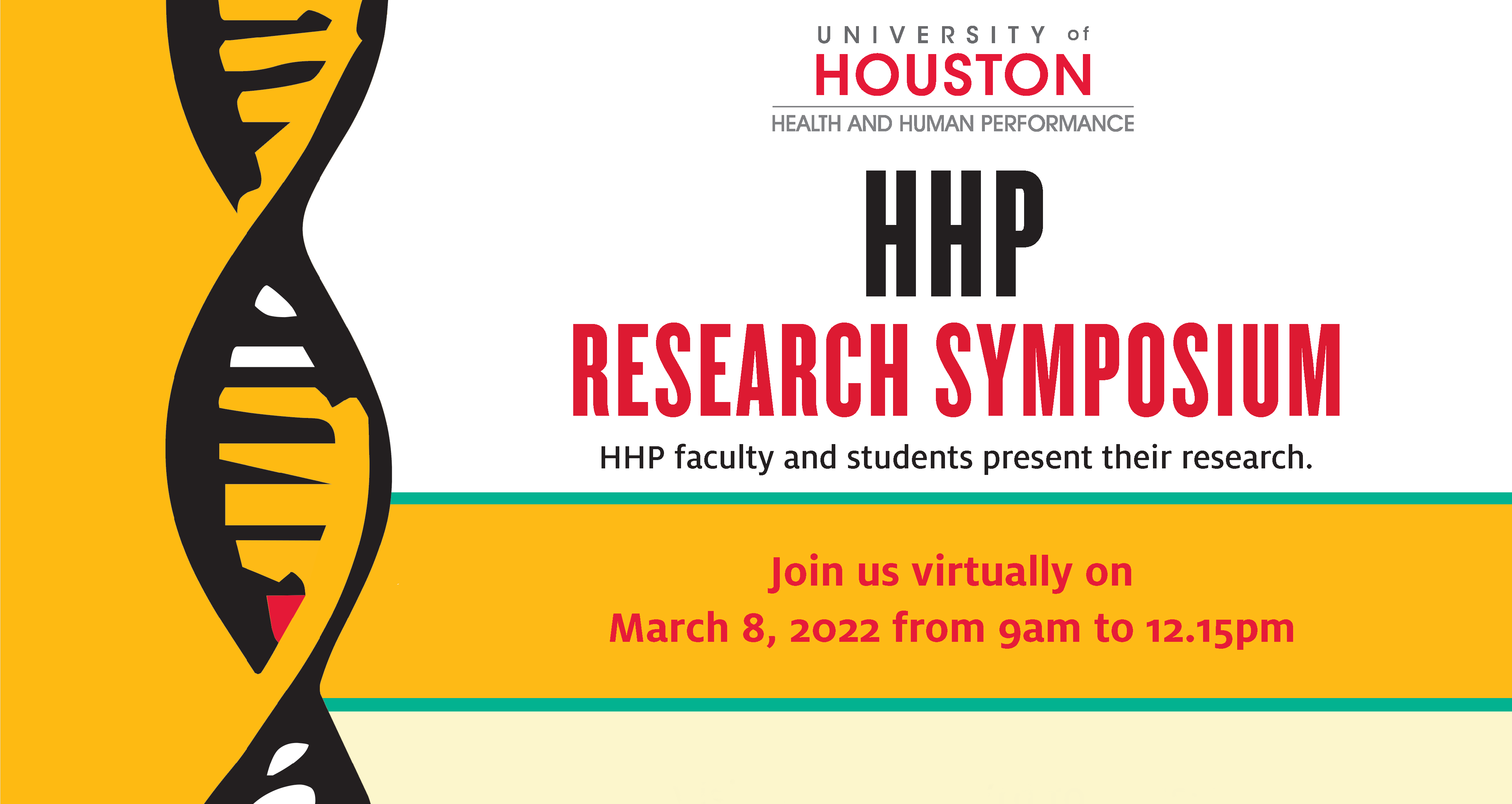 The department of Health and Human Performance will hold its annual research symposium virtually on March 8th 2022 from 9am to 12.15pm. The symposium is an opportunity for HHP faculty, students and research groups to present their research.
Registration
Please click here to register for the symposium.
Schedule
9:00-9:10
Introductory remarks by HHP Department Chair Dr. Craig Johnston
9:10 – 9:30

Dr. Demetrius Pearson
U2 Rodeo and Community Engagement: More Than Sport and Entertainment

9:30 – 9:50

Dr. Stacey Gorniak
Cortical Activation Changes and Memory Loss in Postmenopausal Women with Type 2 Diabetes

9:50 – 10:10

Dr. Pranav Parikh
A Broad-Spectrum Method for Evaluation of Dexterity in Children

10:10 – 11:00

Center for Neuromotor and Biomechanics Research trainees (10 minutes each)

Dr. Myeounggon Lee (Postdoc in Dr. Beom-Chan Lee's lab)
Consistency of Peak Vertical Ground Reaction Force at Push-Off Event Affects Gait Coordination in Healthy Young and Elderly Adults

Vivian Rose (PhD student in Dr. Pranav Parikh's lab)
Development of Dexterous Manipulation

Komal Kukkar (PhD student in Dr. Pranav Parikh's lab)
Cortical Control of Balance in Stroke

Chris Malaya (PhD student in Dr. Charles Layne's lab)
Effects of Simulated Gravitational Loading on Kinematic and Electromyographic Variables During Walking

Subhalakshmi Chandrasekaran (PhD student in Dr. Charles Layne's lab)
Impact of Lumbar Vibration on Lean After-Effect Induced by Incline Platform

11:00 – 11:20

Sport and Fitness Administration students (10 minutes each)

Minseok Cho (PhD student, Advisor: Dr. Don Lee)
How to Utilize Sport Analytics Content from Sport Fans' Perspectives

Morgan Ferrara (PhD student, Advisors: Dr. David Walsh and Dr. Craig Johnston)
Ready for Life-After Sport Transition? Examining the Association Between Resources and Well-Being in Collegiate Athletes

11:20 – 12:10

Laboratory of Integrated Physiology alumni (10-15 minutes each with questions at the end)

Introduction

Dr. Hawley Kunz
The effects of aging on muscle responses to exercise

Dr. Junyoung Hong
The effect of exercise on cerebrovascular dysfunction in Alzheimer's disease: Role of the P2Y2 receptor

Dr. Priti Gupta
Radiation-induced lymphopenia in cancer patients and its effects on response to cytokine therapy

Questions

12:10 – 12:15
Concluding remarks by Dr. Josh Yellen