Professional Staff
Reuben Parrish, MPH, MCHES ®, CPH (He/Him)
Director, UH Wellness
rgparris@central.uh.edu
713.743.5487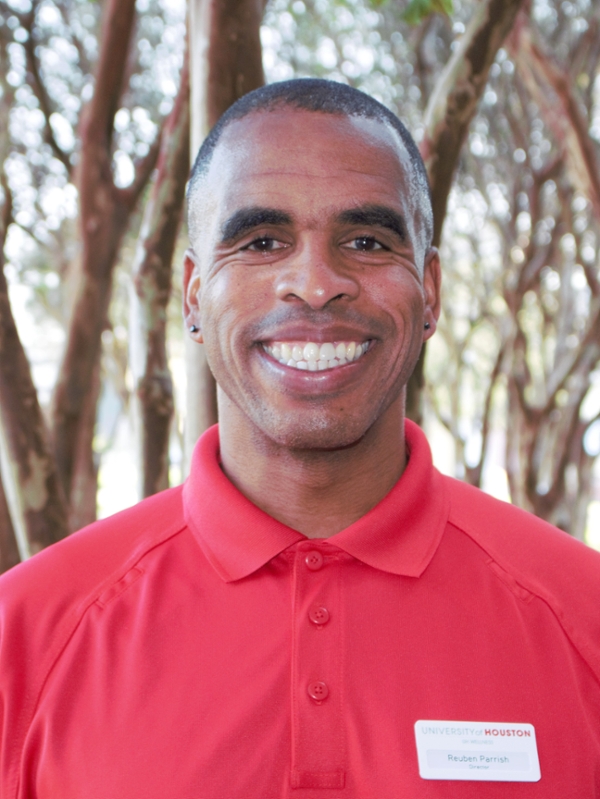 Reuben graduated from California State University, Fresno with a BS in Health Science and a MPH in Public Health with an option in Health Promotion. He has worked at the University of Houston Wellness department for 11+ years. He is a member of the American Public Health Association, American College Health Association, Texas Association of College & University Student Personnel Administrators and Student Affairs Administrators in Higher Education. His interests are in general health education/promotion, men's health, substance abuse, wellness and health coaching and worksite wellness. He is a Master Certified Health Education Specialist and Certified health and Wellness Coach. Reuben is passionate and committed to serve and assist the university in helping improve the lives of students, staff and faculty.
Favorite Quote "Knowing is half the battle" GI Joe
Interested in connecting with Reuben about general health and wellness topics, alcohol and drugs, or want to learn more about our well-being model? Request a free consultation!
---
Brittani Clarkson, MPH, CHES ®
Assistant Director, Wellness Programs
bclarkso@central.uh.edu713.743.5589
Brittani Clarkson (she/her) graduated from the University of Missouri with a Bachelors of Health Sciences and Liberty University with a Masters in Public Health in Health Promotion. Clarkson has held a variety of public health education and promotion roles over the last nine years spread across the federal, state, local, and college health sectors. She has assisted in the response to several public health disasters and emergencies within the Gulf Coast Region, coordinated community outreach and education efforts, managed and trained volunteers of all ages, and assisted in providing immunization support for Southeast Texans though the Texas Immunization Registry system. Of all the public health experience she has gained, Clarkson has found her niche and her passion in educating college students about the importance of prioritizing their health and wellbeing at such a pivotal moment in their lives. She believes that students should leave campus happier, healthier, and better self-advocates than when they arrived. Clarkson is excited to be part of the UH family and looks forward to collaborating and connecting with others. She is especially excited to facilitate in-person events and workshops after being so virtual for so long. Clarkson is a native Texas and when not at work, she enjoys spending time with her husband and son, crafting, and traveling.  
Interested in connecting with Brittani about general health and wellness topics,  sleep  , alcohol and drugs, or want to learn more about our well-being model? Request a free consultation!
---
J.R. Rubinsky, MSW (They/Them)
Assistant Director, Sexual Violence Prevention and Education
jrubinsk@central.uh.edu 713.743.1572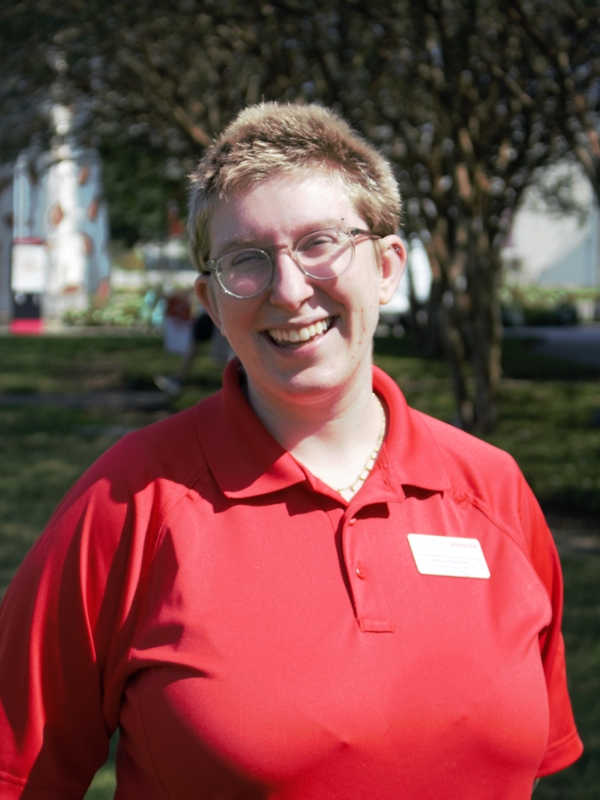 J.R., originally from Mississippi, received a Master's in Social Work with a focus on Violence and Injury Prevention from Washington University in St. Louis and their Bachelor's in Psychology and Marketing from Tulane University. J.R. has worked in the field of sexual and relationship violence prevention for the past seven years. In addition to working in non-profits, J.R. has worked as a consultant providing education, resources, and advice to individuals, communities, and companies across North America. Their interest are in violence prevention, sexual health, relationships, LGBTQ+ identities, and restorative justice. J.R. uses a margins of center, intersectional, and strength centered approach in all the work that they do, believing that all oppression is connected and fighting to end sexual violence must include ending all types of violence.
In their free time J.R. enjoys playing board games, eating thai food, and finding local hiking trails.
Interested in connecting with J.R. about violence prevention, sexual health, relationships, sexual orientation, or gender identity? Request a free consultation
---
Katie Dash, MS, CHES ® (She, Her)
Health Promotion Specialist
kedash@central.uh.edu
Katie graduated from Texas A&M University with a B.S. in Community Health and M.S. in Health Education. Katie is also a Certified Health Education Specialist (CHES) and Texas Educator (Health, Grades EC-12).  Her passion for university wellness began in 2017 during her time as a Graduate Assistant at Texas A&M Health Promotion and grew into the love she has today for helping college students achieve their full potential. In her free time, Katie enjoys attending concerts, flying to new places, and playing with her dogs.
Interested in connecting with Katie about Well-Being Model, sexual health and contraception, alcohol and other drug education, stress management, or body positivity? Request a free consultation
---
Val Ordonez
Instructional Assistant, Wellness Programs
---
Cougar Cupboard Student Staff
Jessica Haney
Cougar Cupboard Program Manager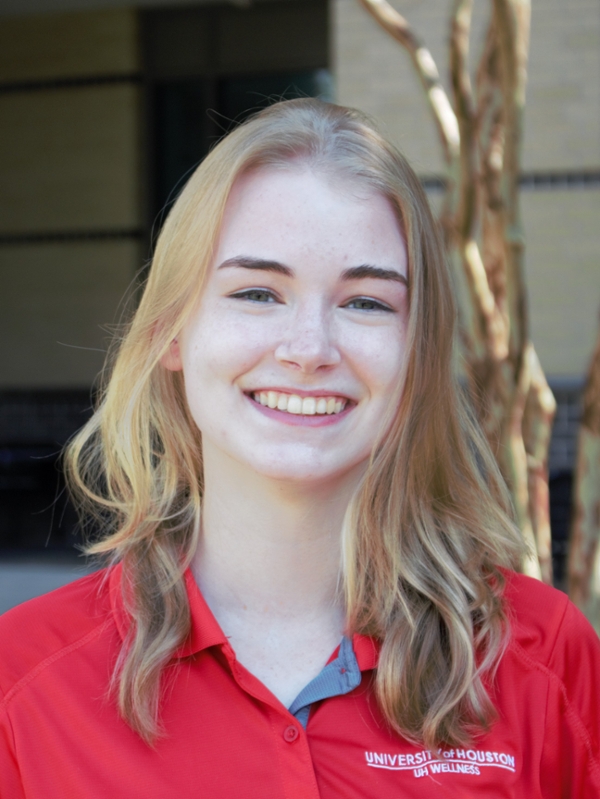 Jessica graduated from the University of Houston with a Bachelor's in English in 2021 and is now happy to be part of the professional staff at the same university. Jessica has been with the Cougar Cupboard since its beginning and is grateful to be staying on in the role of its coordinator. Jessica is passionate about identifying the needs of students and connecting them with the resources that are available to them, as well as creating partnerships and collaborating with others to meet these needs. She aims to continue expanding the Cupboard and its services so that every student can receive proper support.
In her free time, Jessica enjoys reading, writing, being outdoors, and playing video games with friends.
---
Lordina Yeboah
Assistant Cougar Cupboard Coordinator

Lordina is a Second Year Architecture student at the University of Houston. She loves working at the University's on-campus Food Pantry because it helps her stay actively involved and she enjoys being able to help make a difference in people's daily routines. Although her work at the Cougar Cupboard is slightly different compared to her major, she still finds the moments of leadership at the Cupboard to be rewarding.
In her free time, Lordina enjoys relaxing by listening to new music or doing activities that involve color. Recently, she is more likely to watch a funny show or movie to relax or entertain herself by reading a webtoon.
---
Lexi Emmons
Cougar Cupboard Assistant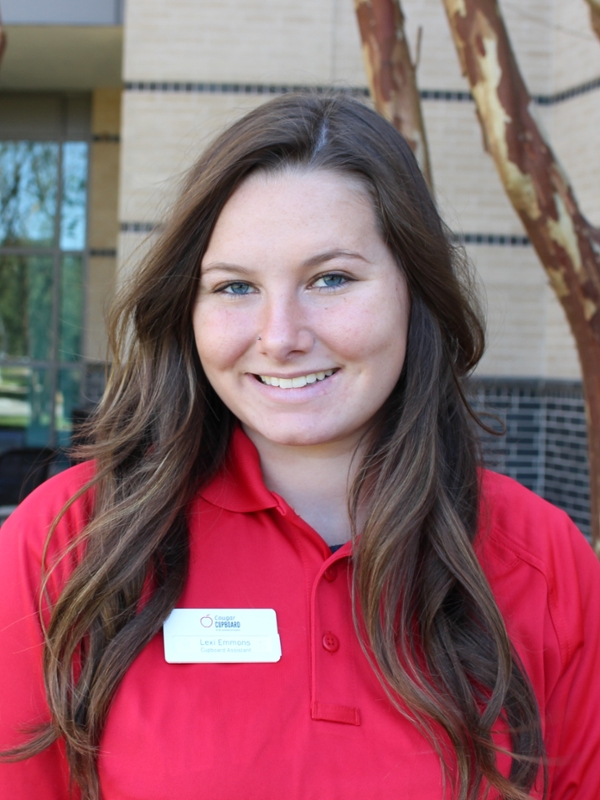 "Lexi is a Junior at University of Houston, currently studying Nutritional Sciences in hopes to become a registered Dietitian. She hopes to open her own private practice for children with eating disorders and malnutrition. She loves working at the cupboard because it allows her to help her fellow UH students with their needs. 
In her free time, Lexi loves to cook, watch movies, swim, and adventure to new places with friends."
---
Lalaya Mongare
Cougar Cupboard Assistant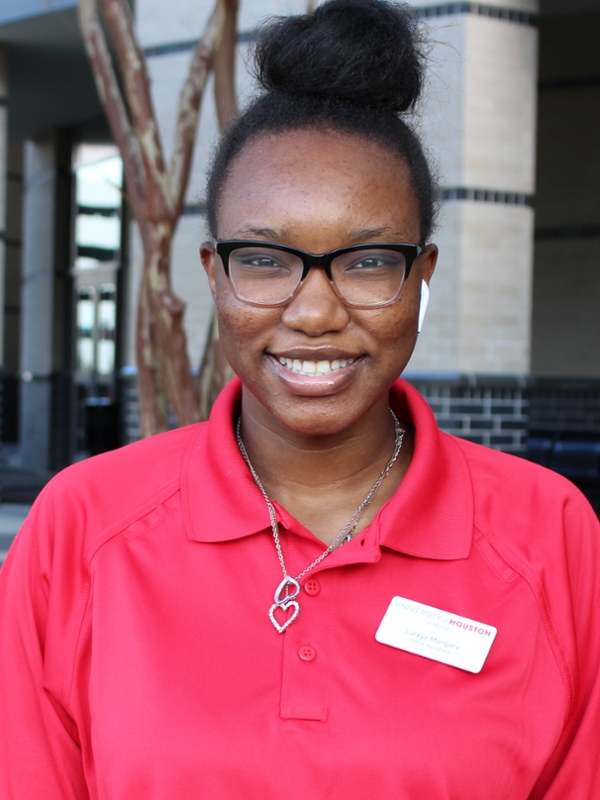 Lalaya is a Freshman at the University of Houston and in Exploratory Studies. She would like to pursue Nursing as a major and Psychology as a minor. Lalaya always looks forward to coming in to serve UH students and staff! Once Lalaya completes her degree, her dream career is becoming a Neonatal Nurse Practitioner and traveling around the world.
In her free time, she enjoys reading, listening to music, socializing, watching movies, and arts and crafts.
---
Iliana Solheim
Cougar Cupboard Assistant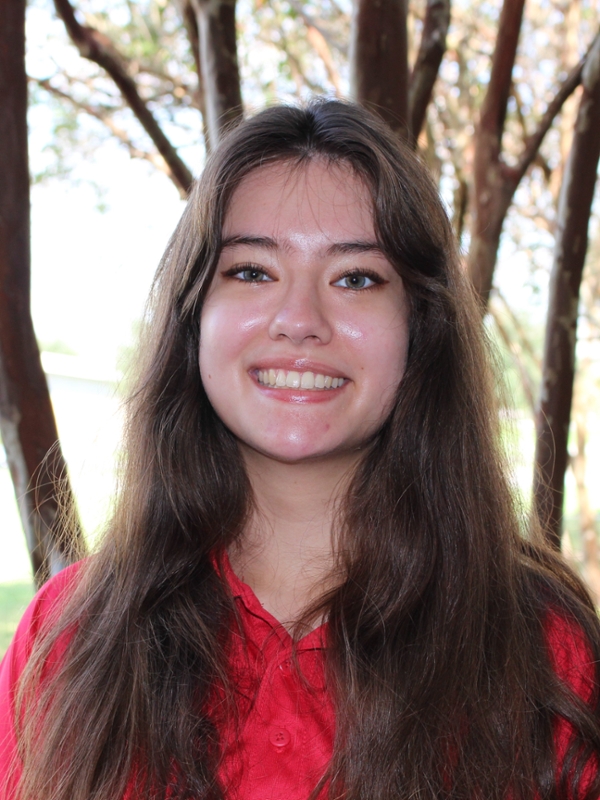 Iliana is a sophomore at the University of Houston studying Geology with an interest in Energy and Sustainability. She enjoys working at the Cougar Cupboard because of its welcoming atmosphere, flexible work environment, and its mission to provide. After her undergraduate, Iliana aims to apply her degree to geothermal energy research and its impact on the renewable energy movement to fight climate change. She also looks forward to traveling internationally with her degree to study and observe the changes occurring within nature across the world.

Should time in her schedule allow it, Iliana can be found enjoying her time mostly outdoors, listening to music, and indulging the occasional Netflix binge.
---
Sarah Stewart
Cougar Cupboard Assistant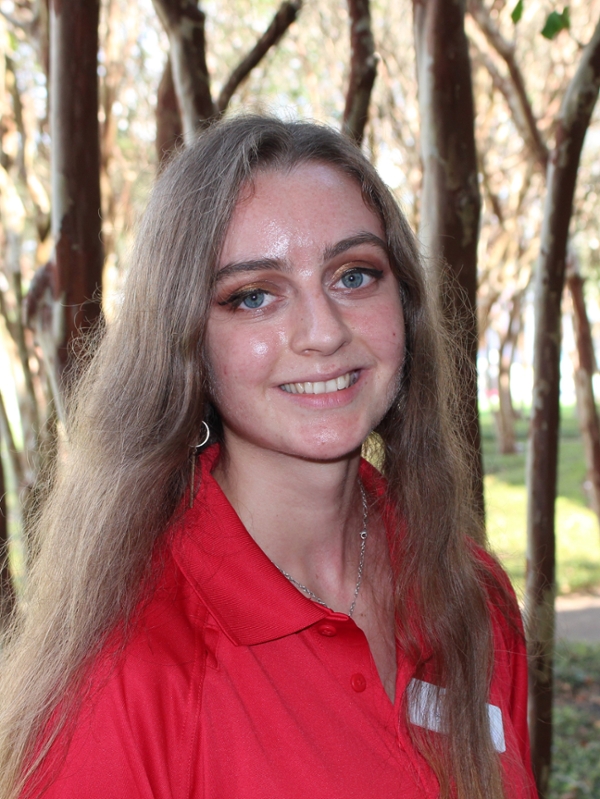 Sarah is a junior at the University of Houston currently studying human nutrition and foods. She loves working at the cupboard because she loves improving the health and lives of her fellow students. She has a passion for public health and addressing the needs of those in her community. After completing her undergraduate degree she hopes to go into a master's of public health program to continue to serve her community.
In her free time she enjoys hiking and road tripping to observe Texas's natural beauty.
---