Bea Rivera Recounts How She Bounced Back After Failure in College
Bea Rivera, a recent alumna of the College of Natural Sciences and Mathematics, has come full circle in her academic career. What began as a rocky introduction to the rigor of mathematics classes, ended with a career-defining opportunity upon graduation.
Rivera will be one of about a dozen young professionals who will participate in a two-year fellowship with the Federal Reserve Bank of Chicago. They will work as research assistants for the bank on a variety of projects and support ongoing analysis of the U.S. and global economy. Rivera, a mathematics and economics double major, will work with the microeconomics group.
The group provides direct reports to the bank and economic forecasts but also studies the economic life of Chicago. The team includes microeconomists who study the intersection of economics and education, politics and labor.
"I'm excited to work alongside people who, for so long, I just read their papers in top journals," Rivera said.
Along with her work at the Fed, her fellowship includes enrollment in economics classes at the University of Chicago. Many research assistants go on to matriculate in a Ph.D. program after their fellowship, but the classes are helpful to those who will work in industry as well.
Interconnected Opportunities
The doors to this fellowship opportunity opened for Rivera thanks in part to her internship with the Federal Reserve Bank of Chicago in the summer of 2021. She interned with the financial markets group. Working with financial analysts, "opened my eyes on how markets work," she said.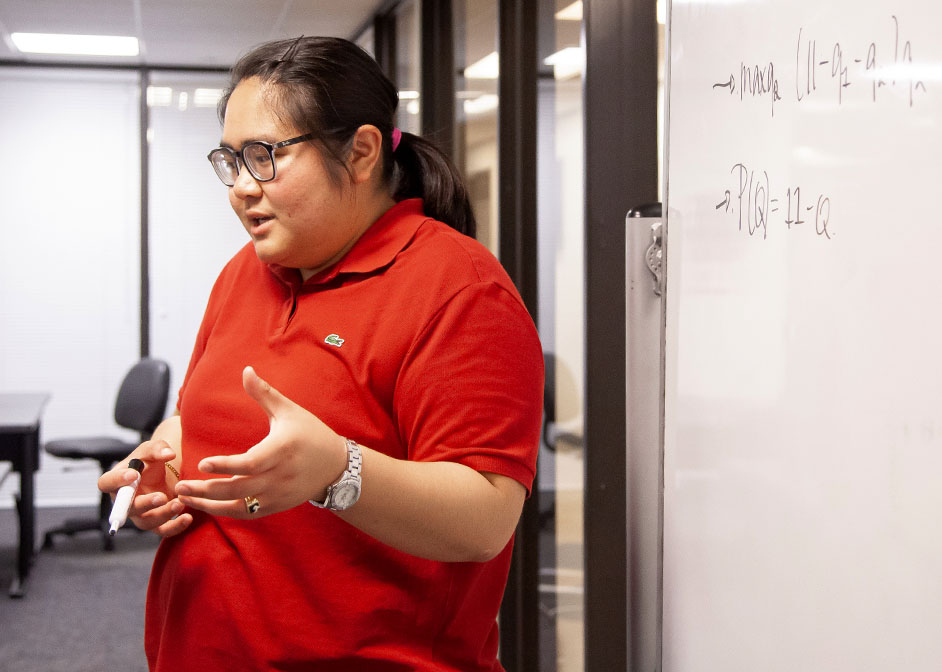 The internship would not have been possible if she had not participated in the American Economic Association's Summer Training Program in 2020. She took courses in advanced math and advanced research methods, worked on research projects and attended professional development workshops.
"That program was instrumental in getting started in economic research," she said, "and feeling like I'm seeing math that makes sense to me in an applied field."
The Chicago Fed was one of the partners brought in to connect with students participating in the summer program, and it is how she learned about their internships.
A 'Disastrous' Start
Although Rivera's successes are a dream come true, they are the result of hard work, dedication and getting back up after failure, like when she failed to pass Calculus 2 twice. It is an experience she describes as absolutely "disastrous."
She failed the class the first time her freshman spring semester, due in part to the freedom of a college student, and failed it again that following summer.
Her mentors, Eduardo Cerna, program director for NSM's Scholar Enrichment Program, and Diana de la Rosa, instructional associate professor at UH's Cullen College of Engineering, showed her great compassion in spite of her low academic performance.
"If I didn't have them by my side, I could see how I would have fallen off just with how big our school is," said Rivera. "I very much credit them with helping me recover from how I ended freshman year."
Cerna is incredibly proud of Rivera, who began her UH college career participating in NSM's Summer Bridge Program in 2018 and received Scholar Enrichment Program services her first year. Cerna was the first UH employee she connected with.
"Bea has flourished since her freshman year," Cerna said. "The amount of effort she put in to cross the stage on May 13 is exceptional."
Rivera took Calculus 2 with Thomas Weber, instructional assistant professor of mathematics, the fall of her sophomore year. She passed thanks in part to his emphasis on UH's counseling and mental health services for students and because he shared his own journey. She went on to take Calculus 3 with Weber the following spring semester.
She ended her undergraduate experience as a peer facilitator for SEP, where she helped students like her learn how to bounce back after failure. The young researcher now views her struggles as indicators of future success.
"Instead of just looking for an excellent result at the end of the semester, I aim for a project to go well the entire time," she said. "I know I really want something if I don't mind struggling for it."
Coincidentally, she received the news of her Fed fellowship in the SEP room, and Cerna was the first person she told, after her mom.
"That was a complete full circle," she said.
Similar Background, Similar Interests
Rivera's pursuit of an economics research career would not have been solidified if it had not been for Cesi Cruz, assistant professor of political science at the University of California, Los Angeles. Cruz is the first female Filipino American Rivera met doing economics research in higher education.
What attracted Rivera to Cruz was the professor's study of economics in the Philippines. Cruz not only became a mentor to Rivera but a sponsor for her ideas. Rivera's senior honors thesis was made possible by Cruz's support.
"She opened a space under her wings for me," said Rivera. "She was also instrumental in helping me get the fellowship at the Chicago Fed because she opted to give me an oral recommendation. She called the research team at the Fed instead of giving a written statement."
What is most impressive to Rivera is the fact she will no longer be a student of Cruz, but a research partner thanks to her Fed fellowship.
- Rebeca Trejo, College of Natural Sciences and Mathematics