Commencement Celebrates Spring Graduates, Including Three, 4.0 Grads and UH's Youngest Graduate
Bachelor's, master's and doctoral degree candidates were celebrated during the University of Houston Commencement for the College of Natural Sciences and Mathematics (NSM) on May 13. The ceremony was held at UH's Fertitta Center.

More than 650 NSM students completed degree requirements for spring 2022. NSM's 46 doctoral candidates earned degrees in atmospheric sciences, biochemistry, biology, chemistry, computer science, geology, geophysics, mathematics, or physics. There were 80 master's degree candidates and 546 candidates for bachelor's degrees.
Eighty-four students graduated summa cum laude, the highest academic honor for bachelor's degree recipients. An additional 253 students graduated either cum laude or magna cum laude.
Twenty-five students graduated through the teachHOUSTON program, a collaboration between NSM and the College of Education. They have committed to teach high school math or science.
The ceremony also included remarks from the Honorable Derek Delgado of the UH System Board of Regents.
Dan E. Wells Outstanding Dissertation Award – Spencer Fuston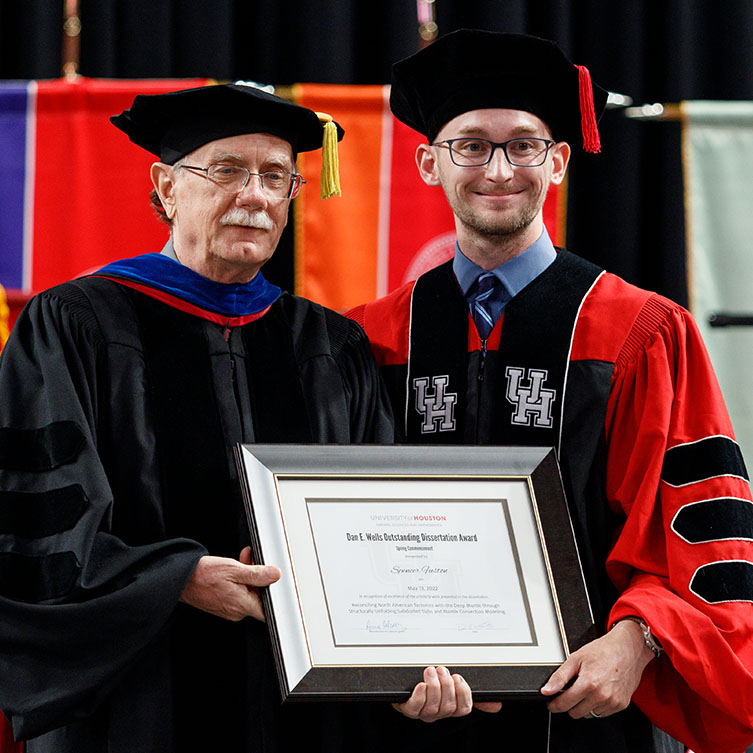 Each semester, the Dan E. Wells Outstanding Dissertation Award is presented to a doctoral student who has performed outstanding research and submitted the best dissertation to the College. The Spring 2022 recipient was Spencer Fuston, a geology Ph.D. graduate in the Department of Earth & Atmospheric Sciences. He received a certificate and an award of $1,000.
His dissertation is titled "Reconciling North American Tectonics with the Deep Mantle through Structurally Unfolding Subducted Slabs and Mantle Convection Modeling." The result of his research is a new plate tectonic reconstruction of Western North America since the time of the dinosaurs, made by restoring tectonic plates lost to subduction.
His dissertation represents a paradigm shift in our understanding of the tectonic history of North America, for which he received media coverage in international news outlets. His advisor was Jonny Wu. Fuston has accepted a position with EOG Resources, an oil and gas company.
Noah Luecke, receiving a Ph.D. in biology, received Honorable Mention for the dissertation award.
NSM's 4.0 Summa Cum Laude Graduates
Three exceptional students participating in the ceremony completed their studies at UH with a perfect 4.0 grade point average. One of the students, Hanan AdbelGilil, completed her entire college career at UH.
Hanan AbdelGilil, B.S., Biology
Sujan Lamsal, B.S., Mathematics
Mya Lipps, B.S., Biochemical and Biophysical Sciences
Commencement Student Speaker – Hanan AbdelGilil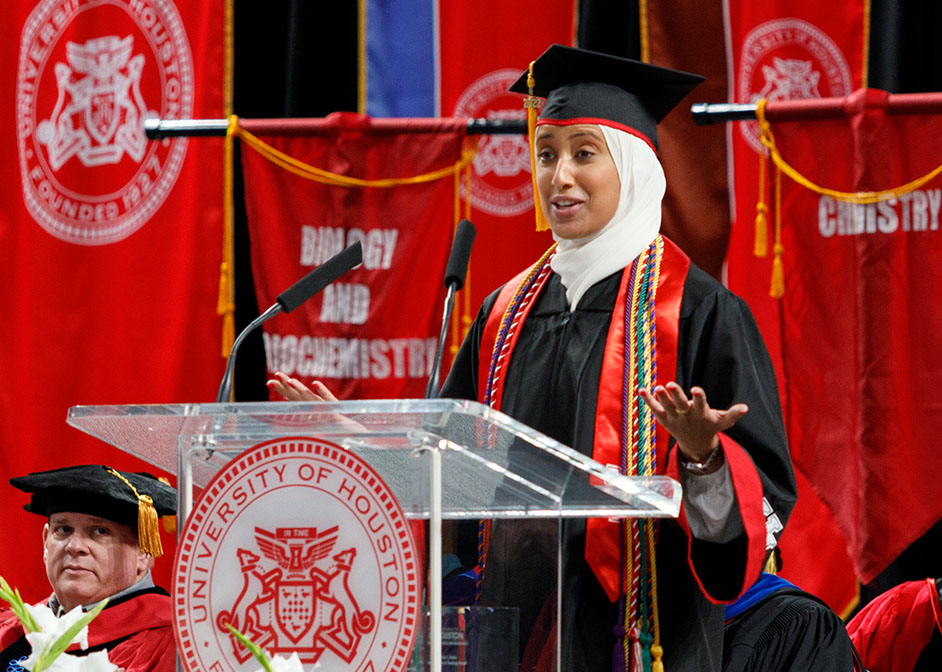 Commencement student speaker Hanan AbdelGilil came to UH with a four-year Academic Excellence Scholarship. She graduated with a bachelor's degree in biology and a minor in kinesiology. AbdelGilil was selected as speaker through a competition that is open to all NSM summa cum laude graduates.
During her speech, AbdelGilil encouraged graduates to be proud and own their achievements and to surround themselves "with people that promote your growth and allow you to bloom with grace." Lastly, she encouraged NSM graduates to always stay true to themselves and their beliefs.
While at UH, AbdelGilil did research on food insecurity in the Third Ward. The objective was to improve the collaboration between the various food pantries and churches and better organize the allocation of resources. She also founded the Society for Future Medical Professionals. The group welcomes all pre-health professions and focuses on leadership and community service.
In her spare time, she volunteers with the Multicultural Center's Wheels of Change program, mentoring 12-to-15-year-old girls, helping them, as Americans, to preserve their Muslim identity.
AbdelGilil will enter the University of Texas School of Dentistry at Houston in the fall. She can't wait to continue serving her community through dentistry while advocating for oral public health, especially within low-income and uninsured populations. She hopes to educate others about how oral hygiene is not disconnected from the ailments and maladies that occur outside of the mouth.
Commencement Banner Bearers – NSM Outstanding Students

The Commencement processional included outstanding students from NSM's six departments carrying the college and departmental banners.
College Banner: Hanan AbdelGilil
Department of Biology and Biochemistry: Mya Lipps
Department of Chemistry: Kenneth Nguyen
Department of Computer Science: Tuan Tran
Department of Earth and Atmospheric Sciences: Rachel Craig
Department of Mathematics: Sujan Lamsal
Department of Physics: Daniel Palacios
UH's Youngest Graduate – Caleb Barnett
NSM had the distinction of having UH's youngest graduate for spring 2022. Caleb Barnett, 17, graduated magna cum laude with a B.S. in mathematics.
His interest in mathematics began early in his educational journey. By the age of 12, he was completing both high school and college-level coursework.
While at UH, he did undergraduate research with Mehrdad Kalantar, associate professor in the Department of Mathematics. He credits Kalantar with being a great mentor.
"Getting my degree has been a rewarding journey, and I am thankful for the support from my family, professors and friends along the way," he said.
After graduation, Barnett will spend a year doing post-baccalaureate work at UH and then plans to enter a graduate program in mathematics.
NSM Faculty Awards
Three NSM faculty awards, the John C. Butler Excellence in Teaching Award, the Faculty Award for Excellence in Service, and the Junior Faculty Award for Excellence in Research, were presented.
Butler Award winners were Mariam Manuel, instructional assistant professor with teachHOUSTON, and Melissa Zastrow, assistant professor of chemistry. The Faculty Service Award went to W. Anthony Frankino, associate professor in the Department of Biology & Biochemistry. The Junior Faculty Research Award was presented to Andreas Mang, assistant professor of mathematics.
All award recipients received a $5,000 cash award and a plaque.
- Kathy Major, College of Natural Sciences and Mathematics