Event Held In Person for the First Time Since 2019
Voices echoed throughout the floors of the University of Houston M.D. Anderson Library on Thursday, April 14, 2022. The already-busy library was filled with posters and students standing in front of them, excitedly sharing their findings with attendees filing into the building.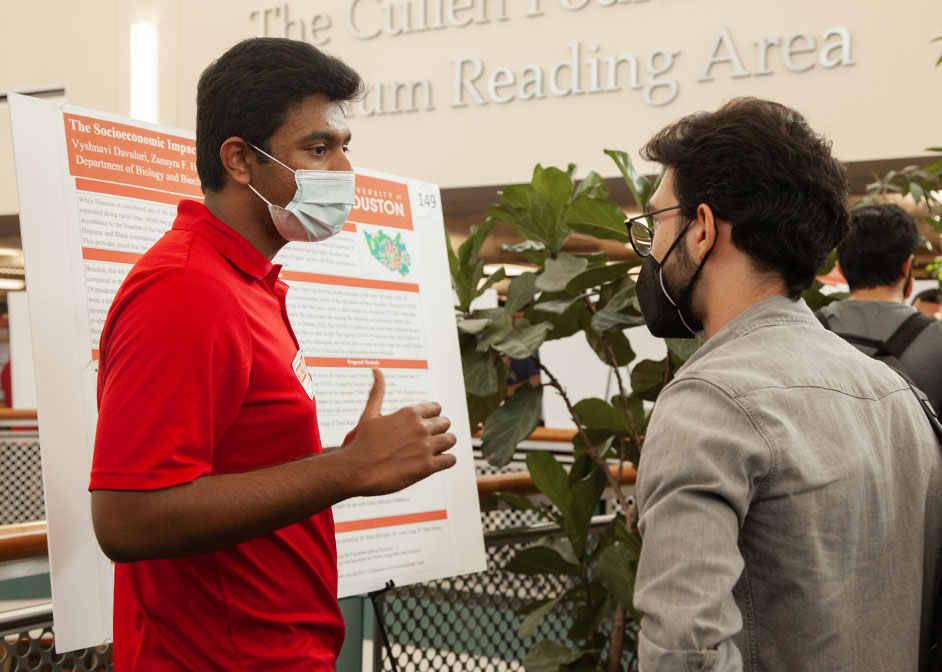 Lined up across third floor were UH College of Natural Sciences and Mathematics majors presenting their work at the 2022 Undergraduate Research Day, hosted by the Office of Undergraduate Research and Major Awards. Seventy-one NSM students presented this year, showcasing their faculty-mentored projects through either individual or group posters.
Among the crowd were a few students with particularly popular posters.
Team Project on Socioeconomic Factors and COVID-19
Biology major Ronald Thomas presented with fellow biology major Vyshnavi Davuluri and Zunayra Hemani from the College of Education. The team investigated the impact of COVID-19 cases in Harris County from August 2021 to February 2022 and took into account socioeconomic factors, specifically, race, income, and zip code.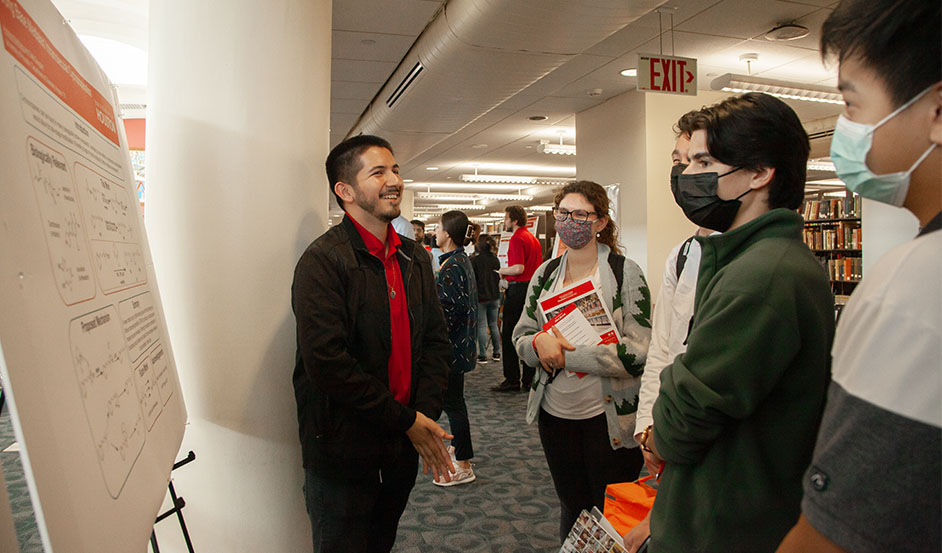 "We compared Third Ward and Bellaire, not only due to the difference between their socioeconomic statuses, but because of their proximity to each other," said Thomas. "They are only 8.5 miles apart, but Bellaire has 3.8 times the household income of Third Ward."

They found a disparity in COVID-19 cases between the two areas. In August 2021, Bellaire had 965 cases in a population of 19,283. Third Ward had 2,235 cases in a population of 36,959. In February 2022, Third Ward had 5,225 cases, and Bellaire had 2,304. This shows the ratio of COVID-19 cases to the total population was higher in Third Ward than that of Bellaire.
A New Method for Synthetic Organic Chemistry
Down the hall, chemistry major and soon-to-be alumnus, Andrew Martinez shared the research project he worked on with the help of his mentor, Olafs Daugulis, Robert A. Welch Chair professor of chemistry at UH.
Martinez developed a new method to access cyclopropanes, which are triangular structures made up of carbon and hydrogen atoms.
"This structure can be found inside different biologically relevant molecules," Martinez said, "such as insecticides, antibiotics, and antifeedants, which are chemicals to keep animals from feeding in your yard."
His method to create cyclopropanes uses a triflate substituent, which is a "leaving group" that allows organic chemical reactions to occur. Using this "leaving group," a carbene is generated, which inserts into a neighboring carbon-hydrogen bond to make the cyclopropane.
This method can be used to modify molecules with alcohol groups such as existing drugs or beta amino acids for medicinally relevant purposes.
Martinez's dedication to his research landed him a spot as a chemistry Ph.D. student at the University of North Carolina at Chapel Hill. He plans to begin his studies this summer.
- Rebeca Trejo, College of Natural Sciences and Mathematics