Both Students Graduated from Department of Earth and Atmospheric Sciences
Much like the pandemic at present, Hurricane Harvey was a pivotal moment for thousands of people in Houston. University of Houston College of Natural Sciences and Mathematics alums Laura Taylor ('20) and True Furrh ('20) are no exceptions. The hurricane actually spurred their decisions to pursue doctoral degrees in the earth sciences.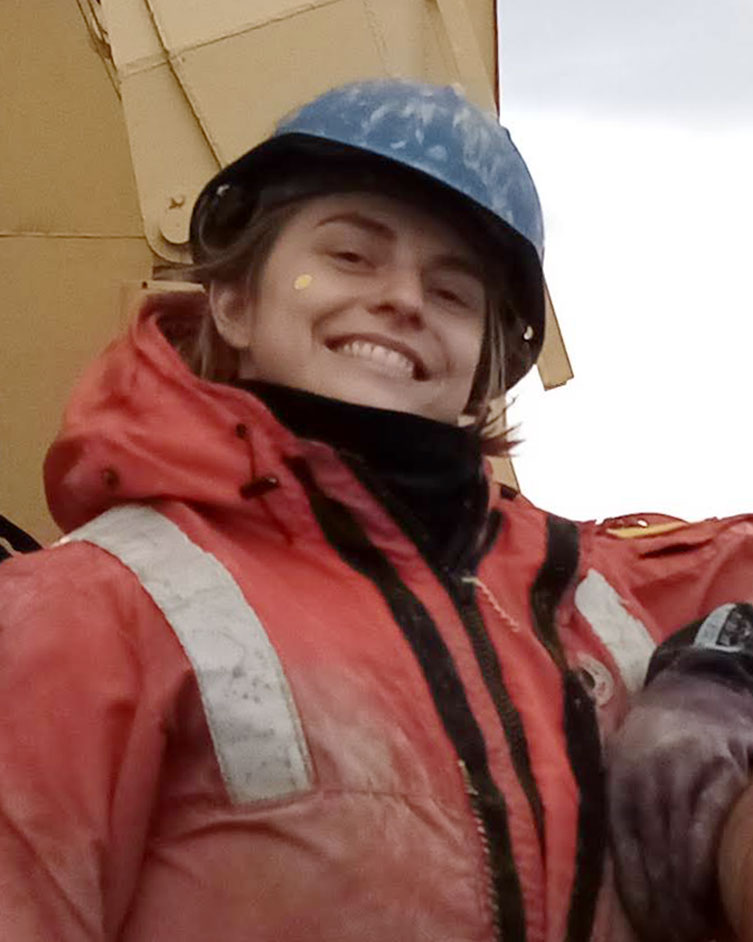 "I grew up on the gulf coast experiencing hurricanes," said Taylor. "Hurricane Harvey was really impactful for us in Houston. Not knowing what was going to happen and what hurricanes are going to mean for people on the coast in the coming century just bothers me. I want people on the coast to be protected."
For Furrh, hurricanes became a part of growing up. As a boy, he lost his home to Hurricane Ike, and during Hurricane Harvey, he co-founded UH CARES, Cougar Assisted Relief Efforts, to aid neighbors in need after the storm.
"That's probably what got me most interested in flood mitigation from a research perspective," said Furrh. "Seeing houses with bad flood damage – it just seemed like there had to be a better way to do this, and there had to be a way not to have this many houses flood at that large of a scale."
Their research interests garnered them the National Science Foundation's Graduate Research Fellowship, which provides three years of financial support including an annual stipend of $34,000 and an allowance of $12,000 to their respective institutions.
Doctoral Studies Focus on Earth Science
Taylor will be enrolled in the Joint Program in Oceanography, at the Woods Hole Oceanographic Institute and the Massachusetts Institute of Technology.
For her Ph.D., she will study the ancient climates of tropical cyclones in the north Atlantic Ocean and the ancient oceanographic conditions that led to variability during the Holocene geological epoch.
"The scientific community has a general idea of what is going to happen with tropical cyclones in the near future," said Taylor. "What we don't know is how that played out in the paleorecord. We're working on having a stronger instrumental record of what happened in the past to better understand the future under similar conditions."
The first steps of her research will be to collect sediment cores, focusing on Buzzards Bay, south of Boston. She will collect event beds in the cores, which will tell researchers if there are records of hurricanes. To understand what the oceanography was at the time of the event, they will then collect small organisms, on which they will perform isotope work.
Furrh is working on flood mitigation and hydrologic modeling for his Ph.D. at Rice University's Department of Civil and Environmental Engineering.
"That might look like projects over prairie lands outside of Houston for flood mitigation," he said. "It might be working toward some of the studies on the Galveston Bay Park Plan for hurricane flood prevention. The great thing is the fellowship doesn't set you into doing just one project. It funds whatever you want to do over the next three years."
Preparation Credited to UH Opportunities and Classes
Taylor said her trip to Antarctica, aboard the Nathaniel B. Palmer research vessel in West Antarctica, made her stand out more than anything else. She went as an undergraduate with Julia Wellner, associate professor of geology, for the Thwaites Glacier Offshore Research Project in January 2020.
She also credits her senior thesis with Emily Beverly, assistant professor of sedimentary geology, and working with Peter Copeland, professor of geology, for preparing her for future work as a graduate student.
"I was in a very lucky spot because I had so many different research opportunities," she said. "Having access to great faculty, who were great mentors that took a lot of time to work with me, really prepared me for pretty much all of it."
Furrh was a NOAA Hollings Scholar in Fairbanks, Alaska, where he worked with the National Weather Service performing flood plain analysis, an opportunity supported by UH through the application process.
He said taking professor of geology Shuhab Khan's geographic information system and remote sensing courses better prepared him for the experience because he learned about HEC-RAS, a modeling software created by the U.S. Army Corps of Engineers.
Both Furrh and Taylor are interested in research careers after they finish their Ph.Ds. Furrh is already enrolled at Rice University, and Taylor begins her Ph.D. in June at MIT.
- Rebeca Trejo, College of Natural Sciences and Mathematics