Joan and Herman Suit Receive President's Medallion at December Commencement

President's Medallion is Highest Honor Awarded to Individuals Making Exceptional Contributions to UH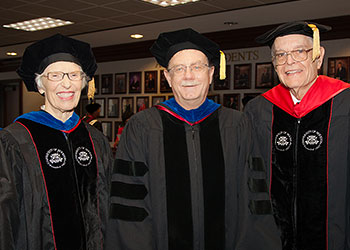 President's Medallion recipients Joan C. Suit, Ph.D., and Herman D. Suit, M.D., Ph.D., with NSM Dean Dan E. Wells (center) at UH Commencement on December 20.Herman and Joan Suit believe in the importance of education and scientific discovery; their careers and support of the University of Houston and the College of Natural Sciences and Mathematics (NSM) reflect that commitment.
UH alumnus Herman Suit (biology, '48) and his wife Joan received the President's Medallion at Fall Commencement. The medallion is the highest honor awarded to individuals who have made exceptional contributions to the University.
The Suits are long-time supporters of NSM and UH. Their gifts include establishing a charitable annuity for endowed faculty support and annual support for a postdoctoral fellow in the Department of Chemistry through the Eby Nell McElrath Fellowship in Chemistry, named for Herman Suit's former organic chemistry professor at UH. They have also generously contributed to the NSM Fund and the UH Alumni Association, funded scholarships, and supported the expansion of the M.D. Anderson Library and The Honors College.
"This is indeed a tremendous and deeply appreciated honor to be the recipients of this medallion from the UH President. My time as an undergraduate in 1946, '47 and '48 was definitely a happy experience and had a positive impact on my life and career," Herman said. "I was particularly impacted by Professor McElrath."
The Suits visit UH frequently to keep in touch with the work of the postdoctoral fellow they support and to meet with NSM faculty.
"Joan and Herman Suit are true believers in the power of education and the importance of providing opportunities for students," said Dan E. Wells, NSM dean. "NSM is grateful for their continuing support of our students and faculty."
When asked about the significance of receiving the President's Medallion, Joan said, "I am very pleased and honored by this award. I believe that every person should have a quality education and be encouraged to continue in post-graduate life to pursue scientific knowledge. The University of Houston is making an expanding effort toward these goals, and we are pleased to be able to participate in that effort."
After receiving his bachelor's degree, Herman completed a master's degree in biochemistry and a medical degree, both from Baylor College of Medicine. He continued his training at Oxford University in England, receiving a D.Phil. in radiation biology. Following two years at the National Cancer Institute and 11 years at M.D. Anderson Cancer Center, he moved to Boston as chief of radiation oncology at Massachusetts General Hospital (MGH) and professor of radiation oncology at Harvard Medical School.
He was a pioneer in the use of curative proton radiation therapy for cancer patients. His work with physicist Michael Goitein was instrumental in the creation of MGH's Northeast Proton Therapy Center, the second hospital-based proton therapy center opened in the U.S.
Having stepped down as radiation oncology chief in 2000, he remains active in writing and teaching and received a Doctor of Humane Letters, honoris causa, from UH in 2011 and the Distinguished Alumni Award from the UH Alumni Association in 2005.
Joan Suit, who earned her Ph.D. from Stanford University, is a retired senior research scientist with the Massachusetts Institute of Technology, where she worked with Nobel Laureate Salvador Luria.
Since her retirement in 1991, Joan has pursued her passion for science by becoming involved in the Boston Museum of Science as a trustee. She continues her goal of creating more scientists by engaging children and youth in activities at the museum on a weekly basis.
"We are pleased to make contributions to help provide opportunities for the youth of today. Being an alumnus of this University is a deep pleasure, and we are confident that the University's role in science and math education will move smartly and quite positively," Herman said.
At commencement, UH President Renu Khator recognized the Suits for their lifelong mission to improve the health of their fellow citizens and for providing the inspiration and the financial resources for students to follow in their footsteps and for faculty members and researchers to excel in the lab and the classroom.
- Kathy Major, College of Natural Sciences and Mathematics