UH College of Education Honors 2022 Alumni, Community Stars
Posted May 27, 2022 — The University of Houston College of Education recently celebrated its 2022 outstanding alumni and community award winners for their commitment to student success and leadership in their fields.
"Our alumni and friends have a long tradition of serving the community with excellence," said UH College of Education Dean Bob McPherson. "We are so proud to honor their achievements in line with our College mission to advance equity in education and health in Houston and beyond."
The College hosted its annual Star Awards event in late April to recognize the winners.
2022 UH College of Education Award Recipients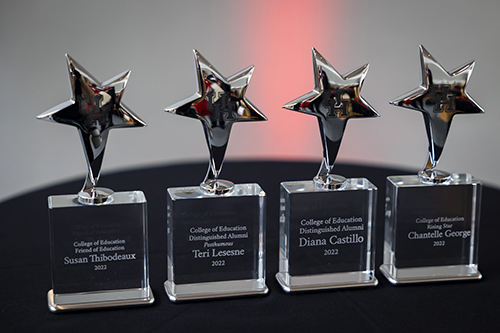 RISING STAR: Chantelle George (M.Ed. '15), founder and CEO of a consulting firm focused on increasing college access and success among underserved students
DISTINGUISHED ALUMNI: Diana Castillo ('96, M.Ed. '03), principal of Pilgrim Academy in the Houston Independent School District
DISTINGUISHED ALUMNI (awarded posthumously): Teri Lesesne (Ed.D. '91), an educator, literacy advocate and professor of library science at Sam Houston State University
FRIEND OF EDUCATION: Susan Thibodeaux, a managing director at Ernst & Young LLP, who works with the Asian American Studies Center, housed in the College, to support executive and global leadership trainings
"We have so much to celebrate," emcee Geralyn Stevens, the College's assistant director of education relations, said at the event in McGovern Centennial Gardens. "These stars share an unwavering commitment to education, leadership and community."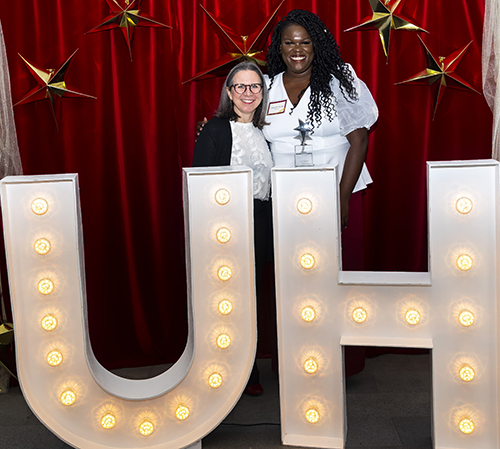 'Step out and Lead'
As a teenager, Chantelle George aspired to be a doctor because, she said, "it sounded like the right thing to be." So, she did what she thought was right and studied biology as an undergraduate.
However, after graduating from Louisiana State University and moving to Houston, she found herself unfilled working in medical research.
Education ran in her family — her grandma was an educator, and her mom taught nursing — and George soon followed them into the field. She earned a master's of higher education from the UH College of Education in 2015 and found her passion in helping students achieve postsecondary success.
"The University of Houston will always be a special place in my heart," she said.
In 2020, George founded her own firm, Chantelle George Consulting, focused on improving college access and success among traditionally underserved students. Her team of 15 works with school districts, institutions of higher education and nonprofits.
"In the midst of the pandemic, when I observed our young people facing even more significant challenges, I knew it was time for a young Black woman such as myself to step out and lead," George said.
Associate Professor Lyle McKinney, who nominated George for the award, praised her communication and leadership skills.
"Chantelle has the ability to bring people together around a shared vision," he said. "Colleges and universities across the country are grappling with the best ways to solve complex challenges related to racial justice and inclusion for all students. Chantelle's consultancy team provides expertise and strategies that have helped numerous institutions make significant strides in these areas."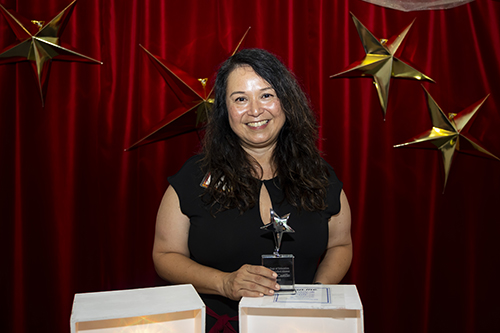 'Changing a Life'
When the director of UH's teacher education program needs help or insights, she knows the principal to call: Diana Castillo. As the longtime leader of Pilgrim Academy, a K-8 school in southwest Houston, Castillo has hosted more than 40 student teachers from UH over the last five years.
"What I know is that Diana Castillo cares about children, cares about preparing the next generation of teachers, and she treats everyone with a kindness and humanity that is so inspiring," said Amber Thompson, the director of teacher education.
Castillo earned a bachelor's degree in history from UH in 1996 and an M.Ed. from the College in 2003.
"It has been an incredible joy to work with the University of Houston, my alma mater," Castillo said. "The University has not only given me a profession but also helped me fulfill my passion to shape student teachers by working with Houston's underserved students."
As the daughter of immigrants from Mexico City, Castillo grew up in Houston's East End and, like many of her students, spoke Spanish at home and English at school. Most of the students at Pilgrim are economically disadvantaged, and many are the children of new immigrants.
"It's a very unique experience here," said Castillo, who has provided steady leadership at Pilgrim for 16 years. "You're not just changing a life. You're changing the trajectory of an entire family."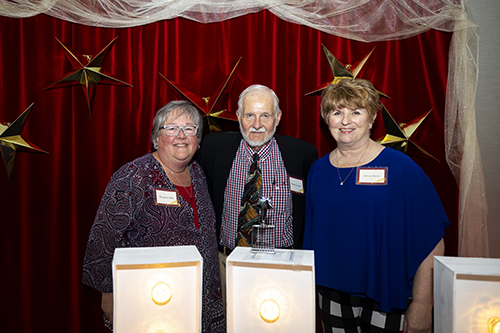 'Love of Reading and Writing'
When Teri Lesesne spoke at national literacy conferences, educators packed the room, standing in the back or sitting on the floor if needed. When she mentioned recommendations for young adult books, attendees valued her expertise so much that they took out their phones to place orders online.
"Sitting in just one of her professional development sessions or conference presentations reminds many of why they became English teachers in the first place — a love of reading and writing," said Margaret Hale, who chairs the College's Department of Curriculum & Instruction.
Lesesne began her career as a middle school teacher in Alief ISD and, after earning an Ed.D. in curriculum and instruction from UH in 1991, worked as a professor of library science at Sam Houston State University. Known as "Professor Nana," she wrote several books about teaching reading. She died in August 2021 at 68, and the College honored her with a posthumous Distinguished Alumni Award.
"Thank you very much from all of us in the Lesesne family," said Henry Lesesne, her husband of nearly 49 years. "Teri loved this University. She loved her teachers; she loved her language arts people; she loved her librarians; and she loved every minute of it."
Kylene Beers, a colleague and friend, said Lesesne based decisions on one question: "Does it help a kid?"
"When something would help a kid, there was no stopping Teri," said Beers, who was in Lesesne's doctoral cohort at UH. "One of the things the University of Houston did was help Teri find that voice."
Lesesne also spent countless hours fighting censorship and book banning, Hale said.
"Her legacy will live on in our teaching and in our love of books and in our ability to find the right books for students at the right time," Hale said.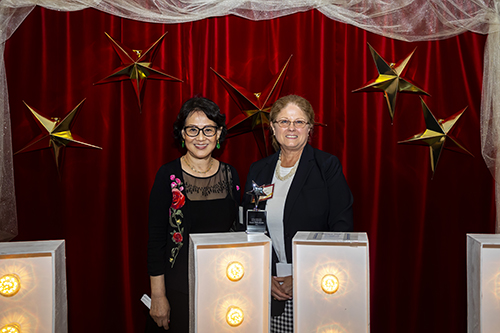 'A Constant Inspiration'
An experienced accountant, Susan Thibodeaux says she considered transitioning to become a teacher at one point, yet she loved the finance work too.
"Little did I know that I would be able to wrap teaching into what I do," said Thibodeaux, who works as a managing director for Ernst & Young LLP in Houston.
For the last 15 years, Thibodeaux has partnered with the UH Asian American Studies Center, organizing executive leadership trainings for professionals. She and colleagues from EY have volunteered hours of their time sharing their expertise.
"Susan has been a constant inspiration to our students to pursue their academic and professional dreams," said Yali Zou, director of the Asian American Studies Center and University Endowed Professor for Global Leadership Studies.
EY also created a Student Global Leadership Endowment to enhance educational opportunities for undergraduate and graduate students, supporting international research studies and more.
Thibodeaux said she grew up learning the value of hard work — her mom came from a farming family, and her dad served in the Army and read constantly.
"As a leader my job is to train the people to take my place," Thibodeaux said. "The young people at the university level, they invigorate me to keep doing what I do. They're so motivated. They motivate me to be the best mentor, the best instructor I can be."
—By Ericka Mellon