UH Higher Education Alumna Wins 2022 Rising Star Award
Posted May 17, 2022 — As an academic advisor, Chantelle George doesn't lead with the standard ask: "What do you want to be when you grow up?" Instead, she wants to know from students, "What is the thing you would do every day for free?"
George, an alumna of the University of Houston College of Education, has found her purpose in life, and she's dedicated her career to supporting students in their quest to do the same. In 2020, near the start of the pandemic, she launched her own firm, Chantelle George Consulting, and her team of 15 helps school districts, institutions of higher education and nonprofits prepare traditionally underserved students for postsecondary success.
For her work to advance educational equity, George won the College's 2022 Rising Star Award, which honors alumni who have made a significant impact early in their careers. She earned an M.Ed. in higher education from the College in 2015 and now is pursuing a Ph.D. from Louisiana State University.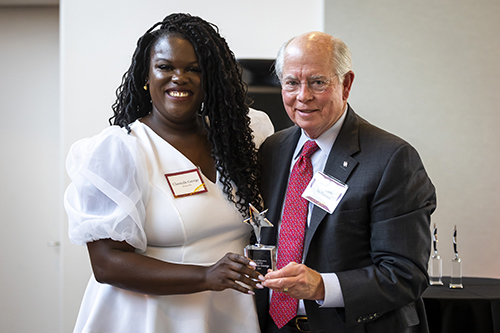 "In the midst of the pandemic, when I observed our young people facing even more significant challenges, I knew it was time for a young Black woman such as myself to step out and lead," George said. "My vision for CGC is to bring high quality expertise, knowledge and experience to folks who need it the most."
Associate Professor Lyle McKinney, who nominated George for the award, praised her communication and leadership skills.
"Chantelle has the ability to bring people together around a shared vision," he said. "Colleges and universities across the country are grappling with the best ways to solve complex challenges related to racial justice and inclusion for all students. Chantelle's consultancy team provides expertise and strategies that have helped numerous institutions make significant strides in these areas."  
The ripple effect of George's work has impacted hundreds of thousands of students nationwide. Her team works with officials across the educational pipeline on analyzing data, evaluating partnerships, clearly defining college and career readiness, and implementing strategies for better supporting marginalized students. Her clients have included Houston Community College, the Fort Bend Independent School District, Teach for America, Aspire Public Schools in California, Lycoming College in Pennsylvania and the National College Attainment Network.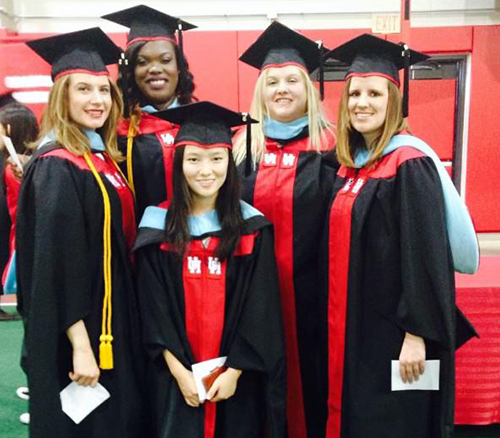 "Chantelle is an amazing professional who is ambitious, innovative and influential," said Courtney Lundgren, an executive director for UH-Downtown's enrollment management team. "She is a team player who strives to create an environment where student success is a top priority!"
A third-generation college student, George knew she wanted to go to college growing up and became "obsessed" with scholarship applications and financial aid. She worked with high school advisors and counselors to become college ready and later advised other students informally.
"Before I considered this a career, I was already doing it from the side, answering phone calls, talking to parents, serving as a recruiter at LSU, working orientation, wearing that advisor hat," she said. "It brings me joy to be able to help students, not only helping them decide if they're going to college, but also who they want to be in this world."
George initially thought she wanted to be a doctor and graduated with a bachelor's degree in biology from LSU. She worked as a researcher at MD Anderson Cancer Center before deciding to pivot careers and enroll in the higher education master's program at UH.
"My time at UH was extraordinary," George said, citing the valuable experience she gained during the internship experience. For example, while interning at the UH Office of Admissions, she helped meet the needs of the large number of transfer students, which prepared her for her job as a transfer admission counselor at UH-Downtown. She draws on the experience now when coaching officials from other states to set up partnerships between community colleges and four-year institutions.
One of George's former students, Jacqueline Tarango, praised the long-lasting influence of her advisor turned mentor.
"I remember Chantelle as being one of my best advisors! Her charisma, drive and passion to help other students achieve their goals set her apart from others in the field," Tarango said. "Chantelle made an impact on every student she worked with."
—By Lillian Hoang
—Second photo courtesy of Chantelle George