Staff Spotlight: Director Delves Into Data to Improve Education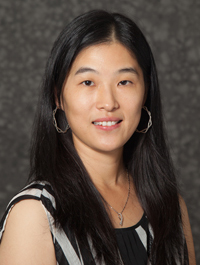 Posted Jan. 11, 2021— Want to know the number of first-generation college students pursuing bachelor's degrees or the passing rate on certification exams? Whatever the question, Qiong "June" Zhou is the go-to source for data at the University of Houston College of Education.
As director of assessment and accreditation services, she collects and presents information about the College. She helps programs meet state and national reporting requirements, keeping them accountable and working with faculty and staff to determine strengths and areas for improvement.
Born in China, Zhou became the first in her family to graduate from college when she earned a bachelor's degree from Central China Normal University. After teaching English for nearly two years, she moved to the United States with her husband in 2006 and studied at The University of Akron in Ohio.
There, her passion for data and educational research took off after participating in a state project focused on how technology impacts the reading and math skills of elementary and middle school students. She realized then that data and research had the power to better education.
"Educational research is very meaningful, especially to help the students' learning and teachers' teaching," Zhou said.
After graduating with a master's degree in instructional design, she moved to Houston with her family and earned a doctorate in educational psychology with an emphasis in research, measurement and statistics from Texas A&M University in 2013. She started working for the College the next year.
Learn more about Zhou and her work in the Office of Institutional Effectiveness in the Q&A below.
What are your responsibilities?
IE is a data hub to meet all data needs for inside and outside the College. So, for example, a faculty member or doctoral student, if they need some university data, IE has access. We can use advanced statistical models to answer their questions.
What interesting trends have you noticed?
Teacher and professional certifications — this number keeps growing year by year. I also see the quality of the certification program really helps us produce highly qualified teachers in K-12 schools and hundreds of principals and superintendents. They are the future leaders, so our office is trying to help make sure we comply with state and national standards.
What are some data points that have impressed you?
Our online master's program, based on U.S. News & World Report, we're in the top 10 the last six years. Students, staff and our online program faculty work collaboratively.
How is your job fulfilling?
I'm very satisfied here. My peers, they're all wonderful people — very knowledgeable, very friendly. I'm a foreigner, and I feel at home here working at COE.
What do you do in your spare time?
I like cooking spicy food, eating and traveling. I have a 9-year-old daughter, so I spend most of my leisure time with my family. We love Houston very much. Sometimes we go to the beach during the weekend.
How have you been handling COVID?
I've been working from home since March. Going out during COVID is just doing grocery shopping.
What are your future goals?
I would like to learn more about some of the data visualization software. There's still a lot of things I can improve.
—By Lillian Hoang