Staff Spotlight: Office Assistant Supports Department Through Virtual Transition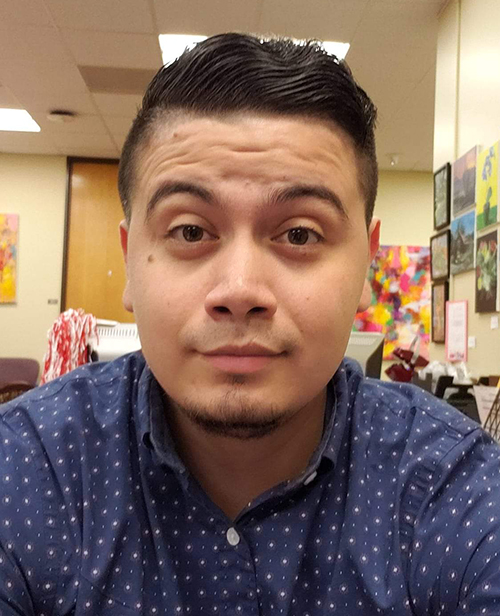 Posted March 8, 2021 — Cristian Melgar joined the University of Houston College of Education as an office assistant in October 2019, a few months before the campus shifted to remote operations amid the COVID-19 outbreak. While his responsibilities in the Department of Curriculum & Instruction have changed some, he remains ready to help wherever he can.
Born in San Miguel, El Salvador, Melgar came to Houston with his brothers and mother, looking for a better life and more opportunities. He graduated from Sharpstown High School in 2012 and took a break from education to work and save up money. He is currently working on his associate degree at Houston Community College and plans on transferring to UH to pursue a bachelor's in business administration.
Learn more about Melgar and his time at the College in the Q&A below:
What is an average day for you like at work?
I assist any way possible. When I first started here, I maintained the office, ordered supplies for faculty and set up meetings for any events going on for the department. Due to the pandemic, we don't have those events going on anymore, so I've taken on some new duties. I maintain the Zoom account for the department. I assist our program coordinator, Becky Perez, with student schedules.
Why did you pursue this position?
Prior to UH, I was working in retail banking. I don't have much experience working in an office setting, besides using a fax machine, so I decided I needed to start fresh. During my interview with Becky Perez and Karen Tran, the department's business manager, I told them I felt like this position was great for me because it would teach me what I'd need for my degree in business. I would like to stay within the College and move up job positions whenever I get enough experience and the required degree.
You've been helping coordinate virtual interviews with faculty job candidates. How is it going so far?
It's gone really well. I'm in charge of the department's Zoom account, and when the search committees say, "We'd like to use this account for these days," I'd schedule interviews, send out the calendar invite to the committee and area managers and reach out to candidates to see if they can attend or if there are any pending documents that need to be addressed before the interview.
How has your time at UH been?
It has been rewarding. Even if it's an entry-level job position, it can be fulfilling to learn new programs. Becky has been very understanding and patient with me, helping me every step of the way. She's been a good mentor, a good boss.
What do you miss about working on campus?
I miss working in the office setting. Even though working from home is great, you miss interacting with people sometimes.
Any past achievements you're proud of?
I achieved a lot of things at my previous job. I started off as a teller. Then I was promoted within a year to universal branch associate, which consists of being a teller and a banker, faster than anyone at the time.
What do you do as a hobby?
I learned how to play soccer at a young age. I didn't join any teams, but I'd go to the nearest park with my brothers to play soccer every day after school. I still play soccer, but not as much because of the pandemic. I like watching new movies and hanging out with friends.
What is an interesting fact about yourself?
I'm a thrill seeker. Just a couple years ago, I went sky diving. A lot of people were like, "You're crazy! What're you jumping out of the plane for?" You gotta live your life as much as you can.
— By Lillian Hoang
— Photo courtesy of Cristian Melgar