Abdel Razzaq Takriti
Associate Professor & Arab-American Educational Foundation Chair in Modern Arab History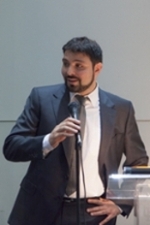 Abdel Razzaq Takriti is the inaugural holder of the Arab-American Educational Foundation Chair in Modern Arab History. His research focuses on the history of revolutions, anticolonialism, global intellectual currents, and state-building in the modern Arab world.

He received his D.Phil. from St Antony's College, Oxford and his dissertation was awarded the Middle East Studies Association of North America's Malcolm Kerr Prize for Best Dissertation in the Humanities and the British Society of Middle Eastern Studies' Leigh Douglas Memorial Prize for Best Dissertation in the Social Sciences or the Humanities. Prior to his arrival to Houston, he held appointments as a Junior Research Fellow in Political History at St Edmund Hall, Oxford, and as Lecturer (Assistant Professor) in International History at the University of Sheffield.

His book Monsoon Revolution: Republicans, Sultans, and Empires in Oman, 1965-1976 explored the history of the Dhufar Revolution in Oman, which was the longest running major armed struggle in the history of the Arabian Peninsula, Britain's last classic colonial war in the region, and one of the highlights of the Cold War in the Middle East. This work was a finalist for the Royal Historical Society's Gladstone Prize for Best Debut Book in non-British History, received Honourable Mention from the University of Cambridge's British-Kuwait Friendship Association Bookprize, and was selected by the editors of Zer0 Books as one of the "Best Books of 2013".

He followed this work with a major digital humanities initiative, The Palestinian Revolution website, which was co-authored and co-edited with Professor Karma Nabulsi, offering bilingual online pedagogical tools, analytical essays, and a wealth of primary sources on Palestinian history from the 1948 Nakba to the 1982 Siege of Beirut.

He was elected in 2014 as a Fellow of the Royal Historical Society and in 2015 he was an Academic Visitor in Modern History at St Edmund Hall, Univeristy of Oxford. His opinion pieces on Arab affairs have appeared in a variety of English and Arabic media outlets including The Guardian, Aljazeera English, Al-Ahram Weekly, Politics in Spires, Jadaliyya and al-Quds al-Arabi.
Teaching
Professor Takriti is a committed teacher and he has designed and delivered a range of survey and specialized courses. He was voted by the Sheffield Student Union as an Inspirational Lecturer and he was a finalist for the Student Union Academic Award for Excellence in Teaching. At the University of Houston, he currently offers undergraduate and graduate courses on modern Arab historiography, Arab revolutions, and Palestinian history. 
Selected Publications

Monsoon Revolution: Republicans, Sultans, and Empires in Oman, 1965-76. Oxford and New York: Oxford University Press (Oxford Historical Monographs series), 2013; paperback edition 2016.

(With Karma Nabulsi) The Palestinian Revolution website: learnpalestine.politics.ox.ac.uk. Oxford University Department of Politics and International Relations, 2017.


"Colonial Coups and the War on Popular Sovereignty". American Historical Review. Volume 124, Issue 3, June 2019.


"Before BDS: Lineages of Boycott in Palestine". Radical History Review. Issue 134. May 2019.

"Political Praxis in the Gulf: Ahmad al-Khatib and the Movement of Arab Nationalists, 1948-1969" in Hanssen, Jens; Weiss, Max (eds.). Arabic Thought Against the Authoritarian Age: Towards an Intellectual History of the Present. Cambridge: Cambridge University Press, 2018.

"The 1970 Coup in Oman Reconsidered". Journal of Arabian Studies. Volume 3, Issue 2, December 2013.

"Ishkalyat al-Muwatana fi al-Tajamu'at al-Filasteenya fi Orouba wa al-Ameriykiyatayn" in Shahin, Khalil (ed.) Al-Tajamu'at al-Filastinyia wa Tamathulatuha. Ramallah: Markaz Masarat, 2013.

(With Nimer Sultany)."Jadalyat al-Dimuqratiya al-Hizbya wa al-Tahrur Tah'ta al-Isti'mar " in al-Kawari, Ali; al-Sadawi, Atef (eds.). Mafhoum al-Ahzab al Dimuqratiya wa Waqi al Ahzab fil Buldan al-Arabiya. Beirut: Markaz Dirasat al-Wihdah al-Arabiya, 2011.