Raúl A. Ramos
Associate Professor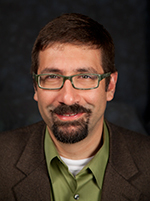 Raúl A. Ramos received his A.B. in History and Latin American Studies from Princeton University in 1989 and his Ph.D. in History from Yale University in 1999. He joined the History faculty at the University of Houston in 2002 from his position as assistant professor in History and Ethnic Studies at the University of Utah in Salt Lake City. Ramos was a Fellow at the William P. Clements Center for Southwest Studies at Southern Methodist University from 2000-2001.
Teaching
Dr. Ramos's involves the intersection of a wide variety of historical sub-fields. At the University of Houston he teaches Chicano/a History to 1910, History of the American West, Texas to 1865 and Borderlands History. His courses concentrate on historical processes such as conquest, colonization, social formations, migrations and cultural change.
Research Interests
He is generally interested in the historical development of identities such as ethnic, national, regional and class.  His current project examines Mexican Independence parades and Fiestas Patrias in the American Southwest during the 1910 centennial.
Selected Publications
Books
Articles
"Chicano/a Challenges to Nineteenth-Century History," Pacific Historical Review, 82:4 (November 2013) 566-580.

"Understanding Greater Revolutionary Mexico: The Case for a Transnational Border History," in Arnoldo de Leon, ed., War Along the Border: The Mexican Revolution and Tejano Communities (College Station: Texas A&M Press, 2011).

"Finding the Balance: Bexar in Mexican/Indian Relations," in Continental Crossroads: Remapping U.S.-Mexico Borderlands History, eds. Elliott Young and, Samuel Truett. (Duke University Press, 2004).