Kristina Neumann
Associate Professor & Director of Department Communications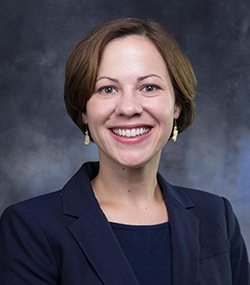 Kristina Neumann (MA, Ph.D. University of Cincinnati) is a Roman/digital historian, who applies 21st-century technologies and innovative methodologies to analyze the ancient past and advance academic and public engagement with this history.
Her first book, Antioch in Syria: A History from Coins, 300 BCE-450 CE (Cambridge University Press, 2021), critically reassesses one of the most prominent and yet under-explored cities of the ancient Middle East from its Seleucid foundation into Late Antiquity. She newly exposes the gradations of imperial power and local agency mediated within Antioch's walls through a comprehensive study of the coins minted there and excavated throughout the Mediterranean and Middle East. Patterns revealed through digital mapping and Exploratory Data Analysis serve as a significant index of spatial politics and the policies of the different authorities making use of the city. Evaluating the coins against other historical material reveals that Antioch's status was not fixed, nor the people passive pawns for external powers. Instead, as imperial governments capitalized upon Antioch's location and amenities, the citizens developed in their own distinct identities and agency. Antioch of the Antiochians must therefore be elevated from traditional narratives and static characterisations, being studied and celebrated for the dynamic polis it was.
Neumann is also the co-director of SYRIOS (https://syrios.uh.edu), a digital humanities project bringing the coins and stories of ancient Syria to a wide public audience. This project is supported by a 2021 National Endowment for the Humanities: Digital Projects for the Public Grant and a 2021 Loeb Classical Library Foundation Fellowship.  
Neumann works closely with the UH Center for Public History as a member of the steering committee and as executive producer of the podcast, Public Historians at Work.
Teaching
As an educator, Neumann seeks to expand her students' historical horizons, while equipping them with the tools for critical and creative thinking. She teaches undergrad and graduate courses on early civilizations, ancient history, classical reception, and digital museums and exhibits. She also works with student researchers via the UH Mellon Research Scholars Program, Senior Honors Thesis Program, Research for Aspiring Coogs in the Humanities (REACH) Program, and MA and Ph.D. programs. Neumann is a 2021 recipient of the UH Teaching Excellence Award through the Office of the Provost. 
Selected Publications
"The Third Side of the Coin: Using Google Earth to Visualize Numismatic Data," co-authored with John Wallrodt. Digital Classics Online 3.3 (2017): 37-60. Refereed.
"Virtuous Taxation in Cicero's De Officiis," Syllecta Classica 26 (2015): 21-49. Refereed.
"The Dipinti of the Northeast Church," in Arthur Segal et al., Hippos Sussita: Tenth Season of Excavations (Haifa: University of Haifa, 2009), 80-83.
"The Lion Pendant from the Northeast Church," in Arthur Segal et al., Hippos Sussita: Ninth Season of Excavations (Haifa: University of Haifa, 2008), 50-53.