Robert Buzzanco
Professor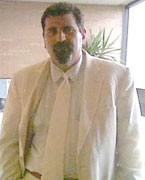 Dr. Buzzanco is a U.S. historian specializing in Vietnam and foreign policy.
Teaching
Dr. Buzzanco teaches a variety of courses in U.S. history, including the U.S. history survey, the history of the Vietnam War, America in the 1960s, and U.S. foreign policy. He has also taught graduate courses on the Vietnam War, post-1945 U.S. History, and U.S. foreign relations ("Empire, War, and Diplomacy"), as well as numerous research seminars. Buzzanco has been the advisor on many dissertation thesis committees.
Research Interests
Buzzanco is the author or editor of three books and he has written more than twenty articles that have appeared in scholarly publications and major newspapers. He is continuing work on the political economy of the 1960s and the impact of the Vietnam War on the U.S. economy.
Selected Publications
Masters of War: Military Dissent and Politics in the Vietnam Era. Cambridge University Press, 1996 [Paperback, 1997]. Recipient of Stuart L. Bernath Prize, awarded by Society of Historians of American Foreign Relations. Chapter on Tet Offensive excerpted in Robert McMahon, ed, Major Problems in the History of the Vietnam War, 3d edition.

Co-editor, with Marilyn Young. A Companion to the Vietnam War. A collection of essays on Vietnam in the "Blackwell Companion Series." (Blackwell Publishers, 2002).

The Politics of Escalation in Vietnam during the Johnson Years," in Young and Buzzanco, A Companion to the Vietnam War, (Blackwell Publishers, 2002).

Vietnam and the Transformation of American Life (Blackwell Publishers, "Problems in American History" Series, 1999).

"Anti-Imperialism." Encyclopedia of American Foreign Relations, 2002

"How Did Iraq and the United States Become Enemies," History News Network, 28 October 2002.

"The United States and Vietnam, 1950-1968: Capitalism, Communism, and Containment," in Empire and Revolution: The United States and the Third World since 1945, edited by Peter L. Hahn and Mary Ann Heiss, pp. 94-120 (The Ohio State University Press 2001). (Excerpted in Dennis Merrill and Thomas Paterson, eds. Major Problems in American Foreign Relations, volume II, 6th edition).