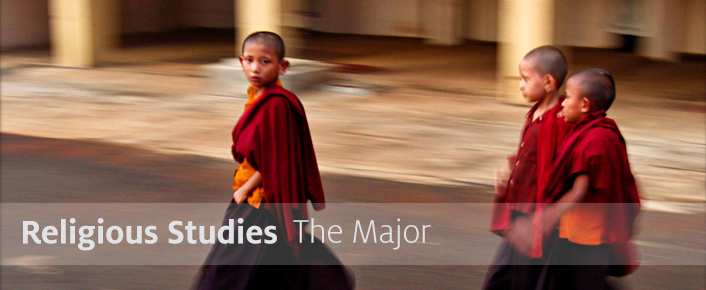 What is Religious Studies?
Religious Studies is the study of religious belief systems from various disciplinary perspectives (sociology, anthropology, comparative cultural studies, philosophy, literature, art and architecture, political science, etc.) It is not a degree in theology per se, though the study of scriptural traditions is integral to the major. Rather, Religious Studies focuses on religions as they operate in cultures and societies, and as they influence events and attitudes in local communities and global contexts.
The Bachelor of Arts in Religious Studies provides students with a well-rounded understanding of major religious traditions and practices while also offering specialization in particular religions, regions, and/or theoretical approaches to the study of religion in historical, global and comparative contexts.
In addition to fulfilling College and University requirements for the Bachelor of Arts degree, students declaring the major in Religious Studies must have a minimum GPA of 2.0 and complete 30 credit hours in the major, which may include a 3 hour Practicum according to the criteria below. For successful completion of the major, 18 credit hours of coursework must be at the advanced level, 15 credit hours in residence, and a final minimum GPA of 2.0 in coursework. Note: no course taken to fulfill the major may be applied towards a student's minor.
Requirements for the B.A. in Religious Studies:
All of the following are required:
A) Required Course (3 credit hours)
RELS 1301 Introduction to Religious Studies (Humanities Core)
B) From each of the THREE following clusters
Judaic, Christian, and Islamic traditions  (9 credit hours)
Asian, African, and Native American religions and world mythologies  (6 credit hours)
 Religions in Global Perspective: Theoretical and thematic topics from the Humanities and/or Social Sciences  (6 credit hours)
C) TWO more courses in any of the above clusters (6 credit hours). Course list, by cluster, below.
Course Clusters
Judaic, Christian, and Islamic traditions

ARAB 3313 Qur'an as Literature
ENGL 4360 Bible as Literature
RELS 2310 The Bible and Western Culture 1 (Humanities Core)
RELS 2311 The Bible and Western Culture 2 (Humanities Core)
RELS 2330 Judaism (Humanities Core)
RELS 2335 Rabbinic Biblical Interpretation (WID)
RELS 2350 Introduction to Islam (WID)
RELS 3323 Continuities: Jewish and Christian Texts and Tradition
RELS 3325 Paul of Tarsus: His Life and Letters
RELS 3330 Christianity
RELS 3371 Women in Bible/ Old Testament
RELS 3373 Jews in the Ancient World
RELS 3375 Christianity and Ethics
WCL 3341 Early Islamic Society: Literature and Thought

Asian, African, and Native American religions, and world mythologies

AAS 2322 Introduction to African Religions and Philosophy
ANTH 2365 Aztec and Maya Beliefs and Cosmologies
CLAS 3306 Greek and Roman Myths
CLAS 3308 Myths and Cults of Greek Gods (Humanities Core)
ENGL 4370 Folktale
RELS 2340 Introduction to Hinduism (WID)
RELS 2345 Sacred Texts and Mythologies of India
RELS 2360 Introduction to Buddhism(WID)
RELS 3335 Black Atlantic Religions
RELS 3380 Asian Religions
RELS 3381 Global Hinduism (WID)
RELS 3390 Hinduism and Jainism
Religions in Global Perspective: Theoretical and thematic topics from the Humanities and/or Social Sciences

AAS 2330 Black Liberation Theology
AAS 4330 The Black Church in America
ANTH 3315 Muslim Peoples of the Middle East
ANTH 3338 Peoples of Africa
ANTH 3348 Anthropology of Religion (WID)
ANTH 3381 Global Hinduism
ARAB 3306 Introduction to Arabic Culture, Language, and Islam
ARAB 3314 Women and Gender in Arab Literature (WID)
ARAB 3340 Modernity and Rationalism in Islamic Tradition (Humanities Core)
ARTH 2382 Medieval Art
ARTH 3312 Pre-Columbian Art (WID)
ARTH 3318 Art and Architecture of India
CCS 3351 African Religious Practices in the Americas
CCS 3393 Comparative Approaches to Indigenous Cultures in the Americas
CLAS 3307 Greek and Roman Myths of Heroes (Humanities Core)
CLAS 3375 Roman, Jew, and Christian: The Politics and Sociology of Religion in the First Century A.D.
ENGL 4360 Bible as Literature
HIST 2365 Modern India: History, Religion, and Culture
HIST 3378 Modern Middle East
HIST 3391 Africa and the Indian Ocean World
HIST 4332 The Crusades
HIST 4334 The Reformation in Europe
HIST 4375 Religions of Modern Latin America
ITAL 4308 Dante and His World
JWST 2380 Introduction to Jewish Studies
JWST 3380 American Jewish Culture
PHIL 3348 Philosophy and Evolution
PHIL 3374 Science and Religion
PHIL 3377 Philosophy of Religion
POLS 4333 Islam and Democracy
POLS 4347 Religion and Politics
POLS 4348 Contemporary Islamic Political Thought
RELS 2380 Religion and Film (VPA Core)
RELS 3322 The Catholic Intellectual Tradition
RELS 3333 Religion and Literature
RELS 3334 Us and Them: Ethical Decision-Making in Complex Cultures
RELS 3336 Caribbean Societies and Cultures
RELS 3360 Muslim-Christian Relations
RELS 3366 History of Magic, Witchcraft and the Occult
RELS 3370 Bible and Modern Science (WID)
RELS 3376 Themes in Comparative Religion
RELS 3377 Belief and Unbelief
RELS 3382 Politics and Religion in South Asia
RELS 4320 Religion and Personality
RELS 4360 Clash of Civilizations
SOC 3355 Sociology of India
SOC 3362 Sociology of Religions in India
SOC 3375 Religion and Society
SOC 3385 Sociology of World Religions
WCL 2370 Cultures of India
WCL 3355 Women East and West: Global Representation of Female Divinities
WCL 3380 American Jewish Culture
Religious Studies Practicum (3 credit hours) that may be satisfied by:
an approved internship program, or
a designated capstone research project or honors thesis, or
an approved study abroad program.
Note: RELS Selected Topics courses (e.g. RELS 2396, 2397, 3396, 3397, 4396) or RELS Independent Study courses (e.g. RELS 3398, 4398) will be assigned to a category ad hoc per the Director of Religious Studies based on content.