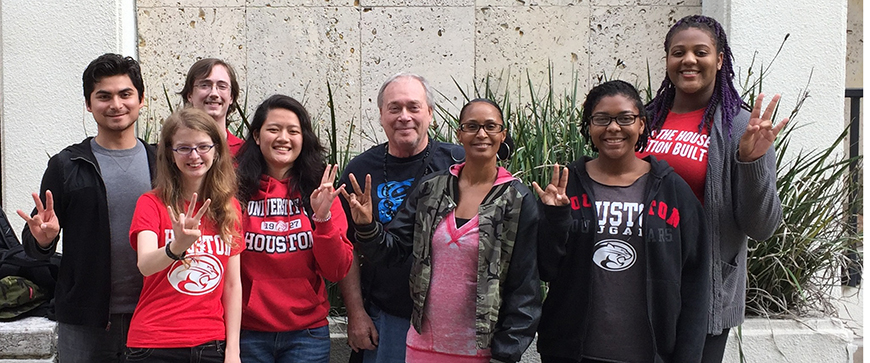 Welcome to Comparative Cultural Studies
The Department of Comparative Cultural Studies (CCS) at University of Houston is an interdisciplinary department offering degree programs in Anthropology (BA, BS, MA) Liberal Studies (BA, BS), Religious Studies (BA) as well as undergraduate minors in Anthropology and Religious Studies. Collaboration across these programs enhances the strengths of each and encourages cross-cultural learning and understanding. 
Students in CCS explore the historical and ongoing production of cultures and the ways in which cultural differences affect the political, social, economic and aesthetic relationships that shape human communities. CCS prepares students to understand and apply a comparative approach to cultural difference and change in a globalized world.
In CCS, we are engaged in creating a shared space for interdisciplinary research and practice that includes community-engaged public scholarship and cultural preservation in Houston and the Gulf Coast Region.  As a department, CCS enhances the comparative cross-cultural opportunities available at UH by bringing together Religious Studies, Liberal Studies and Anthropology. 
CCS provides students with the foundation for lifelong learning, and the intellectual tools for a wide range of careers — in education, research, media and communications, business, the non-profit sector, government and policy-making, law, healthcare, and various other professions.  
Goals of Comparative Cultural Studies
In CCS, students acquire these vital skills: 
Analyze and understand diverse cultural formations in their distinct historical contexts;
Compare cultures from diverse disciplinary perspectives
Develop cross-cultural understanding and literacy through the comparative study of distinct belief systems and symbolic, textual, and performative traditions as these are situated within diverse political-economicsystems

E

ngage reflexively with different perspectives and ways of life in order to reevaluate our own cultural assumptions and biases
Evaluate how our own cultural beliefs and practices are shaped by structural hierarchies and inequities
Develop the intellectual tools and interdisciplinary vocabularies to work in the complex networks that define cultural production worldwide 
Understand and work in cross-cultural and global contexts that are undergoing rapid socio-economic and technological change 
CCS students gain the comparative cultural knowledge and cross-cultural skills to become effective thinkers and culturally sensitive leaders in and beyond the workplace, as socially-engaged members of society—locally, nationally and globally.