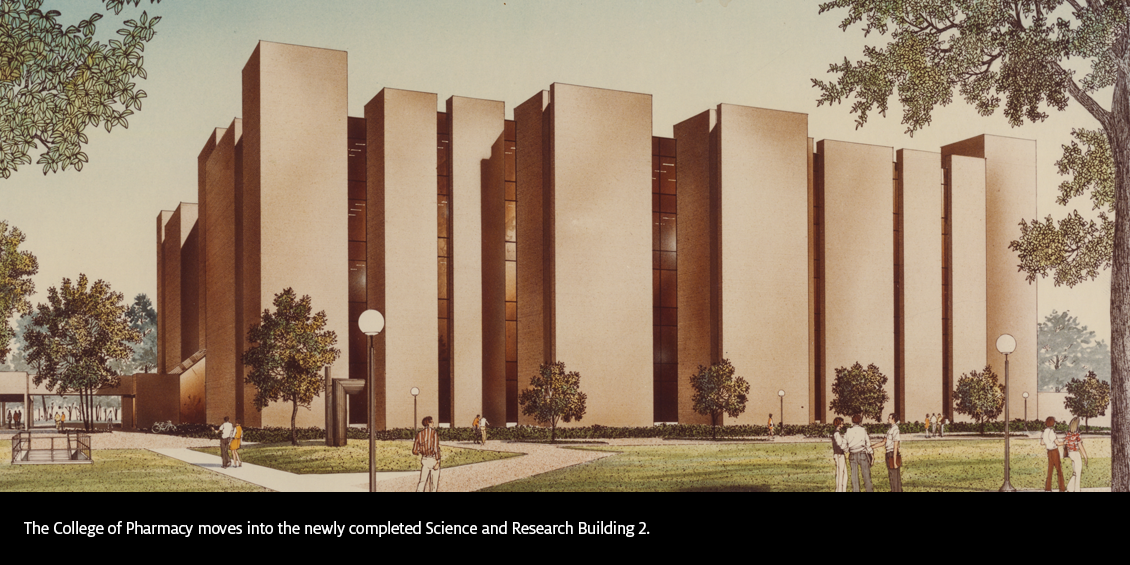 1972 – Faculty member Lindley Cates receives the college's first patent for a compound called "phosphorothrioamides" as a potential therapeutic agent against tuberculosis (a second patent is awarded a few months later).
The college introduces the requirement of a fifth-year, 16-credit hour "Structured Pharmacy Experience Laboratory" (aka "clinical experiential education") in collaboration with Ben Taub Hospotial, the Veteren's Administration and M.D. Anderson Hospital. 
1973 – Dean Noel Ferguson retires.
Joseph P. Buckley, Ph.D., whose vision for the college emphasizes research, is appointed dean. 
1974 – Pharmacy students with Spanish language background are provided with structured interprofessional experiences for underserved patients as part of a pilot program between the college and the Harris County Hospital District at Casa de Amigos.
The college hosts the inaugural Southcentral Regional Medicinal Chemistry Meeting-in-Minature (later renamed M.A.L.T.O. Meeting-in-Minature for the initials of the participating states of Mississippi, Alabama, Louisiana, Texas and Oklahoma).
1975 – The college hosts its first international conference: the International Conference on Brain Mechanisms & Hypertension.
The college and UH Department of Chemistry establish a joint Ph.D. program in Medicinal Chemistry/Pharmacognosy.
Roy Wiese Jr., named UHCOP Distinguished Alumnus of the Year.
1976 – The UH Board of Regents approves the $3 million construction of a pharmacy building in the Texas Medical Center (TMC) on a 1-acre parcel donated by the Texas Medical Center. 
The UHCOP Chapter of the Rho Chi Society wins national chapter award.
The college receives one of its first gift collections of pharmacy artifacts: the Webb Mading Collection containing various styles of mortars and pestles, including brass and copper versions, donated by the Mading estate. 
Alumnus George C. Webb ('51) receives the Texas Pharmaceutical Association's Pharmacist of the Year Award.  
Irwin Miller named UHCOP Distinguished Alumnus of the Year.
1977 – UHCOP hosts Dr. Ulf von Euler, winner of the 1970 Nobel Prize winner in medicine and physiology, for several lectures and seminars. 
Alumnus Salvatore "Sal" D'Angelo installed as president of the National Association of Retail Druggists (now the National Community Pharmacists Association). D'Angelo also is named UHCOP Distinguished Alumnus of the Year.
Faculty member Robert L. Boblitt receives UH's Piper Award for teaching and service.
The Institute for Cardiovascular Studies (later renamed Heart & Kidney Institute) is established, following approval of the Texas Legislature and signature by then-Texas Gov. Dolph Briscoe. The institute receives a two-year, $687,000 start-up fund as part of the legislation.
UHCOP receives a $200,000 gift from the Turner Foundation to create the "Turner Drug Information Center" to serve as a resource for health care practitioners and the public on various aspects of medications and health. 
1978 – Most of college moves into newly completed Science & Research Building 2 on the UH campus.
Charles Atkinson named UHCOP Distinguished Alumnus of the Year.
1979 – Sal Marcello named UHCOP Distinguished Alumnus of the Year.