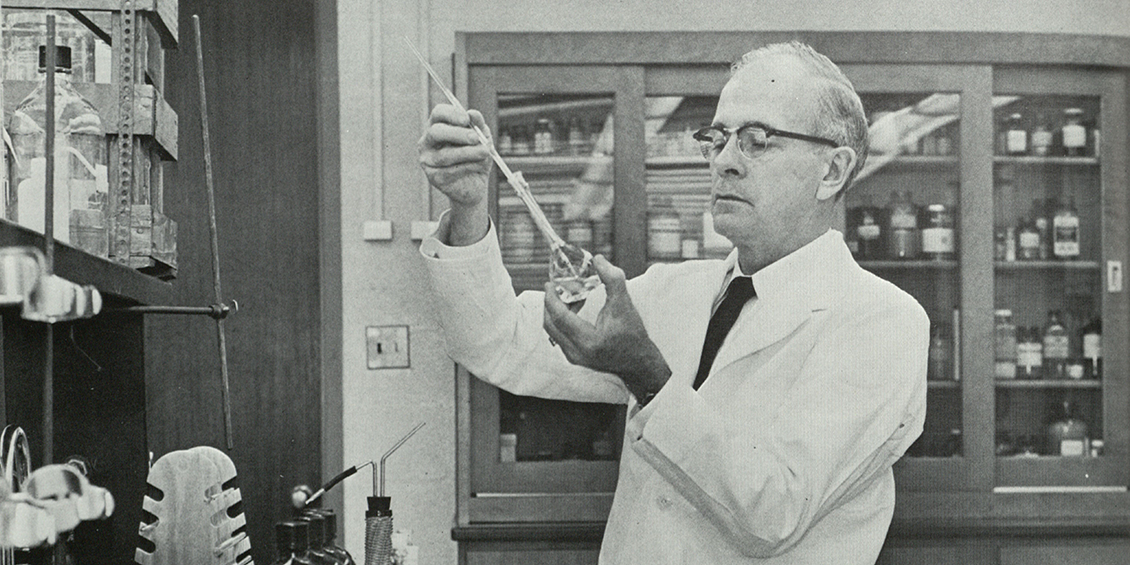 1946 — With an expanding economy in post-World War II, the demand for pharmacists across the Houston area led to an campaign by chain and independent pharmacists, hospitals, and pharmaceutical wholesalers and manufacturers.
Among those championing the campaign was Allan Collette, a Houston physician and pharmacist, and J.D. Doyle, a Houston pharmacist whose son, Jimmy Doyle, and granddaughter, Dana Doyle Johnson – both UHCOP alumni – still practice at the pharmacy he opened in 1935.
On Oct. 16, 1946, the Univeristy of Houston Board of Regents establishes College of Pharmacy. 
Collette is named as interim dean of the newly founded college. 
1947 — UH College of Pharmacy opens with inaugural class of 144 students. The college is housed in "Old Science Building," along with the College of Optometry and several science departments, and facilities limited to a small library, a small chemistry laboratory, and rooms converted into dispensing and pharmacology/pharmacognosy laboratories. An official intended for medicinal chemistry was converted to a balance room for the college's single balance.  
1949 — Dr. Noel Ferguson becomes college's first "official" dean, serving until 1973. Among the first faculty members of the college are Ferguson, Collette, Malcon S. Trupp, Herbert C. Stevens, L.R. Freese, and Minnie Jones.