AACN/CDC Award to University of Houston College of Nursing: Building COVID-19 Vaccine Confidence among Nurses and in Communities
The University of Houston College of Nursing is one of ten schools of nursing awarded funding from the American Association for Colleges of Nursing (AACN) and the Centers for Disease Control (CDC) to launch targeted campaigns to build confidence in the COVID-19 vaccines and dispel health misinformation. The goal is to help nursing school faculty and students have effective conversations about COVID-19 vaccinations in order to boost consumer confidence.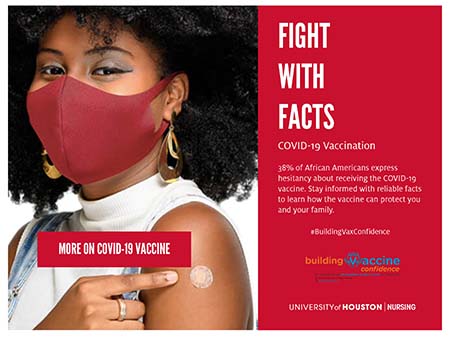 UH College of Nursing faculty, led by Dr. Lenora McWilliams, is undertaking a variety of educational and outreach activities to empower nursing students to share credible COVID-19 information and address vaccine hesitancy, and to reach at-risk groups.
Faculty developed learning resources and nursing curricula to improve vaccine confidence among 63 Second Degree BSN students this Spring. Students worked together to develop posters and fliers addressing vaccine confidence, participated in group discussions and role plays to identify and address misinformation. To empower nursing students to have effective conversations with the community, students participated in a simulation lab experience to address concerns related to misinformation and vaccine hesitancy with a standardized participant.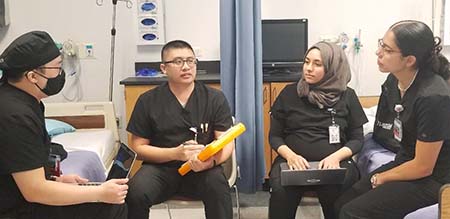 One nursing student stated, "I liked the way we became an expert in one area of misinformation, then brought that back to our team members to practice through role play".
As part of outreach, a social media campaign is under way to disseminate student posters and fliers via several social media sites. Nursing alumni are also being reached via social media. The AACN TV has interviewed faculty on the subject of vaccine confidence, the video to be posted on several social media channels. Poster displays and TV ads are under way at the UH at Sugarland and Katy instructional sites to raise awareness.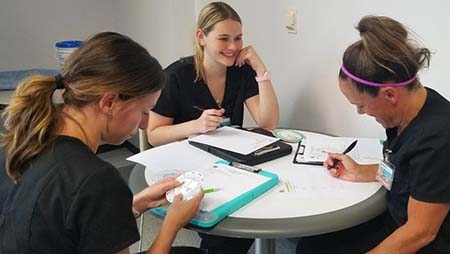 Community outreach includes distribution of fliers to homeless and working poor clients of the UH College of Nursing Health Clinic located in Midtown Houston, next to the Emergency Aid Coalition. A diverse pediatric population is being reached by posters and fliers at the Just 4 Kids Pediatrics clinic, directed by UH College of Nursing Faculty Dr. Shainy Varghese.
AACN President and Chief Executive Officer states, "Through our new cooperative agreement with the CDC, AACN will provide guidance and support to amplify the efforts underway at nursing schools to overcome vaccine hesitancy, strengthen community partnerships, and share the latest evidence to help individuals make the smart choice when it comes to protecting their health."