Stuart E. Dryer
Moores Professor
Department of Biology and Biochemistry
Office: Science & Research 2, 242E
Contact: sdryer@uh.edu - (713) 743-2697
Education: Ph.D., Saint Louis University
Dr. Stuart Dryer's laboratory studies physiological and pathophysiological processes that occur in the kidney. The current research focuses on the role of ion channels and receptors in the regulation of cells that form the glomerular filtration barrier, and the proximal tubule. The lab has recently focused on a Ca2+-permeable cation channel known as TRPC6. Mutations that cause gain of function in these channels lead to devastating genetic forms of kidney disease. Dryer's lab is interested in understanding the normal function and regulation of TRPC6 channels, including the factors that activate their gating and abundance at the cell surface. They are also interested in the role of TRPC6 in driving non-genetic forms of glomerular disease.
In a second research program, he has been studying renal NMDA receptors and their role in normal and abnormal physiology. NMDA receptors are best known for their role in synaptic transmission. However, they are also present in many peripheral tissues including the kidney, where their function remains a mystery. The Dryer Lab has recently shown that sustained activation of NMDA receptors in podocytes induces oxidative stress, changes in expression of regulatory proteins, and apoptotic cell death. They have also observed marked up-regulation of NMDA receptors throughout the kidney in mouse models of type 1 diabetes, and have shown that sustained treatment of NMDA antagonists reduces nephropathy in mouse models of type 1 diabetes. They are currently working to understand how NMDA receptors are regulated in normal and diseased kidneys, including understanding the molecules that normally cause them to become active.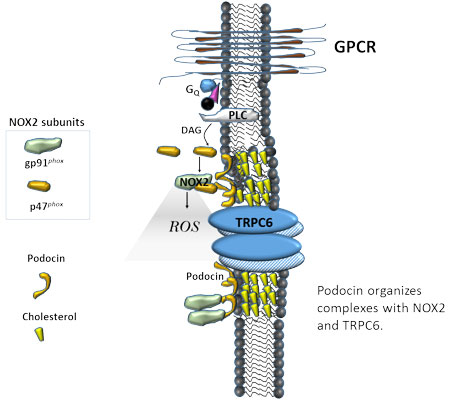 Podocin organizes NADPH oxidase (NOX2) complexes in the vicinity of podocyte TRPC6 channels in foot processes during signaling through G protein-coupled receptors, and the role of reactive oxygen species (ROS).
Roshanravan, H., Kim, E.Y., Dryer, S. E. NMDA receptors as potential therapeutic targets in diabetic nephropathy: Increased renal NMDA receptor subunit expression in Akita mice and reduced nephropathy following sustained treatment with memantine or MK-801. Diabetes in press.
Yu, H., Kistler, A., Faridi, M. H., Meyer, J. O., Tryniszewska, B., Mehta, D., Yue, L., Dryer S. E., Reiser J. Synaptopodin limits TRPC6 podocyte surface expression and attenuates proteinuria. Journal of the American Society of Nephrology in press.
Bouron, A., Chauvet, S., Dryer, S. E., Rosado, J. A. (2016). Second messenger-operated calcium entry through TRPC6. Advances of Experimental Medicine and Biology 898: 201-49
Kim, E. Y., Roshanravan, H., and Dryer, S. E. (2015) Syndecan-4 ectodomain evokes mobilization of podocyte TRPC6 channels and their associated pathways: An essential role for integrin signaling. Biochimica Biophysica Acta – Molecular Cell Research. 1853: 2610-20
Dryer, S. E. (2015). Glutamate receptors in the kidney. Nephrology Dialysis Transplantation 30: 1630-8.
Roshanravan, H. and Dryer, S.E. (2014). ATP acting through P2Y receptors causes activation of podocyte TRPC6 channels: Role of podocin and reactive oxygen species. American Journal of Physiology-Renal Physiology 306: F1088-97.
Kim E. Y., Anderson, M., Wilson, C., Hagmann, H., Benzing, T. & Dryer, S. E. (2013). NOX2 interacts with podocyte TRPC6 channels and contributes to their activation by diacylglycerol: Essential role of podocin in formation of this complex. American Journal of Physiology-Cell Physiology 305: C960-71.
Anderson, M., Kim E. Y., Hagmann, H., Benzing, T. & Dryer, S. E. (2013). Opposing effects of podocin on the gating of podocyte TRPC6 channels evoked by membrane stretch or diacylglycerol. American Journal of Physiology-Cell Physiology 305: C276-89.
Kim, E. Y., Anderson, M. & Dryer, S. E. (2012). Sustained activation of NMDA receptors in podoctyes leads to oxidative stress, mobilization of TRPC6 channels, NFAT activation, and apoptotic cell death. Molecular Pharmacology 82: 728-37
National Honors and Awards:
Fellow, American Association for the Advancement of Science
Fellow, American Society of Nephrology
Current and Past Grant Review Panel Memberships:
National Institutes of Health
American Diabetes Association
Editorial Boards:
PloS ONE
ACS Chemical Neurobiology
Frontiers in Physiology
BioMed Research International