Biology Grad Students Seek Answers to Breast Cancer Tumor Growth
Bahnassy and Asghari Receive Robert Hazelwood Graduate Fellowships for Cancer Research
Shaymaa Bahnassy and Arvand Asghari, Ph.D. students at the University of Houston's College of Natural Sciences and Mathematics, know breast cancer cells can be incredibly tricky to research. But their pursuit of knowledge is not only academic – it's personal.
The two are studying cell and molecular biology and received Robert Hazelwood Graduate Fellowships for Cancer Research.
The $5,000 fellowship is awarded each year to outstanding Ph.D. students in UH's Department of Biology and Biochemistry who are engaged in cancer research.
Shaymaa Bahnassy
Bahnassy's research focuses on hormone-receptor positive breast cancer – the most frequently diagnosed subtype. She said the majority of patients with this subtype stop responding to conventional, hormonal therapies and develop a recurrent, more aggressive cancer that spreads.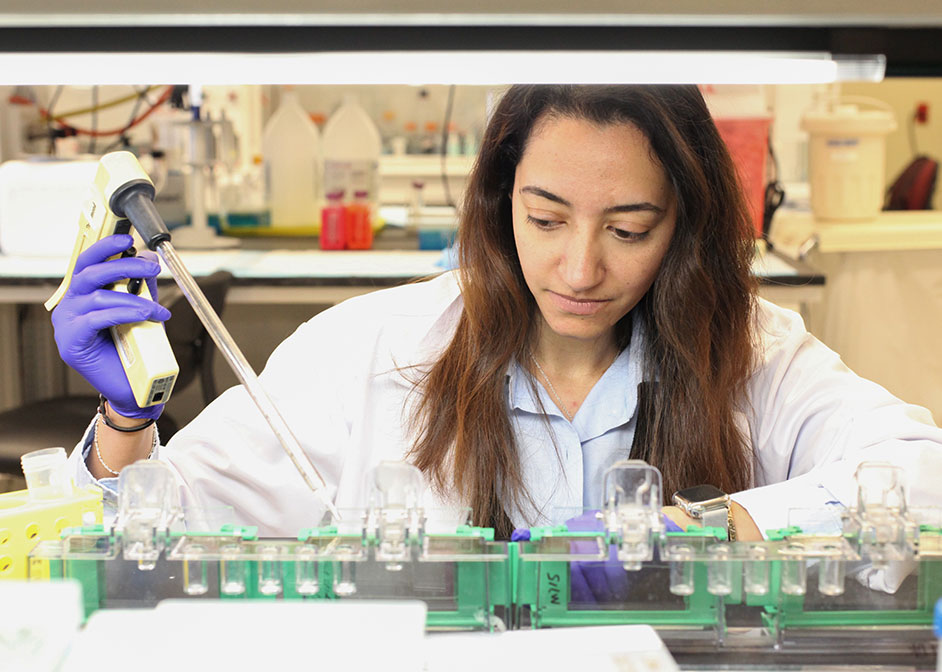 Recent studies identified the androgen receptor as a driver for the cancer's resistance against the therapies. Normally, the receptor needs to bind to its hormone to become active. Bahnassy's studies show breast cancer cells play it smart.
"They always try to change the cellular environment so they are able to survive and spread," she said. "One way they do that is by increasing the expression of a small protein. This protein goes and continuously binds to the androgen receptor, in the resistant breast cancer."
She adds that the protein can turn the androgen receptor on, causing it to become hyperactive. This action sets off a series of events in the cell, ultimately allowing the transcription and expression of the genes that make it possible for the tumor to spread.
Tasneem Bawa-Khlafe, an assistant professor and Bahnassy's advisor, said Bahnassy has taken initiative in the lab, "making her discoveries even more impressive."
Arvand Asghari
Asghari is also researching breast cancer resistance to hormonal therapy. His lab is deploying bioinformatic analysis to find genes responsible for hormonal therapy resistance, and then blocking these genes in resistant cells to see if resistance is stopped or encouraged.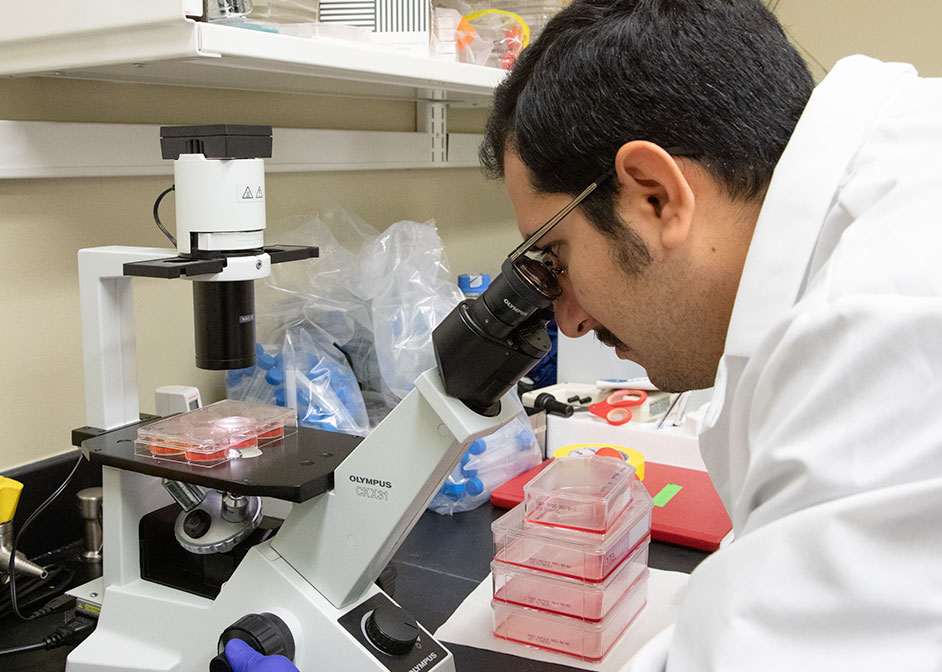 "If we find those underlying genes, then we can potentially target and block them," he said, "or design drugs that can work against them."
Asghari is also researching the cholesterol-derived molecule, 27-hydroxycholesterol, and its effects on fat tissue, obesity and breast cancer.
His research shows that this molecule increases the fat percentage in the body, regardless of diet, and it increases inflammation in fat tissue. Asghari said because breast tissue is surrounded by fat tissue, he thinks there is cross-talk between the two. He adds that the molecule could potentially be an underlying reason for breast cancer progression.
His advisor, assistant professor Michihisa Umetani, said Asghari has been obtaining remarkable data since joining the lab.
"He has a background in bioinformatics, but he can still perform wet lab experiments, which puts him in a very unique position," Umetani said.
Personal Connection
Asghari and Bahnassy have lost close family members to cancer.
Both Asghari's grandfathers died of prostate cancer, and Bahnassy's grandmother had breast cancer. The two students said the losses contribute to their motivation behind cancer research.
"We have a high chance of getting cancer in my family," Asghari said. "I don't know why, but many of my relatives have breast cancer right now. So, it pushed me to start working on cancer research."
Bahnassy believes her research can ultimately help save lives.
"Cancer research is the keystone for the clinicians to directly help the patients," she said. "Having the knowledge from the research we do helps to achieve that."
Bahnassy plans to pursue a postdoctoral position after she graduates in May. Asghari, who will graduate in a year and a half, wants to stay in academia.
- Rebeca Trejo, College of Natural Sciences and Mathematics
February 12, 2020