UH Ranks Among Nation's Best for Online M.Ed. Programs
Posted Jan. 24, 2023 — The online master's degree programs offered by the University of Houston College of Education have again been ranked among the best in the nation, coming in at No. 10 on the 2023 U.S. News & World Report list.
The rankings, released Tuesday, reflect the programs' first-rate faculty, effective use of technology and high graduation rates, among other factors.
Students say the degrees offer the flexibility of online courses — most of those enrolled are busy working professionals — while creating a community of like-minded people.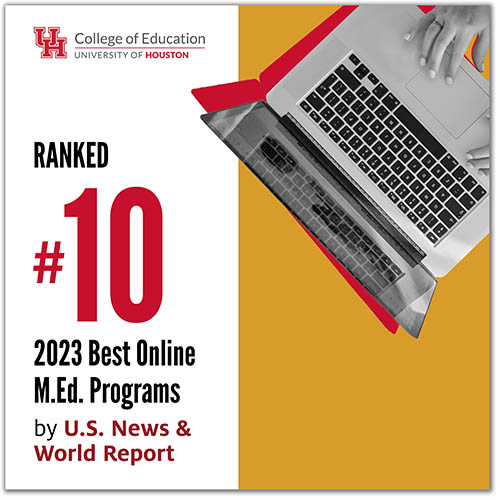 "I hadn't been a college student in 13 years," said Lexi Phillips, who enrolled in the online master's degree in higher education after a decade of teaching at a New York film and acting academy. "I was a little nervous. But faculty want us to have a community. They assign a lot of group projects, so my classmates and I became friends. I've never met (in person) any of the people in my classes or the professors, but I definitely know them."
Robert McPherson, interim senior vice president/vice chancellor of academic affairs and provost, said the success of their graduates is proof of the programs' strength and rigor.
"Providing students with the tools to succeed is our top priority at the University of Houston," he said. "This ranking for the College of Education's online master's degrees is a reminder of the importance of high-quality instruction and community building, whether that takes place on campus or online."
Programs Focus on Equity
Interim Dean Cathy Horn said the online programs share another crucial component with the College's in-person programs. "The online programs offer a competitive advantage in that they are not only rigorous and flexible, they are also equity-centered," she said. "We take seriously the ways in which these degrees can help us achieve our goal of ending inequities in education and health by preparing graduates who are ready on day one to successfully take up the needed work."
That approach attracted Cheryl Marcelo, who is studying for her master's in higher education while working as director of international programs at Austin College in Sherman. The flexibility of an online format and the affordability of in-state tuition were important, but she was especially drawn by the diversity of the UH faculty and their research interests.
"A lot of the faculty had interest in working with community colleges, with minoritized communities," Marcelo said. "That spoke to me as someone who is interested in similar work. Being a woman of color, I appreciated seeing that reflected in the faculty."
UH programs covered by the rankings include the College of Education's online M.Ed. programs in curriculum and instruction, higher education and special populations. The curriculum and instruction degree offers online specializations in early childhood education; health science education; learning, design and technology; mathematics education; literacy education; and bilingual/ESL education.
The College's programs consistently rank high on the U.S. News Best Online Master's in Education Programs list, tying for the No. 10 spot this year, along with Auburn University, Michigan State University, Montclair State University, Texas A&M University and the University of Massachusetts-Lowell.
The rankings are based on a variety of criteria, including the faculty's credentials, use of cutting-edge technology, high graduation rates (90%) and small class sizes (14 students on average), along with strong systems for student support.
The UH online M.Ed. programs ranked No. 14 in 2022.
Keys to Successful Online Learning
The ongoing success suggests the pivot to online education accelerated by the pandemic needn't sacrifice the rigor or personal connection more commonly associated with in-person classroom experiences.
Interaction is critical, said Margaret Hale, chair of the College's Department of Curriculum & Instruction. Simply giving students a list of assignments to be submitted electronically won't cut it.
"There has to be real, authentic engagement," Hale said, and that starts with faculty who have studied how to best use technology to engage students and enhance learning. "All of our faculty are well-versed in online instruction, which makes this much more than simply an online degree. We want these classes to be just as rigorous as a face-to-face program. We have to use different tools, but we do a good job of that. I would say this ranking points to that."
The programs rely on tools that became more familiar during the early phases of the pandemic, when meeting by Zoom or Microsoft Teams became routine in other professions. Robert Hausmann, director of graduate programs in health sciences at the College of Education and College of Medicine, said despite concerns that technology can limit human interaction, he's found the opposite to be true.
"As isolating as the online world can be, online education is one of those special places on the internet," he said. "It's a place where we come to reflect in a safe way — to learn from each other."
The health science education specialty is aimed at medical professionals — physicians, nurses, health care administrators and others — who want to strengthen their teaching skills for training the next generation of health care professionals.
The flexibility of online instruction is critical for this group, but Hausmann said many make time to join scheduled real-time virtual meetings and activities, even when they could simply work on their own schedule. That was especially true near the start of the pandemic, when health care professionals faced crushing workloads and increased rates of burnout, he said.
"The curriculum is tailored for health care professionals who want to be better teachers, but it creates a safe space where they can talk about the challenges they experience," he said. "The most powerful thing I've experienced as an educator is how much people need to share."
The connections can last long after students complete their degrees.
A longtime English teacher and football coach, Charles Moore earned his master's degree in curriculum and instruction with a reading specialist certificate in May 2020. He's now working as a curriculum specialist with the Dickinson Independent School District.
And he's stayed in touch with several of his classmates, forging both professional ties and friendships.
"We built relationships," he said. "I enjoyed that about the program."
—By Jeannie Kever