'Hardworking, Big-hearted' Alumni Couple Encourages Coogs to Give Back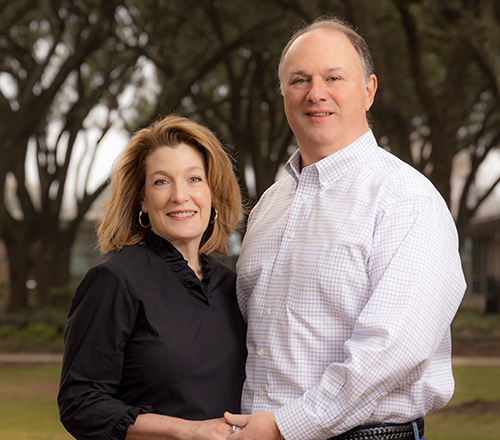 Feb. 17, 2022 — When the oil bust of the 1980s left her dad out of work, Kelly Thurber recalls checking the University of Houston bulletin boards for jobs she could do as an undergraduate. An aspiring teacher, she worked at a law firm, day care center, trucking company and as a nanny to pay for school.
"I remember not having enough money to put gas in my car and debating how am I going to get to class," Thurber said.
Her then-boyfriend and now-husband, Todd Thurber, was working his way through college at the University of Texas in Austin, his family also hit by the oil crisis.
Today, Kelly and Todd Thurber are volunteering to help more UH students fulfill their dreams of higher education. They are serving as co-chairs of the UH College of Education's 2022 Giving Day Campaign, encouraging alumni, faculty, staff and friends to make a donation of any size to support scholarships for students.
Giving Day takes place March 7, in honor of UH's birthday, and donations may be made as early as Feb. 18.
"We're at that stage in our lives where you start to reflect on how you got to where you are," said Kelly, who graduated with her bachelor's in education in 1990 and has taught for nearly three decades. "We're very blessed. It is our responsibility to society to give back."
"Education is one of the greatest things that can impact society," added Todd, who earned his M.B.A. from UH in 1994 and works as an engineering executive. "If you don't have a good education system, everything falls apart."
Scholarships can make the difference in students earning their degree. Working a second job can be especially challenging as students juggle classes and required internships to give them real world experience. For example, students in the College's teacher education program participate in a yearlong student-teaching residency their senior year. The opportunity prepares them for their own classroom but makes it challenging to work a second job.
"Think about what this could do for our city," Kelly said of UH Giving Day. "Every little bit helps."
'Don't Fall Through the Cracks'
Kelly Thurber's path to UH began in Iowa, when her dad's family lost their farm in the Depression and he and his brother moved to Houston for better opportunities. Both young men enrolled at UH and paid their way installing air-conditioning in cars. While her dad wasn't able to finish his degree, he got to watch Kelly graduate during a spring ceremony at Ezekiel Cullen Hall.
"He was thrilled," Kelly recalled. "My whole family was there."
Kelly and Todd, high school sweethearts, had married the October before her graduation. He got a job as a civil engineer, and she started teaching fourth grade at Houston ISD's T.H. Rogers, a popular magnet school. Todd remembers the principal being drawn to Kelly's resume, which showed her grit over six years as a working college student. She started at UH-Downtown and transferred to the College of Education at UH.
"I credit everything I know about education to UH," Kelly said.
Since she was a child, Kelly wanted to work with kids. Her paternal grandma taught math for 25 years before becoming a principal and is believed to be the first woman to earn a math degree from the University of Nebraska around 1920.
Kelly taught for 18 years at T.H. Rogers and then at several local private schools. She later returned to college and, at 49, earned a master's as an educational diagnostician from Houston Baptist University. She currently works as a learning specialist at Strake Jesuit College Preparatory, doing one-on-one academic coaching with boys who have learning differences "so they don't fall through the cracks," she said.
'One of the Best Decisions'
The Thurbers had their daughter, now 28, when Todd was pursuing his graduate degree at the C.T. Bauer College of Business. Kelly would bring their little one to campus to visit Dad after getting off work.
"UH offered an excellent M.B.A. program," Todd said. "I was able to work, raise my family and go to night school. It took me six years, but it was one of the best decisions I ever made."
Todd, now a senior vice president for LJA Engineering overseeing transportation infrastructure projects, said he's proud to see UH's evolution into a Tier One public research institution with new dorms and modern sports facilities.
At a Cougar football game in the fall, the Thurbers said they loved seeing the student engagement, a different vibe than when Kelly and her younger sister attended as commuter students in the late 1980s. They also connected with College of Education Dean Bob McPherson and realized Kelly used to teach his children in elementary school.
McPherson said he appreciates the Thurbers' service as alumni.
"Kelly and Todd represent the hardworking, big-hearted nature of Houstonians," he said. "I'm thankful they are leading our effort to encourage the Cougar community to show their pride on UH Giving Day."
—By Ericka Mellon
—Photo courtesy of the Thurbers
For questions about Giving Day or other philanthropic opportunities, contact Jaha Williams, senior advancement director for the College of Education, at 713-743-1084 or jpwilliams9@uh.edu.