Three-Time Coog Returns Home as Houston ISD Academic Chief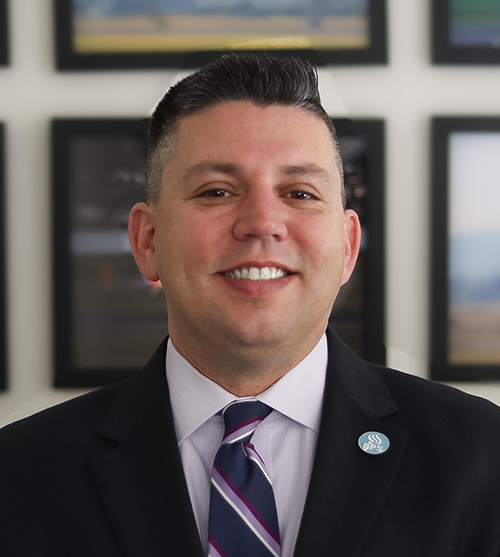 Posted Feb. 17, 2022 — Laptops open, a class of middle school students on the city's northside practiced their coding skills, designing their own animated nature walks.
Shawn Bird, the new chief academic officer for the Houston Independent School District, had stopped by to see the lab, recently donated by Verizon.
"What's the purpose of the assignment?" Bird asked one student.
"¿Por qué haces eso?" he asked another, a newcomer student still learning English. He wanted her to explain the reason for her creation.
Bird, a three-time graduate of the University of Houston, has returned to his hometown to help bolster academic performance in the nation's eighth-largest school district. With more than two decades in public education, he views teachers as the key.
"It doesn't matter what curriculum product you buy. You have to invest in the teacher and develop the teacher. I think it's the most important job in society," said Bird, who earned a master's and doctorate from the UH College of Education and a bachelor's in English with a Spanish minor.
In the middle school lab, Bird asked the teacher how much training she had received on the technology. He asked the principal if the nearby high school had a similar program so students could continue their learning.
"We want to make sure kids have the skills and opportunities to have good jobs," he said. "It shouldn't matter what ZIP code you live in."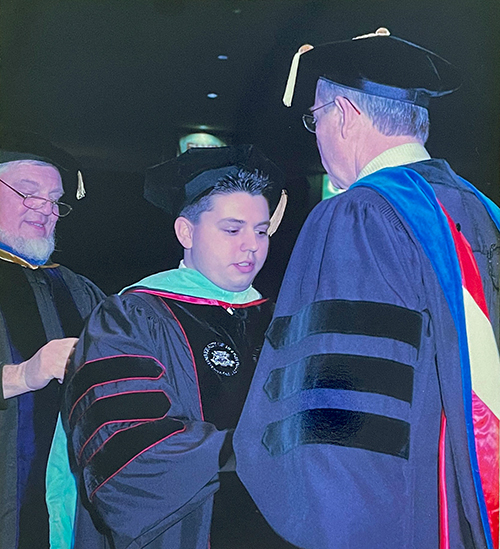 Bird, born in Florida, moved to Houston in third grade and attended HISD's Walnut Bend Elementary in west Houston. His family then moved to Alief ISD. One of five kids, he was raised mostly by his mom, a high school graduate who worked in the shipping business.
"To her credit, I didn't know I was poor," he said. "Even though she didn't have a college education herself, she made sure I got into good schools."
Since elementary school, Bird knew he wanted to be a teacher. He fondly recalls his fourth grade teacher, Mrs. Rooney, reading aloud books using different voices for the characters. His remembers his eighth grade teacher, Teri Lesesne, holding him to high standards as he slacked off. And he remembers his high school Spanish teacher, Ida Silva, inspiring him to travel to countries like Spain (roughly 15 times), Colombia and Mexico.
"Teachers have such a cool job," he said. "You can have such an impact on a young person."
'What's Good for Kids'
As an undergraduate at UH, Bird struggled at first. While he felt prepared academically, he said he didn't take his schoolwork seriously and landed on academic suspension.
"UH, they helped me figure things out," he said. "I got a second chance there."
After graduating in 1998, Bird worked in politics briefly for a City Council member before beginning his career as a high school English teacher in Alief ISD. He returned to UH to earn his master's degree in curriculum and instruction in 2000.
Bird spent a decade in Spring Branch ISD, as a teacher, literacy coach, assistant principal and then as principal of Spring Forest Middle School.
Carol Bucek, who served as an assistant principal with Bird, praised his ability to build a rapport with his staff while maintaining high expectations.
"Shawn, he knows his curriculum. He knows what's good for kids," Bucek said. "But he also knows how to listen and coach people and grow people and let them be their best."
Taking over an under-performing school amid some pushback, Bird pushed to ensure team meetings centered on instruction and student learning, Bucek said. And he rallied students too — once agreeing to eat crickets to increase donations for a canned food drive.
"He knows when to be serious, but he also injects humor into any situation," Bucek said.
'A Profound Impact'
Interested in furthering his education, Bird earned his Ed.D. in curriculum and instruction from UH in 2005 and focused his research on literacy instruction.
"UH really had a profound impact on my life," he said. "I learned how to be a teacher there. I had really great professors there. I spent so many years there."
Itching to live in California, Bird moved to take a job as a professor at the University of San Francisco. "I credit UH for that too because I was well prepared to be a professor," he said.
Yet Bird said he missed the tangible impact he felt working in the K-12 arena, and he took a job as a principal supervisor in the Los Angeles Unified School District. He then became the chief academic officer in the Pasadena Unified School District, where he honed in on how reading was taught in elementary schools and found inconsistencies, he said.
"We worked together to collaborate on what reading instruction should look like so all kids can read by third grade," he said.
Later, as chief of schools for the Philadelphia school district, he implemented instructional rounds to norm how principals gave feedback to teachers to inform professional development needs.
"In these big systems things can get lost a little bit," he said. "One of things I've been proud of is my ability to work with teams to bring coherence to the experience for the child."
Teachers are Superheroes
Earlier in the COVID-19 pandemic, Bird was working for Portland Public Schools as deputy superintendent of instruction and school communities. He began reflecting on his time away from home and found an opportunity to come back in January 2022 under the leadership of HISD's new superintendent, Millard House II.
"It's really an honor to work in HISD," Bird said. "I'm happy to be here and excited to work for Superintendent House, who has a bold vision for where he wants the school district to go."
House's priorities include promoting high-quality teaching and learning, providing equitable resources at every school, and delivering effective services to students with specialized needs, including students with disabilities and English language learners.
As a strong instructional leader, Bird has the skills to support student success, said Clinical Professor Margaret Hale, who worked with Bird in Spring Branch ISD and now chairs the College of Education's Department of Curriculum & Instruction.
"I think Shawn has a clear understanding of what good instruction looks like in the classroom," she said. "He has a good sense of what teachers need to improve their teaching abilities, which has a positive impact on kids."
During his February visit to the northside middle school, Bird stopped by several classes. After each, he asked the principal what feedback she would give the teacher. They discussed the importance of giving students time to think and to increase their participation by talking to each other using the "turn and talk" approach. He noted that the English language learners may have struggled with an assignment without more context.
As a principal, Bird said, he told his teachers they were superheroes.
"Use your power wisely," he said. "The kids in your classroom, they notice everything you do."
—By Ericka Mellon 
—Photos courtesy of Shawn Bird