Academic Advisors Embrace Holistic Approach to Address Students' Mental Health
Posted June 5, 2017 – Academic advisors at the University of Houston College of Education are taking a holistic approach, focusing not only on academics but on students' mental health as well.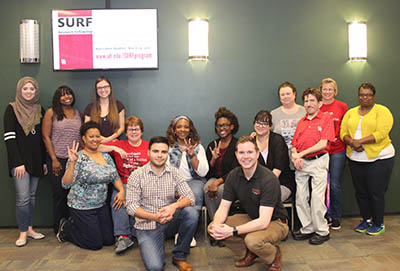 Director of the UH Wellness Center, Patrick Lukingbeal (first row on the right), trained the College of Education advising staff on how to assess and address mental health issues.
Advisors and other staff in the Offices of Undergraduate and Graduate Studies received "Mental Health First Aid" training in the spring. They learned how to recognize signs and symptoms of mental illness and how best to react in various situations.
Patrick Lukingbeal, director of the Wellness Center at UH, led the training and presented a five-step action plan for assessing and handling mental health issues. Key, he said, was to remember the acronym ALGEE:
Assess for risk of suicide or harm.
Listen non-judgmentally.
Give reassurance and information.
Encourage appropriate professional help.
Encourage self-help and other support strategies. 
The full-day training included discussion and role playing involving real-world scenarios.
"I learned that being calm but direct with someone who is experiencing a mental health crisis can often be the best approach to getting them the help they need," said Greta Ralston, an academic advisor in the college's undergraduate office.
"I feel like I have a much better understanding of how to respond to some of the issues students are facing after completing the training," added Laura Lee, the office's student success coach.
Lukingbeal, who received his Ph.D. in educational psychology and individual differences from the College of Education, praised the college staff for working to address students' needs.
All participants who completed the training received a Mental Health First Aid certificate that lasts for three years.
–By Kathy Patnaude and Laura Lee